Activated Carbon for Water and Wastewater Treatment: Integration of Adsorption and Biological Treatment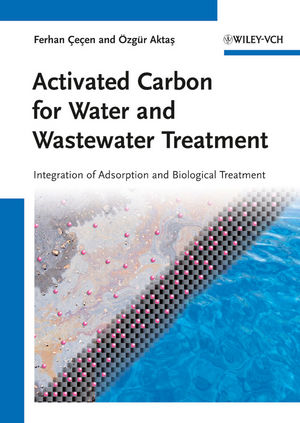 Activated Carbon for Water and Wastewater Treatment: Integration of Adsorption and Biological Treatment
ISBN: 978-3-527-32471-2 October 2011 406 Pages
Description
This monograph provides comprehensive coverage of technologies which integrate adsorption and biological processes in water and wastewater treatment. The authors provide both an introduction to the topic as well as a detailed discussion of theoretical and practical considerations.

After a review of the basics involved in the chemistry, biology and technology of integrated adsorption and biological removal, they discuss the setup of pilot- and full-scale treatment facilities, covering powdered as well as granular activated carbon. They elucidate the factors that influence the successful operation of integrated systems. Their discussion on integrated systems expands from the effects of environmental to the removal of various pollutants, to regeneration of activated carbon, and to the analysis of such systems in mathematical terms. The authors conclude with a look at future needs for research and develoment.

A truly valuable resource for environmental engineers, environmental and water chemists, as well as professionals working in water and wastewater treatment.
Preface xvii
List of Abbreviations xxi
Acknowledgement xxvii
1 Water and Wastewater Treatment: Historical Perspective of Activated Carbon Adsorption and its Integration with Biological Processes 1
Ferhan Çeçen
1.1 Historical Appraisal of Activated Carbon 1
1.2 General Use of Activated Carbon 3
1.3 Application of Activated Carbon in Environmental Pollution 4
1.3.1 Activated Carbon in Drinking Water Treatment 4
1.3.2 Activated Carbon in Wastewater Treatment 5
1.3.3 Applications of Activated Carbon in Other Environmental Media 7
1.3.4 Integration of Activated Carbon Adsorption with Biological Processes in Wastewater and Water
Treatment 7
1.3.5 Improved Control of Pollutants through Integrated Adsorption and Biological Treatment 8
2 Fundamentals of Adsorption onto Activated Carbon in Water and Wastewater Treatment 13
Özgür Aktas and Ferhan Çeçen
2.1 Activated Carbon 13
2.1.1 Preparation of Activated Carbons 13
2.1.2 Characteristics of Activated Carbon 14
2.1.3 Activated Carbon Types 15
2.2 Adsorption 16
2.2.1 Types of Adsorption 16
2.2.2 Factors Influencing Adsorption 18
2.2.3 Kinetics of Adsorption 22
2.2.4 Adsorption Equilibrium and Isotherms 24
2.2.5 Single- and Multisolute Adsorption 27
2.3 Activated Carbon Reactors in Water and Wastewater Treatment 30
2.3.1 PAC Adsorbers 30
2.3.2 GAC Adsorbers 30
2.4 Activated Carbon Regeneration and Reactivation 37
3 Integration of Activated Carbon Adsorption and Biological Processes in Wastewater Treatment 43
Ferhan Çeçen and Özgür Aktas
3.1 Secondary and Tertiary Treatment: Progression from Separate Biological Removal and Adsorption to Integrated Systems 43
3.1.1 Activated Carbon in Secondary Treatment 46
3.1.2 Activated Carbon in Tertiary Treatment 46
3.2 Fundamental Mechanisms in Integrated Adsorption and Biological Removal 47
3.2.1 Main Removal Mechanisms for Organic Substrates 47
3.2.2 Main Interactions between Organic Substrates, Biomass, and Activated Carbon 54
3.2.3 Behavior and Removal of Substrates in Dependence of their Properties 59
3.3 Integration of Granular Activated Carbon (GAC) into Biological Wastewater Treatment 59
3.3.1 Positioning of GAC Reactors in Wastewater Treatment 59
3.3.2 Recognition of Biological Activity in GAC Reactors 63
3.3.3 Conversion of GAC into Biological Activated Carbon (BAC) 64
3.3.4 Main Processes in BAC Reactors 66
3.3.5 Types of GAC Reactors with Biological Activity (BAC Reactors) 67
3.4 Integration of Powdered Activated Carbon (PAC) into Biological Wastewater Treatment 69
3.4.1 Single-Stage Continuous-Flow Aerobic PACTs Process 70
3.4.2 Sequencing Batch PACT Reactors 73
3.4.3 Anaerobic PACT Process 74
3.5 Biomembrane Operation Assisted by PAC and GAC 74
3.5.1 Membrane Bioreactors (MBRs) 74
3.5.2 The PAC-MBR Process 75
3.5.3 Membrane-Assisted Biological GAC Filtration – the BioMAC Process 76
3.6 Observed Benefits of Integrated Systems 76
3.6.1 Enhancement of Organic Carbon Removal by Activated Carbon 78
3.6.2 Enhancement of Nitrification by Activated Carbon 78
3.6.3 Enhancement of Denitrification by Activated Carbon 80
3.6.4 Effect of Activated Carbon Addition on Inorganic Species 80
3.6.5 Enhancing Effects of Activated Carbon in Anaerobic Treatment 81
3.6.6 Properties of Biological Sludge in the Presence of Activated Carbon 81
3.6.7 Effect of PAC on Membrane Bioreactors (MBRs) 82
3.7 Regeneration of PACT and BAC Sludges 86
4 Effect of Activated Carbon on Biological Treatment of Specific Pollutants and Wastewaters: Laboratory- and Pilot-Scale Studies 95
Özgür Aktas and Ferhan Çeçen
4.1 Treatment of Industrial Wastewaters 95
4.1.1 Pharmaceutical Wastewaters 95
4.1.2 Paper and Pulp Wastewaters 97
4.1.3 Petroleum Refinery and Petrochemical Wastewaters 98
4.1.4 Textile Wastewaters 99
4.1.5 Other Industrial Wastewaters 100
4.2 Removal of Specific Chemicals 104
4.2.1 Volatile Organic Compounds (VOCs) 104
4.2.2 Phenols 106
4.2.3 Pharmaceuticals and Endocrine Disrupting Compounds (EDCs) 109
4.2.4 Pesticides and Polychlorinated Biphenyls (PCBs) 109
4.2.5 Priority Pollutants 109
4.2.6 Dyes 110
4.2.7 Organic Pollutants in Secondary Sewage Effluents 111
4.2.8 Other Chemicals 112
4.3 Landfill Leachate Treatment 113
4.3.1 Leachate Treatment in PAC-added Activated Sludge Systems 114
4.3.2 Leachate Treatment Using the PAC-MBR Process 118
4.3.3 Leachate Treatment in Biological Activated Carbon (BAC) Media 118
5 Combination of Activated Carbon with Biological Wastewater Treatment at Full Scale 127
Özgür Aktas and Ferhan Çeçen
5.1 Full-Scale PACT Systems 127
5.1.1 Full-Scale PACT for Industrial Effluents 128
5.1.2 PACT for Co-treatment of Domestic and Industrial Wastewaters 136
5.1.3 PACT for Landfill Leachates 136
5.1.4 PACT for Contaminated Groundwaters 138
5.1.5 PACT for Reuse of Domestic Wastewaters 139
5.1.6 PACT for Contaminated Surface Runoff Waters 139
5.2 Biological Activated Carbon (BAC) Filtration at Full Scale 140
5.2.1 BAC Filtration for Reuse Purposes 140
6 Modeling the Integration of Adsorption with Biological Processes in Wastewater Treatment 145
Ferhan Çeçen
6.1 Modeling of GAC Adsorbers with Biological Activity 145
6.1.1 Introduction 145
6.1.2 Fundamental Processes around a Carbon Particle Surrounded by a Biofilm 146
6.1.3 Benefits of Integrated Adsorption and Biological Removal: Link to Fundamental Processes 155
6.1.4 Modeling Approaches in GAC/BAC Reactors 158
6.1.5 Prevalent Models in BAC Reactors Involving Adsorption and Biodegradation 173
6.2 Modeling of the PACT Process 178
6.2.1 Mass Balances in the PACT Process 178
6.2.2 Mass Balance for PAC in the PACT Process 178
6.2.2.1 Determination of Biomass or Carbon Concentration in a PACT Sludge 180
6.2.3 Models Describing Substrate Removal in the PACT Process 181
7 Bioregeneration of Activated Carbon in Biological Treatment 189
Özgür Aktas and Ferhan Çeçen
7.1 Mechanisms of Bioregeneration 189
7.1.1 Bioregeneration Due to Concentration Gradient 189
7.1.2 Bioregeneration Due to Exoenzymatic Reactions 191
7.1.3 Bioregeneration Due to Acclimation of Biomass 193
7.2 Offline Bioregeneration 194
7.3 Concurrent (Simultaneous) Bioregeneration in PACT and BAC Systems 195
7.4 Dependence of Bioregeneration on the Reversibility of Adsorption 195
7.5 Other Factors Affecting Bioregeneration 198
7.5.1 Biodegradability 199
7.5.2 Chemical Properties of Substrate 200
7.5.3 Carbon Particle Size 200
7.5.4 Carbon Porosity 201
7.5.5 Carbon Activation Type 202
7.5.6 Physical Surface Properties of Carbon 202
7.5.7 Desorption Kinetics 203
7.5.8 Substrate–Carbon Contact Time 203
7.5.9 Concentration Gradient and Carbon Saturation 204
7.5.10 Biomass Concentration 205
7.5.11 Dissolved Oxygen Concentration 206
7.5.12 Microorganism Type 206
7.5.13 Substrate and Biomass Associated Products of Biodegradation 207
7.5.14 Presence of Multiple Substrates 208
7.6 Determination of Bioregeneration 209
7.6.1 Investigation of the Extent of Reversible Adsorption 211
7.6.2 Use of Adsorption Isotherms 211
7.6.3 Direct Measurement by Using Adsorption Capacities 213
7.6.4 Direct Measurement by Solvent Extraction 213
7.6.5 Quantification of Bioregeneration in Simultaneous Adsorption–Biodegradation 213
7.6.6 Measurement of Biodegradation Products 214
7.6.7 Use of Respirometry in Aerobic Systems 215
7.6.8 Investigation by Scanning Electron Microscopy (SEM) 216
7.7 Bioregeneration in Anaerobic/Anoxic Systems 216
7.8 Models Involving Bioregeneration of Activated Carbon 217
7.8.1 Modeling of Bioregeneration in Concurrent Adsorption and Biodegradation 218
7.8.2 Modeling of Bioregeneration in Single Solute Systems 220
7.8.3 Modeling of Bioregeneration in Multicomponent Systems 225
7.8.4 Modeling of Offline Bioregeneration 228
7.8.5 Modeling the Kinetics of Bioregeneration 228
8 Combination of Activated Carbon Adsorption and Biological Processes in Drinking Water Treatment 237
Ferhan Çeçen
8.1 Introduction 237
8.2 Rationale for Introduction of Biological Processes in Water Treatment 238
8.3 Significance of Organic Matter in Water Treatment 238
8.3.1 Expression and Fractionation of Organic Matter 239
8.4 Removal of NOM in Conventional Water Treatment 244
8.4.1 Rationale for NOM Removal 244
8.4.2 Extent of NOM Removal 245
8.5 Use of Activated Carbon in Water Treatment 246
8.5.1 Powdered Activated Carbon (PAC) Addition 246
8.5.2 Granular Activated Carbon (GAC) Filtration 247
8.6 Biological Activated Carbon (BAC) Filtration 247
8.6.1 History of BAC Filtration in Water Treatment 247
8.6.2 Combination of Ozonation and BAC Filtration 249
8.6.3 Current Use of BAC Filtration in Water Treatment 249
8.7 Adsorption and Biodegradation Characteristics of Water 250
8.7.1 Raw Water NOM 250
8.7.2 Impact of Ozonation on NOM Characteristics 250
8.7.3 Determination of Adsorption and Biodegradation Characteristics of Water 255
9 Removal of NOM, Nutrients, and Micropollutants in BAC Filtration 265
Ferhan Çeçen
9.1 Removal of Organic Matter 265
9.1.1 Main Mechanisms 265
9.1.2 Breakthrough Curves 265
9.1.3 Bioregeneration of BAC Filters 272
9.2 Factors Affecting the Performance of BAC Filtration 273
9.2.1 Comparison of GAC with Other Media 273
9.2.2 Importance of GAC Grade 274
9.2.3 Empty Bed Contact Time (EBCT) and Hydraulic Loading Rate (HLR) 274
9.2.4 Filter Backwashing 276
9.2.5 Effect of Temperature 276
9.2.6 Effect of Oxidant Residuals 277
9.3 Performance of BAC Filters: Organics Removal 277
9.4 Performance of BAC Filters: Nutrient Removal 285
9.4.1 Nitrification in BAC Filters 285
9.4.2 Denitrification in BAC Filters 286
9.5 Removal of Micropollutants from Drinking Water in BAC Systems 288
9.5.1 Occurrence of Organic Micropollutants in Water 288
9.5.2 Competition Between Background NOM and Organic Micropollutants 288
9.5.3 Adsorption of Organic Micropollutants onto Preloaded GAC 290
9.5.4 Effect of GAC Characteristics on Adsorption 290
9.5.5 Adsorption and Biological Removal of Organic Micropollutant Groups in BAC Filtration 291
9.5.6 Removal of Precursors and Disinfection By-Products (DBPs) in BAC Filtration 294
9.6 Removal of Ionic Pollutants in BAC Filtration 298
9.6.1 Nitrate Removal 298
9.6.2 Bromate Removal 298
9.6.3 Perchlorate Removal 301
9.7 Integration of PAC and GAC into Biological Membrane Operations 302
9.7.1 Effect of PAC on Membrane Bioreactors 302
9.7.2 BAC Filtration Preceding Membrane Bioreactor Operation 303
9.8 Integration of GAC into Groundwater Bioremediation 303
9.9 Biomass Characteristics in BAC Filtration 304
9.9.1 Microbial Ecology of BAC Filters 304
9.9.2 Control of Biofilm Growth in BAC Filters 305
9.9.3 Determination of Biomass and Microbial Activity in BAC Filters 305
9.9.4 Determination of Microorganisms by Classical and Molecular Microbiology Methods 306
9.9.5 Microbiological Safety of Finished Water 309
10 BAC Filtration Examples in Full-Scale Drinking Water Treatment Plants 319
Ferhan Çeçen
10.1 Limits for BDOC and AOC as Indicators of Re-growth Potential in Water Distribution 319
10.2 BAC Filtration Experiences in Full-Scale Surface Water Treatment 320
10.2.1 Mu¨lheim Plants, Germany 320
10.2.2 Leiden Plant, Amsterdam, the Netherlands 320
10.2.3 Plants in the Suburbs of Paris, France 322
10.2.4 Ste Rose Plant in Quebec, Canada 323
10.2.5 Plant in Zürich-Lengg, Switzerland 323
10.2.6 Weesperkarspel Plant, Amsterdam, the Netherlands 324
10.2.7 Drinking Water Treatment Plants, Bendigo, Castlemaine, and Kyneton, Victoria, Australia 326
10.3 New Approaches in the Evaluation of Ozonation and BAC Filtration 327
10.4 BAC Filtration Experiences in Full-Scale Groundwater Treatment 327
11 Review of BAC Filtration Modeling in Drinking Water Treatment 331
Ferhan Çeçen
11.1 Substrate Removal and Biofilm Formation 331
11.2 Modeling of BAC Filtration 333
11.2.1 Models Emphasizing Biological Processes in Biofilters 334
11.2.2 Models Integrating Adsorption and Biological Processes 342
11.2.3 Models Describing the Removal of Micropollutants 346
12 Concluding Remarks and Future Outlook 353
Ferhan Çeçen and Özgür Aktas
12.1 Overview of Applications in Wastewater and Water Treatment: PACT and BAC Systems 353
12.2 Further Research on Removal Mechanisms and Micropollutant Elimination 355
12.2.1 Wastewater Treatment 355
12.2.2 Drinking Water Treatment 358
12.3 Further Research on Regeneration of Activated Carbon 360
12.3.1 Importance of Activated Carbon Grade 360
12.3.2 Bioregeneration of Activated Carbon 361
12.3.3 Physicochemical Regeneration of Biological Activated Carbon 363
Index 365