Active Metals: Preparation, Characterization, Applications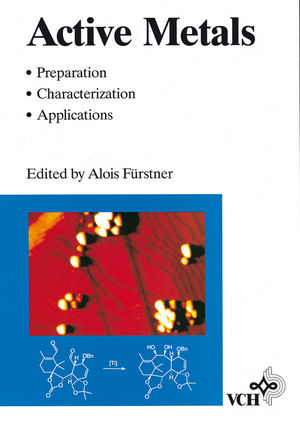 Active Metals: Preparation, Characterization, Applications
ISBN: 978-3-527-61516-2 July 2008 482 Pages
Description
Reactions with metals are ubiquitous in organic synthesis and, particularly in the last few years, a large repertoire of methods for the activation of metals and for their use in organic synthesis has been developed. In Active Metals, topics ranging from morphology of metal clusters and nanometallurgy to organometallic chemistry, catalysis and the use of activated metals in natural product synthesis are authoritatively discussed by leading experts in the field.

Active Metals will allow you to fully benefit from the recent advances in the field by giving:

* Detailed experimental procedures
* Guidance on manipulation of active metals under inert atmosphere
* Valuable information for planning syntheses
* Extensive tables of typical conversions with yields
* Critically selected, up-to-date references

This handbook is a unique source of 'hands-on' information which will allow you to expand the scope of your research.
Rieke Metals. Highly Reactive Metal Powders Prepared by Alkali Metal Reduction of Metal Salts (Rieke)
Allylic Barium Reagents (Yamamoto)
McMurry Reaction (Lectka)
Ultrasound-Induced Activation of Metals. Principles and Applications in Organic Synthesis (Luche, Cintas)
Functionalized Organozinc Reagents (Knochel)
Metal Atom-Vapor Approach to Active Metal Clusters-Particles (Klabunde)
Electrochemical Methods in the Synthesis of Nanostructured Transition Metal Clusters (Reetz)
The Magnesium Route to Active Metals and Intermetallics (Bogdanovic, Aleandre)
Soluble Metal Clusters, Hydride Reductions (Bonnemann)
Supported Metals (Furstner)
Morphological Considerations (Hofe)