Active Outcomes 2: PDHPE Stage 5 and eBookPLUS, 2nd Edition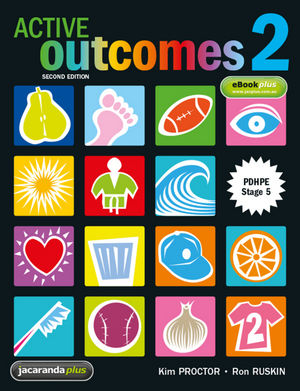 Active Outcomes 2: PDHPE Stage 5 and eBookPLUS, 2nd Edition
ISBN: 978-1-742-46206-6
Nov 2010, Jacaranda
248 pages
Product not available for purchase
Description
Active Outcomes 2 PDHPE Stage 5, Second Edition provides an innovative way of structuring learning by solving key challenges:
> How can students of all abilities become engaged in their learning and motivated about becoming healthy and active?
> How can current, real-world PDHPE examples be brought into the classroom?
> How can planning, learning and assessing be made easier?

Features of this title include:
> Complete coverage of the PDHPE syllabus, broken down into key concept units that are presented as highly digestible, lesson-based sections
> An Engage panel at the start of each section that features weblinks, interactivities, worksheets or questions to promote discussion and engagement
> An activity-focused section for each lesson to ensure there is 'learning from doing'
> Check & challenge questions for each section, and a summary and review questions at the end of every chapter


Active Outcomes 2, Second Edition eBookPLUS is an electronic version of the textbook and a complementary set of targeted digital resources. These flexible and engaging ICT activities are available online at the JacarandaPLUS website (www.jacplus.com.au).
The eBookPLUS includes:
• ProjectsPLUS - unique ICT-based projects that use an innovative research management system featuring media, templates and video introductions
• Video eLessons to bring PDHPE activities to life
• Interactivities to enhance each student's understanding through hands-on experience
• Online worksheets designed in Microsoft Word for easy customisation and editing
• Weblinks to online resources
  Click here to view Active Outcomes 2 PDHPE Stage 5, Second Edition eBookPLUS.
STRAND 1: SELF AND RELATIONSHIPS
Chapter 1: Supporting myself and others
Chapter 2: Responding to life's challenges
Chapter 3: Creating respectful relationships

STRAND 2: MOVEMENT SKILLS AND PERFORMANCE
Chapter 4: Skills for thrills
Chapter 5: On with the show

STRAND 3: INDIVIDUAL AND COMMUNITY HEALTH
Chapter 6: Health issues for young people
Chapter 7: Promoting health and keeping safe
Chapter 8: Seeking advice and help for health concerns

STRAND 4: LIFELONG PHYSICAL ACTIVITY
Chapter 9: Active now and forever
Chapter 10: Taking charge