Acute Coronary Syndromes: A Handbook for Clinical Practice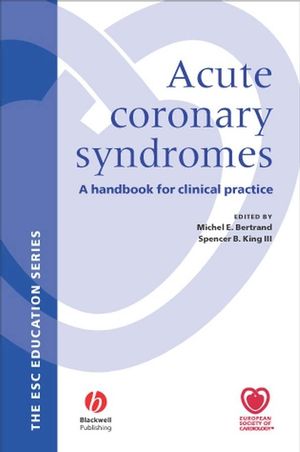 Acute Coronary Syndromes: A Handbook for Clinical Practice
ISBN: 978-1-405-17138-0 February 2009 Wiley-Blackwell 320 Pages
Description
The management of non-ST segment elevation acute coronary syndromes (NSTE-ACS) has rapidly evolved over the last few years and many guidelines have been provided and already updated. This book is based on the latest ESC Guidelines and reports the current knowledge in NSTE-ACS, together with the most recent therapeutic options and the different strategies that can be applied according to the clinical status of patients.
International experts address the different aspects of NSTE-ACS and bring useful information to clinicians, interventionalists and surgeons involved in the difficult management of these patients.

The ESC Education Series
This book is part of the ESC Education Series. The series is designed to provide medical professionals with the latest information about the understanding, diagnosis and management of cardiovascular diseases. Where available, management recommendations are based on the established European Guidelines, which encompass the best techniques to use with each cardiac disease. Throughout the series, the leading international opinion leaders have been chosen to edit and contribute to the books. The information is presented in a succinct and accessible format with a clinical focus.
Table of contents
List of contributors viii
Preface x
Section one: Epidemiology
Chapter 1 Epidemiology of non-ST-segment elevation acute coronary syndromes 3
David Hasdai and Alexander Battler
Section two: Pathophysiology
Chapter 2 Pathologic findings in acute coronary syndromes 11
Erling Falk
Chapter 3 Vascular biology of acute coronary syndromes 24
Lina Badimon
Section three: Clinical aspects of ACS
Chapter 4 Clinical aspects of acute coronary syndromes 43
Eugene McFadden
Chapter 5 Circulating biomarkers for risk stratification 52
Christopher Heeschen
Section four: Investigation in ACS
Chapter 6 Coronary angiography angioscopy and intravascular ultrasound in non-ST-segment elevation acute coronary syndromes 65
Eric Van Belle Christophe Bauters François Schiele and Michel E. Bertrand
Chapter 7 New coronary imaging in acute coronary syndrome 78
Pim J. de Feyter Evelyne Regar and Nico R.A. Mollet
Section five: Special groups of patients
Chapter 8 Acute coronary syndromes in specialgroups of patients 97
Piero O. Bonetti Michael J. Zellweger Christoph Kaiser and Matthias E. Pfisterer
Section six: Pharmacological treatment
Chapter 9 Antiischemic treatment (nitrates β-blockers calcium antagonists) 109
David McCarty Colum G. Owens and A.A. Jennifer Adgey
Chapter 10 Antiplatelet therapies: aspirin thienopyridines and glycoprotein IIb/IIIa receptor inhibitors 116
Jaydeep Sarma and Keith A.A. Fox
Chapter 11 Antithrombin drugs: LMWH unfractionated heparin direct thrombin inhibitors 139
Raphaelle Dumaine and Gilles Montalescot
Chapter 12 Statin therapy in ACS 152
François Schiele
Section seven: Myocardial revascularization
Chapter 13 Percutaneous coronary interventions and stenting/CABG in non-ST-segment elevation acute coronary syndromes 165
Nicolas Meneveau and Jean-Pierre Bassand
Section eight: Therapeutic strategy
Chapter 14 Risk stratification and therapeutic strategy 187
Christian W. Hamm
Chapter 15 Indication for revascularization in non-ST-elevation acute coronary syndrome 199
Lars Wallentin
Chapter 16 Management of patients with nonamenable lesions for myocardialrevascul arization 211
Victor Legrand
Chapter 17 Non-ST-segment elevation coronary syndromes: European Society of Cardiology guidelines 225
Michel E. Bertrand
Chapter 18 Non-ST-segment elevation acute coronary syndromes: ACC/AHA guidelines 236
Pierre Théroux
Chapter 19 From guidelines to registries 248
Luigi Tavazzi
Section nine: Secondary prevention
Chapter 20 Secondary prevention after acute episode of patients presenting with nonpersistent ST-segment elevation 261
Michel E. Bertrand
Chapter 21 How to detect vulnerable plaque 270
Dirk Boese and Raimund Erbel
Chapter 22 Localversus systemic prevention treatment 281
Mario Togni and Bernhard Meier
Conclusions 294
Index 295
Features
Concise overview of the latest developments NSTE-ACS


Part of the ESC Education Series

Based on the established European Guidelines

Edited by leading international opinion leaders

Succinct and accessible format with a clinical focus

Covers the latest developments in acute coronary syndromes

Addresses all the different aspects of NSTE-ACS