Acute Stroke Nursing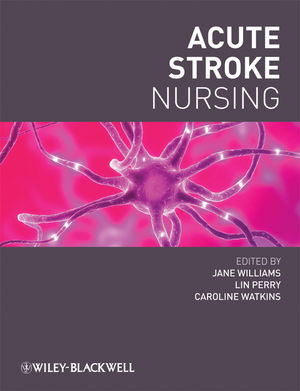 Acute Stroke Nursing
ISBN: 978-1-405-16104-6
Mar 2010, Wiley-Blackwell
368 pages
Description
Stroke is a medical emergency that requires immediate medical attention. With active and efficient nursing management in the initial hours after stroke onset and throughout subsequent care, effective recovery and rehabilitation is increased. Acute Stroke Nursing provides an evidence-based, practical text facilitating the provision of optimal stroke care during the primary prevention, acute and continuing care phases.
This timely and comprehensive text is structured to follow the acute stroke pathway experienced by patients. It explores the causes, symptoms and effects of stroke, and provides guidance on issues such as nutrition, continence, positioning, mobility and carer support. The text also considers rehabilitation, discharge planning, palliative care and the role of the nurse within the multi-professional team. Acute Stroke Nursing is the definitive reference on acute stroke for all nurses and healthcare professionals wishing to extend their knowledge of stroke nursing.
Evidence-based and practical in style, with case studies and practice examples throughout
Edited and authored by recognised stroke nursing experts, clinicians and leaders in the field of nursing practice, research and education
The first text to explore stroke management from UK and international perspectives, and with a nursing focus
Buy Both and Save 25%!
Original Price:$488.94
Purchased together:$366.71
save $122.23
Cannot be combined with any other offers.
Foreword vii
Editors and Contributors xiii
1 Setting the scene 1
Caroline Watkins and Michael Leathley
Introduction 1
Stroke epidemiology 2
Stroke policy 3
Stroke management strategies 8
Research and education 11
Conclusion 13
References 13
2 Developing stroke services: a key role for nursing and nurses 17
Christopher R. Burton
Introduction 17
Service development 17
The nursing contribution to stroke services 19
The political agenda shaping stroke service development 25
Conclusion 30
References 30
3 What is a stroke? 33
Anne W. Alexandrov
Introduction 33
Stroke development processes 34
Risk factors for stroke 37
Anatomy, physiology and related stroke clinical fi ndings 37
Standardised instruments for acute neurological assessment 57
Conclusion 60
References 64
4 Acute stroke nursing management 66
Anne W. Alexandrov
Introduction 67
Priorities in acute stroke management 67
Hyperacute stroke management 68
Acute stroke management 80
Conclusion 85
References 85
5 Nutritional aspects of stroke care 91
Lin Perry and Elizabeth Boaden
Introduction 92
Do stroke patients experience nutritional problems pre-stroke? 92
How does stroke affect dietary intake? 95
How can stroke patients be helped to maintain adequate dietary intake? 104
Conclusion 115
References 117
6 Promoting continence 123
Kathryn Getliffe and Wendy Brooks
Introduction 124
Bladder problems and urinary incontinence 127
Bowel problems and bowel care 144
Conclusion 148
References 149
7 Management of physical impairments post-stroke 152
Cherry Kilbride and Rosie Kneafsey
Introduction 153
Movement 153
Moving and handling people with stroke 155
Therapeutic positioning and seating in the acute phase 157
Promoting early mobilisation 159
Falls prevention 163
Restoration and re-education of movement 164
Management of the upper limb 168
Further rehabilitation strategies and novel developments 171
Patients' perspective on mobility rehabilitation 174
Conclusion 175
References 176
8 Communication 184
Jane Marshall, Katerina Hilari and Madeline Cruice
Introduction 185
Communication impairments caused by stroke 186
Language minorities 196
The role of the speech and language therapist in acute stroke care 197
Psychosocial issues and quality of life 199
Conclusion 201
References 201
9 Mood and behavioural changes 205
Peter Knapp
Introduction 205
Psychological reactions to the onset of stroke 206
Conclusion 218
References 219
10 Minimally responsive stroke patients 222
Elaine Pierce and Aeron Ginnelly
Introduction 222
Definitions and identification 223
Minimally responsive state 224
'Locked-in' syndrome 232
Conclusion 237
References 238
11 Rehabilitation and recovery processes 241
Jane Williams and Julie Pryor
Introduction 241
Initiation of rehabilitation 244
Outcomes of rehabilitation 246
Recovery processes 249
Transfer to rehabilitation 250
Rehabilitation provision 252
Conclusion 256
References 256
12 Stroke and palliative care: a diffi cult combination? 263
Christopher R. Burton and Sheila Payne
Introduction 264
Palliative care 264
Relevance of palliative care to stroke 266
Organisational challenges 271
Conclusion 271
References 272
13 Reducing the risk of stroke 275
Peter Humphrey, Jo Gibson and Stephanie Jones
Introduction 275
Primary prevention 276
Secondary prevention: identifying those at risk of stroke 279
Public awareness and access to services 296
Secondary prevention of stroke in less common aetiologies and patient groups 297
Conclusion 299
References 299
14 Longer-term support for survivors and supporters 309
Louise Brereton and Jill Manthorpe
Introduction 309
Leaving hospital 310
What is required longer term? 313
What do carers want? 316
Conclusion 322
References 323
15 Stroke resources for professionals, patients and carers 331
Graham Williamson
National associations 331
Resources for patients and carers 332
Other resources and organisations 333
Specialist international journals 336
Non-specialist journals' stroke collections 336
Clinical practice guidelines 337
Finding current stroke research 338
Evidence-based practice resources 338
Chapter links 339
Index 343
"Although aimed at acute stroke services, this book provides a good basis for members of the multidisciplinary team, especially all medical and neuroscience nurses . . . This book will be applicable to healthcare professionals for many years." (Primary Health Care, 1 July 2011)
"This will certainly be the first place I turn for future stroke-related technique." (Nursing Older People, 1 November 2010)


Evidence-based and practical in style, with case studies and practice examples throughout


Edited and authored by experienced and expert clinicians and leaders in the field of nursing practice, research and education


The first UK text to explore stroke management from a nursing perspective