Addiction Reviews 2, Volume 1187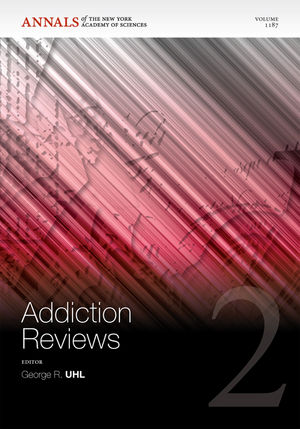 Addiction Reviews 2, Volume 1187
ISBN: 978-1-573-31767-2
Mar 2010
300 pages
Description
This volume features expert, refereed reviews of timely topics in each of the areas relevant to addiction science and clinical practice to aid researchers and practitioners interested in addictions. Authors from the United States, EU, Asia and elsewhere provide an international perspective on the problems and practices.

Specifically, this volume:

- focuses on topics that are relevant to specific substances but also provides important lessons for addiction to all substances
- provides reviews that are aimed to be useful to specialists in the field and as useful to students as the first criterion allows.

NOTE: Annals volumes are available for sale as individual books or as a journal. For information on institutional journal subscriptions, please visit www.blackwellpublishing.com/nyas.

ACADEMY MEMBERS: Please contact the New York Academy of Sciences directly to place your order (www.nyas.org). Members of the New York Academy of Science receive full-text access to the Annals online and discounts on print volumes. Please visit http://www.nyas.org/MemberCenter/Join.aspx for more information about becoming a member.