Addiction in the Family: What Every Counselor Needs to Know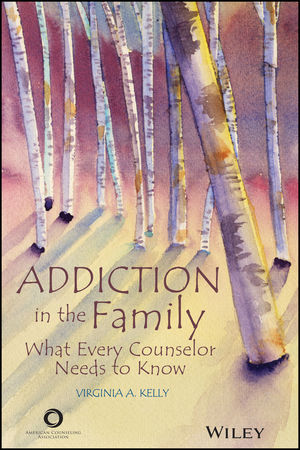 Addiction in the Family: What Every Counselor Needs to Know
ISBN: 978-1-119-09828-7
Dec 2015
208 pages
Description
This book identifies and addresses potential clinical issues for clients who have family members struggling with addiction, and offers concrete strategies for treatment. Viewing addiction as a family disease, Dr. Kelly explores the complex challenges faced by family members, examines the ways in which substance use disorders affect family dynamics, and discusses behaviors that help sustain recovery and create and maintain healthy relationships.
A brief history of substance abuse is provided, as are the primary models of addiction and family theory. Chapters on codependency and the emotional, relational, and behavioral consequences of living with a family member with a substance use disorder follow. The universality of substance abuse is then examined along with specific ethnic and cultural differences. Family support group treatment options complete the text. Case conceptualization exercises that contain reflections, implications for the counselor, and discussion questions for application of the material are interspersed throughout the book to link theory to practice.
*Requests for digital versions from the ACA can be found on wiley.com.
*To request print copies, please visit the ACA website here.
*Reproduction requests for material from books published by ACA should be directed to permissions@counseling.org.


Preface vii
About the Author ix
Acknowledgments xi
Introduction xiii
Chapter 1 Substance Abuse and SUD: History and Defi nition 1
Chapter 2 Etiological Models of SUD 7
Chapter 3 Commonly Abused Substances 11
Chapter 4 Family Theory 21
Chapter 5 Developmental Theory 47
Chapter 6 Codependency 59
Chapter 7 Emotional Consequences of Living With a Person With an SUD 69
Chapter 8 Relational Consequences of Living With a Person With an SUD 103
Chapter 9 Behavioral Consequences of Living With a Person With an SUD 121
Chapter 10 Multicultural Considerations 127
Chapter 11 Treating Clients Living With a Person With an SUD 137
Conclusion 159
References 161
Index 179