Addressing Contemporary Campus Safety Issues: New Directions for Student Services, Number 99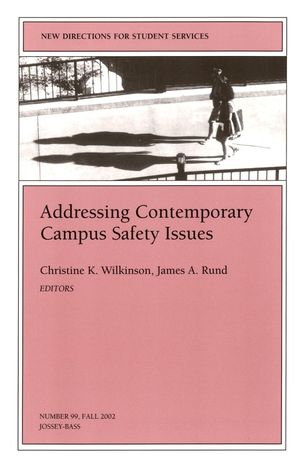 Addressing Contemporary Campus Safety Issues: New Directions for Student Services, Number 99
ISBN: 978-0-787-96341-5
Oct 2002, Jossey-Bass
112 pages
Description
Provided for practitioners as a resource book for both historical and evolving issues, this guide covers hazing, parental partnerships, and collaborative relationships between universities and the neighboring community. Addressing a new definition of a safe campus environment, the editors have identified topics such as the growth in study abroad, the implications of increased usage of technology on campus, and campus response to September 11. In addition, large-scale crisis responses to student riots and multiple campus tragedies have been described in case students. The issue speaks to a more contemporary definition of a safe campus environment that addresses not only physical safety issues but also those of a psychological nature, a more diverse student body, and quality of life.

This is the 99th issue of the Jossey-Bass higher education series New Direcitons for Student Services.
Buy Both and Save 25%!
Original Price:$58.00
Purchased together:$43.50
save $14.50
Cannot be combined with any other offers.
EDITORS NOTES (Christine K. Wilkinson, James A. Rund).

1. The Changing Context of Campus Safety (James A. Rund):As colleges and universities evolve, so too do the complexities of creatingsafe environments for students. This chapter describes safety inits various contexts and provides an overview for the volume.

2. Hazing: Hidden Campus Crime (Barbara B. Hollmann):Initiation traditions and rites of passage are important for group andteam membership, but the violent behavior and alcohol abuse involvedin hazing constitute serious campus crime. This chapter helps campusadministrators to develop new strategies for attacking the hidden crimeof hazing.

3. Parents and Campus Safety (Debra Sells):Parents are demanding greater inclusion in issues relating to campussafety and security. This chapter examines the historical evolution ofrelations between parents, students, and universities, discussing twopieces of key legislation and describing strategies to optimize commoninterrelationships between parents and institutions.

4. Collaboration with the Local Community (Michael L. Jackson, Cynthia Cherrey):Colleges and universities continually search for ways to enhance thesafety and security of their educational programs and physical plant.This chapter examines how the University of Southern California andother institutions are using collaborative efforts with the local communityto enhance their mutual safety and security through dynamic partnershipsand expanded service learning, volunteer, and teachingexperiences for students, faculty, staff, and campus neighbors.

5. Confronting Undesirable Traditions: A Case Study (Linda M. Clement):The necessity of extensive planning for major campus events hasbecome essential to ensure a safe environment for all participants. Thischapter explores the way one campus is challenging negative majorevent behaviors from pre-event preparations to post-event celebrations.

6. Addressing Ongoing Safety Issues (Michael Young, Dennis L. Nord, Yonie Harris):This chapter draws upon ongoing lessons for dealing with campusemergencies from a series of incidents, some high-profile, that occurredat the University of California, Santa Barbara, during the 2000 2001academic year.

7. The Extended Campus Safety Abroad (Janet S. Scharman):Study abroad has evolved from small, isolated programs for students toa more integral part of many students undergraduate experience. Institutionsare beginning to consider the safety aspects beyond the academicprogram itself. This chapter covers procedures and processes foradministrators to consider.

8. Technology Safety and Security (Robert M. Schaefer):This chapter reviews safety and security issues as they relate to technology,both for individuals and for the institution.

9. September 11, 2001 (Christine K. Wilkinson):The September 11 terrorist attacks in the United States had an impacton everyone across the nation, and certainly included college campuses.This chapter addresses campus responses targeted at students and identifiesfuture implications.

INDEX.