Adesso!: An Introduction to Italian, Student Text with Audio CD, 3rd Edition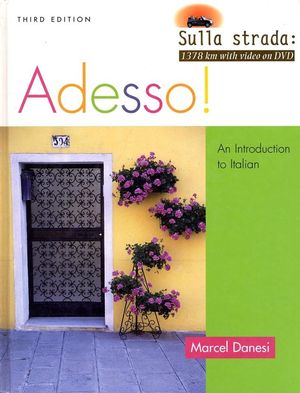 Adesso!: An Introduction to Italian, Student Text with Audio CD, 3rd Edition
ISBN: 978-0-470-42499-5 July 2005 516 Pages
Description
Adesso! is a complete introductory Italian program that takes a communicative and functional approach to learning the language. The book emphasizes practical skills without compromising the formal skills of the language. The objective of the text is to provide beginning students of Italian with a functional tool for learning how to use the Italian language in real-life situations. Its layout and activities are crafted to make the learning process both practice-oriented and task-based. The overall learning focus can be characterized in terms of a flow that moves back and forth between doing and practice phases. Combined with the Workbook/Laboratory Manual, CD audio program, and chapter-by-chapter Testing Program CD, Adesso! Third Edition continues to be a functional resource that will make learning Italian an enjoyable and meaningful experience.
Table of contents
Prima di cominciare

1. Un caffè, per favore

2. Buongiorno!

3. Si mi piace molto!

4. La lezione sta per cominciare!

5. La mia famiglia

6. Che ore sono?

7. Che tempo fa?

8. Buon compleanno!

9. Quanto costa?

10. L'alimentazione

11. La televisione

12. L'oroscopo

13. Dal medico!

14. All'aeroporto!

15. Cara Silvia...

16. L'automobile

17. Lo sport

18. Lezione finale!
Features
The design of each chapter is organized around themes which recycle information, affording the student ample opportunities to review and expand their knowledge of the language.