Adhesive Joints: Ageing and Durability of Epoxies and Polyurethanes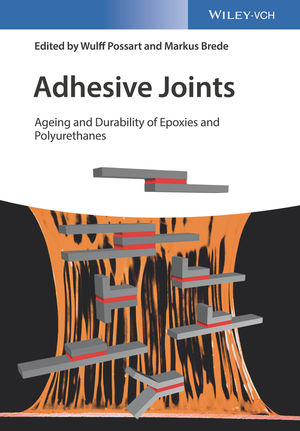 Adhesive Joints: Ageing and Durability of Epoxies and Polyurethanes
ISBN: 978-3-527-34185-6
Dec 2018
536 pages
Product not available for purchase
Description
A comprehensive overview of adhesive bonding, providing both basic knowledge of polymer adhesives as well as insights into their mechanical and ageing properties.
The book is unique in its up-to-date, self-contained summary of recent developments and in its integration of the theory, synthesis and mechanical properties of adhesive joints as well as their applications. Well-structured throughout, the first chapter introduces the initial state of adhesive joints and their formation, while subsequent chapters discuss the ageing and failure as well as the weathering of adhesive joints. In addition, a whole section is devoted to long-term behavior and life time predictions. The text is rounded off by a look at future technological advances.
The result is an essential reference for a wide range of disciplines.

INITIAL STATE OF ADHESIVE JOINTS
Adhesion Mechanisms and Interphase Formation
Adhesive Network Formation
Mechanical Interphases in Adhesive Joints
Fracture Mechanics of Adhesive Joints
ARTIFICIAL AGEING AND FAILURE OF ADHESIVE JOINTS
Ageing Phenomena in Polymers
Continuum Mechanical Modelling of Ageing Adhesive Joints
Crack Growth in Adhesive Joints
Joints with a Basic Epoxy Adhesive
Joints with a Basic Polyurethane Adhesive
Viscoelasticity in Ageing Joints
Ageing Joints
Cohesive Zone Model for Moist Adhesive Joints
WEATHERING OF ADHESIVE JOINTS, LIFE TIME PREDICTION AND MORE CONCLUSIONS
Adhesive Application under High-Power Ultrasound
Long-Term Behavior of Adhesive Bonded Timber
Adhesive Bonding for Composite Beams in Steel Constructions
Technical Adhesive Joints
Concluding Remarks