Adobe® Illustrator® CS2 Gone Wild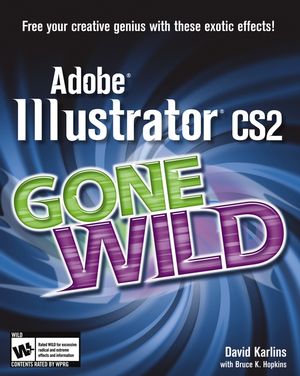 Adobe® Illustrator® CS2 Gone Wild
ISBN: 978-0-764-59859-3
Oct 2005
255 pages
Product not available for purchase
Description
Hang on tight Illustrator is about to blow you away. In fact, using the advanced techniques in this book, you could transform a photo of yourself to look as if that was literally happening. Achieve over-the-top visuals including type on a 3D spiral, exaggerated dot patterns that create comic book characters inspired by Roy Lichtenstein, Escher-esque shapes in simulated 3D, hip-hop type, amazing animation,effects that would make Andy Warhol proud—more than fifty in all, and each one described step by step and illustrated in breathtaking color. Build upon what you already know about Illustrator to:
See how exotic effects can be modified and applied in various situations
Learn to map artwork onto 3D illustrations, a process that can be used in architectural renderings or newsletters
Discover Illustrator's almost limitless fill options and ways to use them
Create liquid type, a wide variety of photographic effects, and fantasy automotive detailing
Render complex illustrations from traced photos using Live Paint
About the Author.
Preface.
Acknowledgments.
One: All Wound Up: 3D Rotation and Extrusion.
Mapping Type on a Spiral.
Einstein in 3D.
Making Marbles.
Doric Entablature.
Hell's Bell Curve.
Dripping Wax.
Generated Planet.
Revolving Planet Earth.
Two: Fills and Thrills.
Endless Iron Monkeys.
After the Big Bang.
Comic Book Pixelation.
Tribal Borders.
Mask in a Mesh.
Three: Bent Out of Shapes.
Escher Morphs.
Escher Warps.
Escher Escapes.
Stolen Jewels.
Band of Gold.
Four: Bipolar Photo Effects.
Break Out.
Foto Fist Fights Back.
Sucked into a Black Hole.
Vector Portrait.
Five: Fresh Outta the Blender.
Stick Man Evolves and Devolves.
Evo-Devo Revolves.
Winding Steps.
Stairway to Somewhere.
Six: Blends on Speed.
Motion Sickness on the Freeway.
Highway Posts Lookin' Like a Picket Fence.
Fly By Type.
Out-of-Control VW Minibus.
Blur.
Seven: Illegal Wheels.
Hot Exhaust Pipe.
Paint by Numbers.
EZ Wheels.
Eight: Post Big-bang Type.
Global Bang!
Shanghai Type.
Chevy Type.
Shanghai II.
Digital Graffiti I.
Digital Graffiti II.
Graffiti Wall.
Nine: Cosmic Typefaces.
Crystallized Type.
Bloody Type.
Effected Type.
3D Flushed Type.
Ten: Live Paint on Parole.
Mandala.
Tracing Roy and Troy.
Win a CD Cover Design Contest.
Eleven: Wild Web and Animation.
Building an Animated Banner.
Sequencing an Animated Banner.
Animation from the Blender.
Transparent Web Pix.
Creating a Fab Favicon.
CSS Layer Web Pages.
Index.