Adobe® InDesign® cs Bible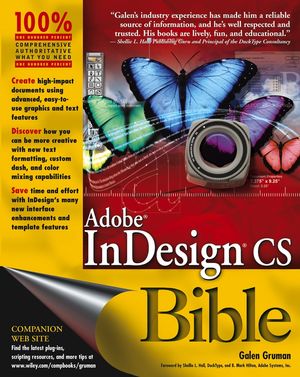 Adobe® InDesign® cs Bible
ISBN: 978-0-764-54227-5
Nov 2003
992 pages
Product not available for purchase
Description
* Completely updated to cover the latest version of InDesign, Adobe's professional, next-generation page-layout application, which is rapidly gaining significant market share
* Fully compatible with Mac OS X, InDesign integrates tightly with Adobe's Photoshop, Illustrator, and Acrobat, delivering intuitive features that reduce elaborate design tasks to a few quick steps and providing built-in support for publishing pages in print or electronically, including seamless PDF export
* Cross-platform coverage treats both Mac and Windows versions
Foreword: InDesign's Impact.
Foreword: The InDesign Mission.
Preface.
Acknowledgments.
Introduction.
InDesign QuickStart.
Part I: Welcome to InDesign.
Chapter 1: What InDesign Can Do for You.
Chapter 2: A Tour of InDesign.
Chapter 3: Getting InDesign Ready to Go.
Part II: Document Fundamentals.
Chapter 4: Creating, Opening, and Saving Documents.
Chapter 5: Working with Pages.
Chapter 6: Working with Layers.
Chapter 7: Creating Layout Standards.
Chapter 8: Defining Colors and Gradients.
Chapter 9: Book Publishing.
Part III: Object Fundamentals.
Chapter 10: Adding Text Frames, Picture Frames, and Lines.
Chapter 11: Manipulating Frames and Lines.
Chapter 12: Orchestrating Objects.
Chapter 13: Timesaving Techniques.
Part IV: Text Fundamentals.
Chapter 14: Preparing Text Files for Import.
Chapter 15: Working with Text.
Chapter 16: Flowing Text through a Document.
Chapter 17: Specifying Character Attributes.
Chapter 18: Specifying Paragraph Attributes.
Chapter 19: Creating Special Text Formatting.
Chapter 20: Setting Up Style Sheets.
Chapter 21: Setting Up Tabs and Tables.
Part V: Graphics Fundamentals.
Chapter 22: Preparing Picture Files for Import.
Chapter 23: Importing Pictures.
Chapter 24: Modifying Imported Pictures.
Chapter 25: Special Effects for Pictures.
Chapter 26: Drawing Free-Form Shapes and Curved Paths.
Chapter 27: Modifying Shapes and Paths.
Chapter 28: Treating Text as Artwork.
Part VI: Output Fundamentals.
Chapter 29: Preparing for Color Prepress.
Chapter 30: Preparing for Printing.
Chapter 31: Printing Techniques.
Chapter 32: Creating Output Files.
Part VII: Cross-Media Fundamentals.
Chapter 33: Interactive Document Setup.
Chapter 34: Working with XML.
Part VIII: Going Beyond the Program.
Chapter 35: Working with Others.
Chapter 36: Using Plug-Ins.
Chapter 37: Using Scripts.
Part IX: Introduction to Publishing.
Chapter 38: The Publishing Environment.
Chapter 39: Layout Theory and Practice.
Chapter 40: Typography Theory and Practice.
Chapter 41: Using Special Characters.
Chapter 42: Color Fundamentals.
Part X: Appendixes.
Appendix A: Installing or Upgrading InDesign.
Appendix B: What's New in InDesign CS.
Appendix C: Switching from QuarkXPress.
Appendix D: Switching from PageMaker.
Appendix E: Switching to Mac OS X.
Appendix F: Using Adobe InCopy.
Appendix G: The InDesign Central Web Site.
Appendix H: Shortcuts Cheat Sheet.
Index.