Adobe AIR Bible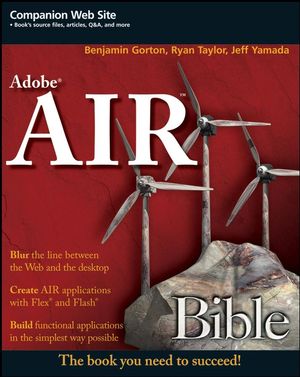 Adobe AIR Bible
ISBN: 978-0-470-43159-7
Oct 2008
480 pages
Product not available for purchase
Description
Adobe Integrated Runtime (AIR) lets you use scripting languages you already know and frees you from the dull parts of development—so you can focus on creating exciting and cost-saving application user interfaces using Flash, Flex, and JavaScript. Find all the tips, techniques, and best practices you need to succeed in this comprehensive reference, including installing AIR across Windows, Mac, or Linux; learning AIR programming, development, and debugging essentials; and much more.
Acknowledgments.
Introduction.
Part I: Introduction to AIR.
Chapter 1: Clearing the AIR.
Chapter 2: Setting Up Your Development Environment.
Chapter 3: Building Your First AIR Application.
Part II: Programming for AIR Essentials.
Chapter 4: Crash Course in AIR Programming.
Chapter 5: Development Essentials.
Chapter 6: Debugging and Profiling.
Part III: AIR API.
Chapter 7: Communicating with the Local Machine.
Chapter 8: Using the Filesystem.
Chapter 9: Using the Clipboard.
Chapter 10: Dragging and Dropping.
Chapter 11: SQLite Databases.
Chapter 12: Using Native Operating System Windows.
Chapter 13: HTML Content.
Part IV: Building an Application.
Chapter 14: Preparing to Build a Large-Scale Application.
Chapter 15: Building a Reusable Config Class.
Chapter 16: Application Design Best Practices.
Chapter 17: SDK Development.
Chapter 18: Sample Application: LogReader.
Chapter 19: Polishing a Finished Application.
Part V: Testing and Deploying.
Chapter 20: Deployment Workflow.
Chapter 21: Leveraging Ant to Automate the Build Process.
Chapter 22: Installation and Distribution.
Index.