Adobe Acrobat 8 PDF Bible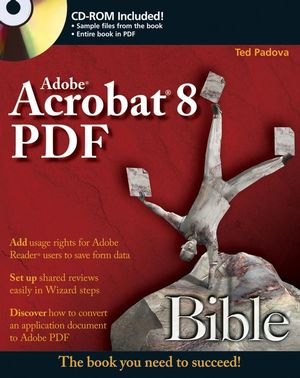 Adobe Acrobat 8 PDF Bible
ISBN: 978-0-470-37765-9
Mar 2008
1085 pages
Product not available for purchase
Description
""The Adobe Acrobat 8 PDF Bible is the comprehensive guide to Acrobat for novices and power users alike. With a concise, easy-to-read format, you will be creating interactive XML forms, enabling streamlined document review processes, and publishing high-impact electronic documents in no time.""
—Rick Brown, director of product management, Adobe Acrobat

The book you need to succeed with Adobe Acrobat!

Why do readers turn to the Adobe Acrobat Bible again and again? Because whether you're already experienced with Adobe Acrobat or you're learning to use this powerful tool for the first time, you'll find exactly what you need to know in these well-organized pages. Packed with helpful tips and step-by-step instructions, this latest edition will guide you through both basic and advanced features, enabling you to take full advantage of everything Acrobat 8 has to offer.
Create, collect, and distribute forms with LiveCycle® Designer
Work seamlessly with Microsoft® Office applications
Convert AutoCAD® and Visio® files to PDF
Discover new ways to edit PDFs and remove sensitive data
Explore enhanced Shared Reviews tools with easy-to-use Wizard
Collect form data by exporting it directly to Microsoft Excel®
Combine files and create PDF Packages using new Acrobat 8 tools
What's on the CD-ROM?
You'll find valuable, author-developed sample files including PDF documents, Adobe Designer forms, and Acrobat PDF forms with JavaScripts—all arranged in folders according to chapters in the book, so you use them along with the book's tutorials. The CD also includes:
Adobe Reader software
Entire book in searchable PDF with embedded index
Windows demonstration plug-ins
About the Author.
Preface.
Acknowledgments.
Introduction.
Part I: Welcome to Adobe Acrobat.
Chapter 1: Getting to Know Adobe Acrobat.
Chapter 2: Using Acrobat Viewers.
Chapter 3: Getting Started in Adobe Acrobat.
Chapter 4: Getting Familiar with Adobe Reader.
Chapter 5: Viewing and Navigating PDF Files.
Chapter 6: Searching PDF Files.
Part II: Converting Documents to PDF.
Chapter 7: Converting Files to PDF.
Chapter 8: Using PDFMaker with Microsoft Programs.
Chapter 9: Exporting to PDF from Authoring Applications.
Chapter 10: Using Acrobat Distiller.
Part III: Editing PDFs.
Chapter 11: Saving and Versioning Files.
Chapter 12: Combining, Packaging, and Attaching PDFs.
Chapter 13: Editing Text.
Chapter 14: Redacting PDFs.
Chapter 15: Editing Images and Objects.
Chapter 16: Editing Pages.
Chapter 17: Scanning and OCR Conversion.
Chapter 18: Repurposing and Batch Processing.
Chapter 19: Enabling Features for Adobe Reader.
Part IV: PDF Interactivity.
Chapter 20: Review and Markup.
Chapter 21: Working with Review Sessions.
Chapter 22: Links and Actions.
Chapter 23: Multimedia and PDFs.
Chapter 24: Working with Layers.
Chapter 25: Accessibility and Tagged PDF Files
Part V: PDF Publishing.
Chapter 26: Authentication and Security.
Chapter 27: PDFs and the Web
Chapter 28: PDFs and Presentations
Chapter 29: Using Acrobat Connect
Chapter 30: PDFs and eBooks.
Chapter 31: Printing to Desktop Color Printers
Chapter 32: Commercial Printing and Prepress.
Part VI: Acrobat PDF and LiveCycle Designer Forms.
Chapter 33: Designing PDF Forms (Windows Only).
Chapter 34: Understanding Acrobat Form Tools.
Chapter 35: Working with Form Data.
Chapter 36: Understanding JavaScript.
Appendix: Using the CD-ROM.
Index.
End-User License Agreement.
""Filled with step by step sections and easy to follow diagrams and screenshots make this a good studio reference."" (Twohundredby200, October 2007)