Adobe CS4 Web Workflows: Building Websites with Adobe Creative Suite 4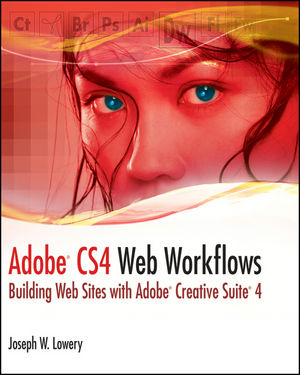 Adobe CS4 Web Workflows: Building Websites with Adobe Creative Suite 4
ISBN: 978-0-470-50434-5
Aug 2009
416 pages
Product not available for purchase
Description
Bestselling author Josephy Lowery shows you how to develop effective workflows with Adobe CS products
As the industry standard for everyone from Web developers to creative professionals, Adobe's CS4 offers a collection of the most popular Web and design tools: Photoshop, Dreamweaver, Flash, Illustrator, Fireworks, Acrobat, and more. While it is incredibly convenient to have all these tools readily available in one suite, it also contributes to confusion with managing media from one product to the next.
That's where this book comes in! Popular author Joseph Lowery walks you through best practices for refining, streamlining, and improving your workflow from one product to the next.
Offers a clear overview of exactly what methods work best when transitioning from one Adobe CS4 product to another
Demonstrates how to smoothly transition from one CS4 product to another
Includes step-by-step examples of an exemplary workflow used throughout the chapters so you can watch its progression
With a more streamlined workflow and a better understanding of how the Adobe CS4 products work in cohesion, you're well on your way to making the Adobe suite work for you.
Introduction.
PART 1: PHOTOSHOP TO DREAMWEAVER.
CHAPTER 01: CREATING THE COMP.
CHAPTER 02: COMPLETING THE COMP.
CHAPTER 03: FROM COMP TO LAYOUT.
PART 2: FIR EWORKS TO DREAMWEAVER.
CHAPTER 04: COMPOSING WITH VECTORS.
CHAPTER 05: COMPING MULTIPAGE SITES.
CHAPTER 06: COMBINING NAVIGATION AND LAYOUTS.
PART 3: FLASH TO DREAMWEAVER.
CHAPTER 07: BUILD ING FLASH INTROS.
CHAPTER 08: SETTING UP FLASH VIDEO.
PART 4: PHOTOSHOP TO BRIDGE TO FIREWORKS TO DREAMWEAVER.
CHAPTER 09: ASSET CREATION AND COMPING.
CHAPTER 10: ADDING INTERACTIVE FORMS IN DREAMWEAVER.
PART 5: ILLUSTRATOR TO PHOTOSHOP TO FLASH TO DREAMWEAVER.
CHAPTER 11: CRAFTING A FLEXIBLE MARKETING AREA.
CHAPTER 12: ANIMATING PHOTOSHOP GRAPHICS IN FLASH.
APPENDIX A: ADDITIONAL WORKFLOWS.
INDEX.