Adobe Photoshop Lightroom and Photoshop Workflow Bible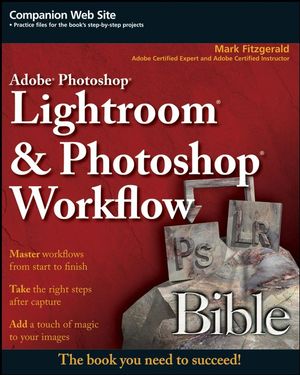 Adobe Photoshop Lightroom and Photoshop Workflow Bible
ISBN: 978-0-470-43171-9
May 2013
592 pages
Description
The digital photographer's workflow is divided into two distinct parts - the Production Workflow and the Creative Workflow. The Production workflow is used to import and organize large numbers of images, and prepare them for presentation via proof printing, Web, or slideshow. Increasingly, photographers are turning to Adobe's acclaimed new Lightroom software to manage this part of the workflow.

After the best images are identified, photographers move to the second part of the workflow, the Creative Workflow, to fine-tune special images using a variety of advanced digital tools so that the creative vision is realized. An overwhelming majority of digital photographers use Photoshop for this advanced editing.

Adobe Photoshop Lightroom & Photoshop Workflow Bible effectively guides digital photographers through both parts of this process. Author Mark Fitzgerald, an Adobe Certified Expert and Adobe Certified Instructor in Photoshop CS3 offers readers a clear path to using both Lightroom 2 and Photoshop CS3 to create a complete digital workflow. Fitzgerald uses tips, tricks, and step-by-step directions to demonstrate how to integrate these two powerful programs to optimize image management and create stunning images.

The first part of this book is dedicated to offering an overview of the complete workflow, clearly defining the purpose of both Photoshop and Lightroom within a photographer's workflow and explaining the basics of image files and how to organize them.

The second part delves into using Lightroom to manage the Production Workflow.  It begins with an in-depth look at the Lightroom workspace and how images are imported into it. Photographers are then guided through organizing images within Lightroom, processing photos, sharing photos with others in a variety of formats and creating files to use outside of Lightroom. Finally, the workflow is put into action by demonstrating how a wildlife photographer used Lightroom in the field while photographing migrating polar bears in the arctic.

The third part focuses on Photoshop and the Creative Workflow, starting with opening files in Photoshop as well as suggesting when and how photographers should be utilizing Bridge and Adobe Camera Raw. A review of the Photoshop workspace is followed by information on adjusting tonality and color with a wide variety of tools, and working with layers.

Part four moves into more advanced Photoshop tools and techniques, such as selections, layer masks and using Photoshop's retouching tools. There is also a discussion on the nuances of using Photoshop and Lightroom together and how to use Photoshop actions in Lightroom.

Part five focuses on putting all of the pieces together to create the complete Creative Workflow with Photoshop. It begins with a discussion for creating strategies for success. The author then moves on to how to solve special portrait retouching problems and how to add creative finishing touches. Then Fitzgerald demonstrates the entire process with a downloadable practice file so you can follow along and practice your newly learned skills.
Preface v
Acknowledgments xi
Part I: Understanding the Workflow 1
Chapter 1: Making Your Work Flow 3
Chapter 2: Comparing Lightroom and Photoshop 11
Chapter 3: Understanding Image File Basics 21
Part II: Using Lightroom to Manage Your Production Workflow 45
Chapter 4: Understanding the Lightroom Workspace 47
Chapter 5: Importing Images into Lightroom 67
Chapter 6: Getting Organized with the Library Module 79
Chapter 7: Processing Photos with the Develop Module 109
Chapter 8: Sharing Photos with Others 167
Chapter 9: Creating Files to Use Outside of Lightroom 203
Chapter 10: Putting the Production Workflow into Action 213
Part III: Understanding Basic Photoshop Concepts 223
Chapter 11: Opening Files in Photoshop 225
Chapter 12: Understanding the Photoshop Workspace 241
Chapter 13: Adjusting Tonality and Color 257
Chapter 14: Working with Layers 291
Part IV: Going Beyond the Basics 313
Chapter 15: Working with Selections 315
Chapter 16: Creating Flexibility with Layer Masks 353
Chapter 17: Using Photoshop's Main Retouching Tools 375
Chapter 18: Using Photoshop Actions with Lightroom 409
Part V: Putting the Tools to Work 419
Chapter 19: Creating Strategies for Success 421
Chapter 20: Solving Special Portrait Retouching Problems 433
Chapter 21: Adding Finishing Touches 463
Chapter 22: Putting the Creative Workflow into Action 491
Index 515
Practice Zip Files



To download the practice files, right-click on the link below this text and choose Save Target As. The practice files are stored in a ZIP file. To open it, you need a computer with software capable of opening ZIP files. If you do not already have this capability, you can download a free trial of WinZip or stuffit.

Click Here To Download the Practice Zip File.