Adolescents' Preparation for the Future: Perils and Promise: A Report of the Study Group on Adolescence in the 21st Century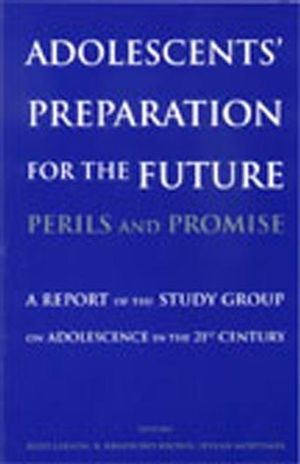 Adolescents' Preparation for the Future: Perils and Promise: A Report of the Study Group on Adolescence in the 21st Century
ISBN: 978-0-631-23540-8
Apr 2003, Wiley-Blackwell
176 pages
Description
Societies around the world are changing rapidly, but are adolescents being prepared to be adults in the emerging global world? An international study group addresses this question. Articles examine how well adolescents are being prepared for productive employment, healthy relationships, civic participation, and positive physical and mental health.
Preface: Reed Larson, B. Bradford Brown and Jeylan Mortimer.
1. Introduction: 'Globalization, Societal Change, and New Technologies: What They Mean for the Future of Adolescence': Reed Larson.
2. 'Preparation for Work in the Twenty-first Century': Michael J. Shanahan, Jeylan T. Mortimer, Helga Kruger.
3. 'Civic and Community Engagement of Adolescents in the 21st Century': James Youniss, Rainer Silbereisen, Vernoa Christmas-Best, Susan Bales, Marcelo Diversi, Milbrey McLaughlin.
4. 'Adolescents' Interpersonal Competencies in the 21st Century': Reed Larson, Suzanne Wilson, B. Bradford Brown, Frank Furstenberg, Suman Verma.
5. 'Adolescent Health and Well-Being in the 21st Century: A Global Perspective': Kathleen Call, Aylin Riedel, Karen Hein, Vonnie McLoyd, Michele Kipke, Anne Peterson.
6. 'Social Policy Implications': Karen Pittman, Marcelo Diversi, Merita Irby, Thaddus Fabber.
7. 'Social Policy for the 21st Century': Karen Pittman, Marcelo Diversi.
Conclusions: Reed Larson, Suzanne Wilson, B. Bradford Brown, Jeylan Mortimer.


This thought-provoking report looks at the questions facing adolescents as they enter adulthood.


Includes contributions by the expertise of top scholars in the field of adolescence.


Discusses the current and future situation of adolescents around the world.


Sponsored by the Society for Research on Adolescence with co-sponsorship by the International Society for Behavioral Development.