Adoptees' Ethnic Identity Within Family and Social Contexts: New Directions for Child and Adolescent Development, Number 150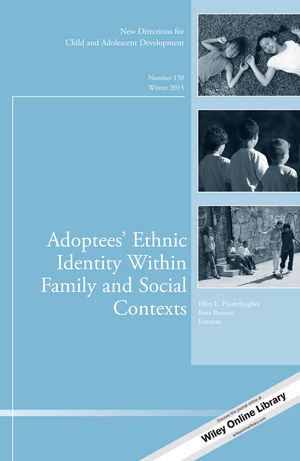 Adoptees' Ethnic Identity Within Family and Social Contexts: New Directions for Child and Adolescent Development, Number 150
ISBN: 978-1-119-21661-2
Dec 2015
120 pages
Description
This special issue addresses the construction of ethnic identity among international transracial adoptees, which typically involve the placement of Black, Asian, Hispanic, or Multiracial children with White parents. International transracial adoptees, similar to immigrants, navigate a cultural and ethnic context other than their birth culture. However, they are unique in that they navigate these experiences within families who don't share their cultural, ethnic, and racial background. Critical questions emerge about the construction and development of their ethnic identity. These questions include

the role that transracial adoptive parents play in providing cultural socialization (exposure to children's birth culture);
the impact of culture camps designed to provide cultural socialization in the context of peers;
the intersection of adoptive identity and ethnic identity and youth adjustment;
whether relations between ethnic identity and adjustment are linear or curvilinear;
the role of bicultural identity integration as a link between ethnic identity and pscyhosocial adjustment; and
ethnic identity processes among internationally transracially adopted young adults who mentor younger adoptees from similar cultures.
These questions are addressed in this special issue in a collection of studies that examine ethnic identity among diverse international transracial adoptees, at different ages, adopted into two countries and using differing sample sizes and methodologies.

International transracial adoptive families represent a microcosm of the growing international, transracial, and transethnic social transactions taking place in this diverse world. The collective findings in this special issue about the multidimensionality of ethnic identity and its intersectionality with other identities across developmental eras not only enhance knowledge about identity development among international transracial adoptees, but also expand understanding about identity development in general.

This is the 150th volume in this Jossey-Bass series New Directions for Child and Adolescent Development. Its mission is to provide scientific and scholarly presentations on cutting edge issues and concepts in this subject area. Each volume focuses on a specific new direction or research topic and is edited by experts from that field.
1. Introduction to Special Issue: Adoptees' Ethnic Identity Within Family and Social Contexts 1
Ellen E. Pinderhughes, Rosa Rosnati

This special issue contains studies that examine adoptees' ethnic identity and their well-being in family and social contexts and represent an emerging focus on identity development in families where parents, as members of the dominant culture, face the task of helping children—members of minority groups—develop a positive identity.
2. ""American"" or ""Multiethnic""? Family Ethnic Identity Among Transracial Adoptive Families, Ethnic-Racial Socialization, and Children's Self-Perception 5
Ellen E. Pinderhughes, Xian Zhang, Susanne Agerbak
This mixed methods study found that family ethnic identity and cultural socialization were related to children's ethnic self-label among young elementary-aged girls. Complexities in girls' self-perception also emerged.
3. Culture Camp, Ethnic Identity, and Adoption Socialization for Korean Adoptees: A Pretest and Posttest Study 19
Amanda L. Baden
Early adolescent adoptees reported less depression after one-week culture camp; ethnic identity was unrelated to the change, however. Findings point to the importance of examining adoptive socialization in culture camps.
4. Ethnic Identity and Psychological Well-Being of International Transracial Adoptees: A Curvilinear Relationship 33
Jayashree Mohanty
This study verified the curvilinear relationship between ethnic identity and psychological well-being of international adoptees: psychological well-being was highest when ethnic identity was moderate, and lowest when ethnic identity was either high or low.
5. Korean Adoptee Identity: Adoptive and Ethnic Identity Profiles of Adopted Korean Americans 47
Adam J. Beaupre, Reed Reichwald, Xiang Zhou, Elizabeth Raleigh, Richard M. Lee
The present study focused on how adopted Korean American adolescents commit to their ethnic and adoptive identities and the association between different identity profiles and psychological adjustment.
6. Ethnic Identity, Bicultural Identity Integration, and Psychological Well-Being Among Transracial Adoptees: A Longitudinal Study 63
Laura Ferrari, Rosa Rosnati, Claudia Manzi, Veronica Benet-Martýnez
This longitudinal study highlighted that ethnic identity, national identity are protective factors for adoptees' psychological well-being and the mediational role played by the Bicultural Integration Identity (BII).
7. Participation in the Adoption Mentoring Partnership: Mentors' Experiences of Ethnic Identity 77
Karin J. Garber, Quade Y. S. French, Harold D. Grotevant
This qualitative study of young adult mentors found four key identity themes: personal ethnic identity exploration, communication with family members about adoption/ethnicity, social exchanges outside the family, and mentors' perceived meanings of ethnicity.
8. New Trends and Directions in Ethnic Identity Among Internationally Transracially Adopted Persons: Summary of Special Issue 91
Rosa Rosnati, Ellen E. Pinderhughes, Amanda L. Baden, Harold D. Grotevant, Richard M. Lee, Jayashree Mohanty
The collective findings of the six articles shape ethnic identity among international transracial adoptees (ITRAs) as a multidimensional developmental phenomenon that intersects with other identities, notably adoptive identity and that unfolds within family, social and cultural contexts. New directions in research were identified as well as implications for practice.
9. Commentary—Enlarging Concepts, Refining Methods, Improving Interventions 97
Jesus Palacios
Research into ethnic identity in adoption, while making substantial progress, faces new challenges: definition of concepts, appropriate methods of study, and implications for professional interventions.
INDEX 103