Adorno: A Critical Reader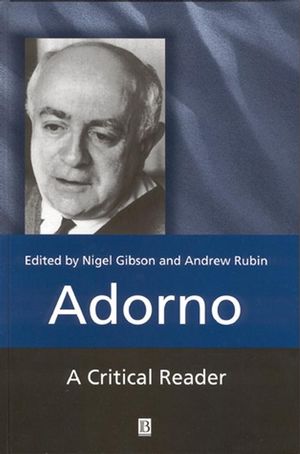 Adorno: A Critical Reader
ISBN: 978-0-631-21249-2
Jan 2002, Wiley-Blackwell
464 pages
Description
Adorno: A Critical Reader presents a collection of new essays by many of the world's top critics that examine Adorno's lasting impact on the arts, politics, history, philosophy, psychoanalysis, and sociology.
Contributors.
Acknowledgments.
Introduction: Adorno and the Autonomous Intellectual: Nigel Gibson and Andrew Rubin (both Columbia University).
Part I: Politics and Culture:.
1. Adorno in Reverse: From Hollywood to Richard Wagner: Andreas Huyssen (Columbia University).
2. Mass Culture as Hieroglyphic Writing: Adorno, Derrida, Kracauer: Miriam Hansen (University of Chicago).
3. Theodor W. Adorno and the Dialectics of Mass Culture: Douglas Kellner (University of California, Los Angeles).
4. Adorno's Politics: Russell Berman (Stanford University).
5. "Why were the Jews Sacrificed?": The Place of Antisemitism in Adorno and Horkheimer's Dialectic of Enlightenment: Anson Rabinbach (Princeton University).
6. Demythologizing the Authoritarian Personality: Reconnoitering Adorno's Retreat from Marx: Lou Turner (North Central College, Illinois).
7. The Adorno Files: Andrew Rubin (Columbia University).
Part II: Aesthetics:.
8. Adorno as Lateness Itself: Edward W. Said (Columbia University).
9. Immanent Critique, or Musical Stocktaking? Adorno and the Problem of Musical Analysis: Max Paddison (University of Durham).
10. Adorno and the New Musicology: Rose Rosengard Subotnik (Brown University).
Part III: Critical Theory and After:.
11. Rethinking an Old Saw: Dialectical Negativity, Utopia, and Negative Dialectic in Adorno's Hegelian Marxism: Nigel Gibson (Columbia University).
12. Hegel on Trial: Adorno's Critique of Philosophical Systems: Mauro Bozzetti (University of Urbino, Italy).
13. The Dialectic of Theory and Praxis: On Late Adorno: Henry W. Pickford.
14. Radical Art: Reflections after Adorno and Heidegger: Krzysztof Ziarek (University of Notre Dame).
15. Queerly Amiss: Sexuality and the Logic of Adorno's Dialectics: Jennifer Rycenga (San José State University).
16. "As though the end of the world had come and gone" or Allemal ist nicht immergleich – Critical Theory and the Task of Reading: Samuel Weber (University of California, Los Angeles).
Bibliography.
Index.
"There is a kind of poetic justice in the fact that Adorno is the great survivor of the Frankfurt School, the only one whose thought retained its full actuality. However, the same thing he said for psychoanalysis – that its truth resides in its very exaggerations – goes for his own thought: he is at his most subversive when he gets involved in a deadlock. For this reason, this critical reader, focused on these deadlocks, is not just a commentary on his thought, but literally
part of it
. In short, this book is simply a
must
!"
Slavoj Zizek
, Kulturwissenschaftliches Institute, Essen <!--end-->
"Against all odds, Adorno has emerged at the dawn of the twenty-first century as arguably the leading theoretical inspiration of our time. These stimulating essays, written by fresh as well as familiar commentators on his oeuvre, go a long way towards explaining the power of his ideas and demonstrating their abiding relevance." Martin Jay, University of California, Berkeley
Contains a groundbreaking essay and introduction that reconsiders Adorno's role as an intellectual in light of recent evidence, disclosed here for the first time, that funding for the Frankfurt School was tied to the Central Intelligence Agency.

New essays re-evaluate Adorno's work in the context of the many fields that his writings have shaped irreversibly.

Captures the interest of those who study the arts, politics, history, philosophy, psychoanalysis, and sociology.