Adult Client Education Handout Planner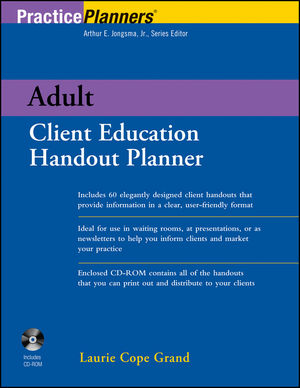 Adult Client Education Handout Planner
ISBN: 978-0-471-20232-5
Apr 2003
176 pages
Product not available for purchase
Description
Help educate your adult clients on a variety of mental health topics

The Adult Client Education Handout Planner provides you with an array of ready-to-use handouts designed to educate your clients on a variety of issues and concerns related to their mental health and personal growth. This easy-to-use sourcebook features:
60 fact-filled handouts on various psychological and emotional disorders and life skills techniques
Listings of resources where clients can go for reliable, in-depth information
Handouts that provide educational information on a wide variety of mental health issues affecting adults, including chemical dependence, depression, Obsessive-Compulsive Disorder (OCD), psychosis, spirituality, and many others
A CD-ROM that contains handouts in a PDF format-allowing you to easily print out and distribute them to suit you, your clients', and your practice's unique style and needs
Practice
Planner®
Series Preface.
Acknowledgments.
Introduction.
SECTION I. PROBLEM-FOCUSED HANDOUTS.
Adult Attention-Deficit Disorder.
Antisocial Behavior.
Borderline Personality Disorder.
Building Your Self-Esteem.
Chemical Dependence.
Childhood Trauma.
Cognitive Deficit.
Dealing with Relapses during Recovery from Chemical Dependence.
Dependency Issues.
Depression.
Dissociation.
Eating Disorders.
Female Sexual Dysfunction.
Financial Stress.
Impulse Control Disorders.
It's Never Too Late to Finish Your Education.
Living with Chronic Pain.
Living a Responsible Life.
Living with a Serious Medical Condition.
Male Sexual Dysfunction.
Managing Angry Feelings.
Managing Anxiety.
Mania and Hypomania.
Obsessive-Compulsive Disorder.
Paranoia.
Phobias, Panic, and Agoraphobia.
Posttraumatic Stress Disorder.
Psychosis.
Recovering from Loss.
Recovering from Sexual Abuse.
Resolving Family Conflicts.
Seeking Spirituality.
Sleep Disturbance.
Social Anxiety.
Somatoform Disorders.
Thinking about Suicide.
Type A Behavior.
Work Stress.
SECTION II. LIFE SKILLS HANDOUTS.
Assertive Communication.
Building People Skills.
Coping with the Illness of Someone You Care About.
Dealing with Your Mixed Feelings about Growing Older.
Developing Your Personal Negotiation Skills.
Empathy.
Expressing Your Feelings Responsibly.
Facing the Holiday Season When You Don't Feel Like Celebrating.
Five Ways to Slow Down Your Life.
How People Change.
How to Be a Team Player.
How to Give Feedback.
How to Motivate Yourself to Reach Your Goals.
How to Move On after a Big Disappointment.
How to Move On after You've Lost Your Job.
How to Set Goals.
Listening Skills.
Principles of Positive Reinforcement.
Relaxation Techniques.
Taking the Mystery out of Feelings and Emotions.
What Do You Value?
What to Do When You Can't Stop Worrying.
Helpful Books and Web Sites.