Adult Development and Aging: Biopsychosocial Perspectives, 5th Edition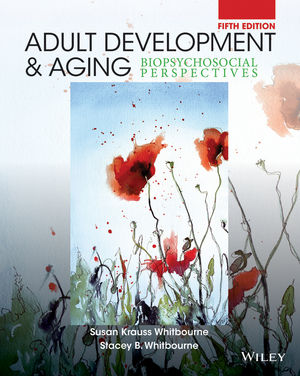 Adult Development and Aging: Biopsychosocial Perspectives, 5th Edition
ISBN: 978-1-118-42519-0
Jan 2014
416 pages
Product not available for purchase
Description
Adult Development and Aging: Biopsychosocial Perspectives, 5th Edition incorporates material that the authors, Susan Krauss Whitbourne and Stacey B. Whitbourne, believe is vital to student understanding of this rapidly-developing and fascinating field of study. This text focuses on three themes: a multidisciplinary approach, positive images of aging, and the newest and most relevant research. Much of what students will read comes directly from Susan's classroom teaching of the Psychology of Aging course; she continues to incorporate her day-to-day teaching of the course into the text, which keeps the material current, fresh, and engaging.
Preface v
CHAPTER 1
Themes and Issues in Adult Development and Aging 1
The Biopsychosocial Perspective 2
Four Principles of Adult Development and Aging 3
1. Changes Are Continuous Over the Life Span 3
2. Only the Survivors Grow Old 4
3. Individuality Matters 5
4. ''Normal'' Aging Is Different From Disease 6
The Meaning of Age 7
Using Age to Define ''Adult'' 7
Divisions by Age of the Over-65 Population 8
Functional Age 9
Personal Versus Social Aging 10
Key Social Factors in Adult Development and Aging 12
Sex and Gender 12
Race 12
Ethnicity 13
Socioeconomic Status 13
Religion 13
The Baby Boomers Grow Up: Changes in the Middle-Aged and Older Populations in the United States and the World 13
United States 14
Aging Around the World 16
Summary 18

CHAPTER 2
Models of Development: Nature and Nurture in Adulthood 19
Key Concepts in the Study of the Lifespan 20
Models of Individual–Environment Interactions 21
Reciprocity in Development 23
Sociocultural Models of Development 23
Ecological Perspective 23
The Life Course Perspective 25
Ageism as a Social Factor in the Aging Process 26
Psychological Models of Development in Adulthood 28
Erikson's Psychosocial Theory 29
Piaget's Cognitive-Developmental Theory 31
Identity Process Theory 32
The Selective Compensation with Optimization Model 35
Biological Approaches to Aging in Adulthood 35
Genes and DNA 35
Programmed Aging Theories 37
Random Error Theories 39
Summary 41
CHAPTER 3
The Study of Adult Development and Aging: Research Methods 43
Variables in Developmental Research 44
Descriptive Research Designs 45
Age, Cohort, and Time of Measurement 45
Longitudinal Designs 46
Cross-Sectional Designs 49
Sequential Research Designs 51
The Most Efficient Design 51
Correlational Designs 52
Simple Correlational Designs 52
Multivariate Correlational Designs 53
Types of Research Methods 55
Laboratory Studies 55
Qualitative Studies 55
Archival Research 55
Surveys 55
Epidemiological Studies 56
Case Reports 57
Focus Groups 57
Daily Diaries 57
Observational Methods 57
Meta-Analysis 57
Measurement Issues in Adult Development and Aging 58
Ethical Issues in Research 59
Summary 60
CHAPTER 4
Physical Changes 63
Appearance 64
Skin 64
Hair 66
Body Build 67
Mobility 69
Muscles 69
Bones 71
Joints 71
Vital Bodily Functions 73
Cardiovascular System 73
Respiratory System 75
Urinary System 75
Digestive System 77
Bodily Control Systems 77
Endocrine System 77
Immune System 80
Nervous System 81
Central Nerous System 82
Sleep 84
Temperature Control 85
Sensation and Perception 86
Vision 86
Hearing 87
Balance 88
Smell and Taste 89
Somatosensory System 90
Summary 91
CHAPTER 5
Health and Prevention 93
Key Concepts in Health and Prevention 94
Diseases of the Cardiovascular System 94
Cardiac and Cerebrovascular Conditions 95
Incidence 96
Behavioral Risk Factors 96
Prevention of Heart Disease and Stroke 97
Cancer 98
Risk Factors and Prevention 99
Treatments 100
Disorders of the Musculoskeletal System 101
Osteoarthritis 101
Osteoporosis 102
Diabetes 103
Characteristics of Diabetes 103
Incidence and Risk Factors 103
Prevention and Treatment 104
Respiratory Diseases 104
Neurocognitive Disorders 105
Alzheimer's Disease 105
Other Forms of Neurocognitive Disorder 112
Summary 114

CHAPTER 6
Basic Cognitive Functions: Information Processing, Attention, and Memory 117
Processing Speed and Attention 118
Reaction Time 118
Attention 118
Video Games and Attention 122
Driving and Aging 122
Memory 125
Working Memory 125
Effects of Aging on Long-Term Memory in Adulthood 126
Identity, Self-Efficacy, Stereotype Threat, and Control Beliefs 129
Memory and Health-Related Behaviors 130
Memory Training Studies 132
Summary 133
CHAPTER 7
Higher-Order Cognitive Functions 135
Executive Functioning and Its Measurement 136
Intelligence Tests 136
Neuropsychological Assessment 137
Aging and Executive Functioning 138
Language 139
Cognitive Aspects of Language 139
Social Aspects of Language 140
Bilingualism and Aging 142
Everyday Problem Solving 142
Characteristics of Problem Solving 142
Problem Solving in Adulthood 143
Adult Learners 146
Intelligence 147
Theoretical Perspectives on Adult Intelligence 148
Research on Adult Intelligence 148
Training Studies 153
The Psychology of Wisdom 153
Summary 155

CHAPTER 8
Personality 157
Psychodynamic Perspective 158
Ego Psychology 158
Vaillant's Theory of Defense Mechanisms 163
Adult Attachment Theory 164
Trait Approaches 165
Research on Aging and the Five-Factor Model 165
Health and Personality Traits 167
Social Cognitive Approaches 168
Cognitive Perspective 170
Possible Selves Theory 171
Coping and Control 171
Identity Process Theory 173
Midlife Crisis Theories and Findings 174
Theory of the Midlife Crisis 174
Critiques and Research on the Midlife Crisis 176
Summary 178
CHAPTER 9
Relationships 179
Marriage and Intimate Relationships 180
Marriage 180
Cohabitation 182
Same-Sex Couples 183
Divorce and Remarriage 183
Widowhood 185
Psychological Perspectives on Long-Term
Relationships 186
Families 189
Parenthood 189
The Empty Nest 191
Parent–Adult Child Relationships 193
Siblings 196
Grandparents 196
Friendships 198
Theoretical Perspectives 198
Patterns of Friendships 198
Summary 199
CHAPTER 10
Work, Retirement, and Leisure Patterns 201
Work Patterns in Adulthood 202
Vocational Development 204
Holland's Vocational Development Theory 204
Super's Life-Span Life-Stage Theory 207
Occupation as Calling 208
Variations in Vocational Development 208
Vocational Satisfaction 209
Intrinsic and Extrinsic Factors 209
Positive and Negative Moods 210
Person–Environment Correspondence 211
Work Stress 211
Relationships Between Work and Family Roles 212
Age and Vocational Satisfaction 213
Age and Vocational Performance 214
Retirement 216
Definitions of Retirement 216
Facts About Retirement 217
The Effects of Retirement on the Individual 218
Leisure Pursuits in Later Adulthood 220
Summary 222
CHAPTER 11
Mental Health Issues and Treatment 223
Psychological Disorders in Adulthood 224
Major Depressive Disorder 225
Bipolar Disorder 227
Anxiety Disorders 227
Obsessive-Compulsive and Related Disorders 228
Trauma and Stress-Related Disorders 229
Schizophrenia and Other Psychotic Disorders 229
Substance-Related Disorders 230
Personality Disorders 231
Elder Abuse 232
Suicide 233
Treatment Issues in Mental Health Care 234
Assessment 235
Treatment 237
Serious Mental Illness 241
Summary 241
CHAPTER 12
Long-Term Care 243
Institutional Facilities for Long-Term Care 244
Nursing Homes 244
Residential Care Facilities 246
Community-Based Facilities and Services 246
Home Health Services 247
Day Treatment Services 247
Community Housing Alternatives 247
The Financing of Long-Term Care 248
Medicare 248
Medicaid 251
Legislative Landmarks in the Long-Term Care of Older Adults 251
1987 Omnibus Budget Reconciliation Act of 1987
(OBRA 1987) 251
1999–2000 Congressional Hearings on Nursing Home Abuse 253
2002 Nursing Home Quality Initiative 253
The Quality of Long-Term Care 254
Psychological Issues in Long-Term Care 256
Models of Adaptation 256
Suggestions for Improving Long-Term Care 257
Summary 259
CHAPTER 13
Death and Dying 261
What Do We Know About Death? 262
Medical Aspects of Death 262
Death by the Numbers 263
Sociocultural Perspectives on Death and Dying 267
Psychological Perspectives on Death and Dying 268
Issues in End-of-Life Care 269
Advance Directives 269
Physician-Assisted Suicide and Euthanasia 271
Hospice Care 271
Improving Health Care and Mental Health Services to Dying Patients 272
Bereavement 273
Summary 275
CHAPTER 14
Successful Aging 277
What Is Successful Aging? 278
An Overview of Successful Aging 278
Successful Cognitive Aging 280
Factors That Promote Successful Aging 281
Creativity and Aging 285
What Is Creativity? 285
Creative Older Adults 285
Characteristics of Last Works 287
Sociocultural Perspectives on Creativity and Aging 289
Successful Aging: Final Perspectives 290
Summary 291
Glossary 293
References 311
Author Index 365
Nearly 500 references from the past three years, up through early 2013.
A number of specific topics have been added which expand the potential for this course to reach students interested in neuroscience, clinical psychology, social psychology, health, and applied psychology. 
Many chapters and sections have been revised and update, including:

Within the research methods chapter, a section on multivariate analyses has been included that explains the use of structural equation modeling and path analysis.
The chapter on health now reviews measurement of functional activity (ADLs, and IADLs), and the section on dementia has been renamed "Neurocognitive disorders," reflecting the changing terminology in DSM-5.
The chapters on cognition underwent significant revision, adding new theories of intelligence and include a detailed discussion of the WAIS-IV.
The relationships and family chapter is now expand our treatment of cohabitation, same sex families, and the intergenerational solidary and ambivalence models. New studies on "helicopter parents" have been added, as well as adult children who return home to live with their parents.
The entire chapter on mental health follows the DSM5, accompanied by the most recent models on aging and psychopathology.
Provides a fresh approach of the field of adult development with an engaging writing style to appeal to today's student.
Each chapter opens with quotations from well-known authors, poets, and celebrities to provide thought-provoking observations on aging.
"What Do You Think?" critical thinking questions keyed into the text content encourage students to think in-depth about the material.
The "Aging in the News" feature that offers the story of a remarkable achievement by a middle-aged or older adult.