Adult Education and the Pursuit of Wisdom: New Directions for Adult and Continuing Education, Number 131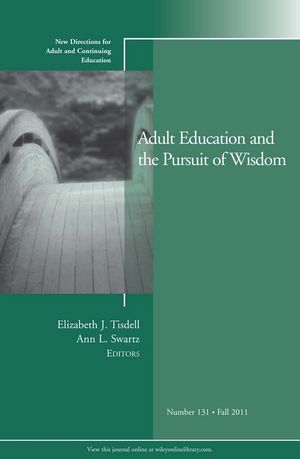 Adult Education and the Pursuit of Wisdom: New Directions for Adult and Continuing Education, Number 131
ISBN: 978-1-118-20786-4 October 2011 Jossey-Bass 112 Pages
Description
Delve into the nature and mystery of wisdom in adult education, and what it might mean for the practice of adult education in the complexity of changing times.
This issue begins with a look at the nature of wisdom, the wisdom of nature, and how it relates to current issues in the field of adult education. It then looks to neuroscience and the evolution of sacred knowing to explore the connection between learning and wisdom. Covering transcendent and practical wisdom, the issue then draws on Eastern, Western, and Mideastern cultural and religious perspectives to develop a fuller understanding of wisdom. Finally, it covers the aspects of gender and/or culture in relation to wisdom, though in quite different ways.
This is the 131st volume of the Jossey-Bass higher education quarterly report series New Directions for Adult and Continuing Education. Noted for its depth of coverage, this indispensable series explores issues of common interest to instructors, administrators, counselors, and policymakers in a broad range of adult and continuing education settings, such as colleges and universities, extension programs, businesses, libraries, and museums.
Table of contents
EDITORS'NOTES 1
Elizabeth J. Tisdell, Ann L. Swartz
1. The Wisdom of Webs A-Weaving: Adult Education and the Paradoxes of Complexity in Changing Times 5
Elizabeth J. Tisdell
This chapter introduces the volume and provides an overview of the literature on the nature of wisdom and the wisdom of nature as weaving webs of connection and embracing paradox that can offer insight to current trends in adult education.
2. Wisdom, the Body, and Adult Learning: Insights from Neuroscience 15
Ann L. Swartz
This chapter looks to neuroscience and an evolutionary perspective on sacred knowing to explore the connection between embodied learning and wisdom.
3. Searching for Sophia: Adult Educators and Adult Learners as Wisdom Seekers 25
Wilma Fraser, Tara Hyland-Russell
This chapter invokes the spirit of Sophia as metaphorical guide and describes a path for educators and practitioners that can assist in the recovery of wisdom in the face of increasing pressures of measurable outcomes within the field of lifelong learning.
4. Understanding and Teaching Practical Wisdom 35
Caroline L. Bassett
This chapter offers an overview of research on wisdom and strategies that educators can employ to foster the development of wisdom in themselves and in their students; it presents the view that it is practical wisdom that helps us get through difficult situations in ways that enhance our common humanity.
5. East Meets West: Cross-Cultural Perspectives on Wisdom and Adult Education 45
Shih-ying Yang
This chapter discusses cross-cultural perspectives on wisdom as a process necessary to strive for a "good life" in a particular culture and what it means to educate adults in cross-cultural settings.
6. The Wisdom of the Inner Life: Meeting Oneself Through Meditation and Music 55
Abraham Sussman, Mitchell Kossak
This chapter discusses the psychology of the inner life and how music as meditation can tap into unitive states of being that lead to inner wisdom.
7. Our Healing Is Next to the Wound: Endarkened Feminisms, Spirituality, and Wisdom for Teaching, Learning, and Research 65
Chinwe L. Okpalaoka, Cynthia B. Dillard
This chapter explores how the spiritual and cultural contexts of wisdom and Black women's knowing and dialogues on race can facilitate crosscultural and within-group understandings of race, gender, and identity in teaching and learning.
8. Mentoring Men for Wisdom: Transforming the Pillars of Manhood 75
Laurent A. Parks Daloz
This chapter offers insights into mentoring men toward wisdom and is based on the notion that growth into a more grounded and connected wisdom entails transformation of the pillars of traditional masculinity: procreating, providing, and protecting.
9. Teaching, Learning, and the Human Quest: Wisdom 85
Peter Jarvis
This chapter reflects on the human quest to understand both the "why" and the "how" of existence itself and suggests that while we can be taught about wisdom, we can only learn to be wise.
Index 95