Adult Education for Health and Wellness: New Directions for Adult and Continuing Education, Number 130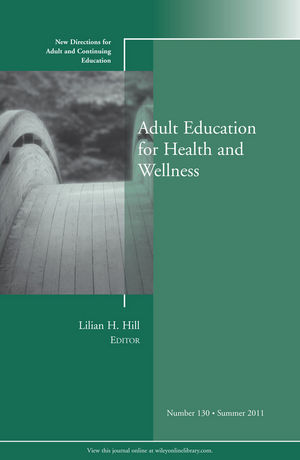 Adult Education for Health and Wellness: New Directions for Adult and Continuing Education, Number 130
ISBN: 978-1-118-15280-5
Jul 2011, Jossey-Bass
120 pages
Description
This volume addresses the relationship of adult education and health from different perspectives. One task of adulthood is caring for one's health and, for many, caring for the health of children, a partner or spouse, and/or aging parents. Changes in health or the desire for improved health often prompt the need for individuals to learn--and adult education can play a vital role in enabling this learning.

Editor Lilian H. Hill, associate professor of adult education at the University of Southern Mississippi, and contributing authors assemble a comprehensive review of the critical issues involved including
How adults learn while coping with chronic illness
Health education within adult literacy, adult basic education, and English as a Second Language classes
Approahces to help adults evaluate and learn from online information
The influence of globalism on health
and more.
Concluding with Hill's own argument that health is a social justice issue, the volume illustrates how adult educators need to be involved in health education because they have valuable skills and knowledge to contribute, and because it is a meaningful arena in which to demonstrate the field's commitment to equity and social justice.

This is the 130th volume of the Jossey-Bass quarterly report series New Directions for Adult and Continuing Education. Noted for its depth of coverage, New Directions for Adult and Continuing Education is an indispensable series that explores issues of common interest to instructors, administrators, counselors, and policymakers in a broad range of adult and continuing education settings, such as colleges and universities, extension programs, businesses, libraries, and museums.
EDITOR'S NOTES 1
Lilian H. Hill
1. The Role of Adult Learning in Coping with Chronic Illness 7
Lisa M. Baumgartner
Beginning with one patient's story, this chapter discusses the research regarding the role of adult learning in coping with chronic illness and provides recommendations for health care workers.
2. Curriculum Design in Health Education 17
Simone C. O. Conceição, Holly Colby, Anne Juhlmann, Sarah Johaningsmeir
A collaborative curriculum design model was used to develop a program for parents of special needs children. The planning process involved four institutions and engaged the work of varied health professionals and one adult educator knowledgeable of curriculum and program design.
3. Health Literacy Education Within Adult Literacy Instruction 29
Sandra J. Diehl
The classroom can be a valuable setting for health education for those with limited proficiency in English who are engaged in literacy, family literacy, adult basic education, and English as a Second Language classes. Curriculum, teacher training, and infrastructure are discussed, and several case study examples are provided.
4. Health Literacy: An Opportunity to Improve Individual, Community, and Global Health 43
Andrew Pleasant
This chapter describes the evolving meanings of the term health literacy and describes the results of one detailed program example using health literacy as a theory of behavior change that produced positive health gains.
5. Adult Educators and Cultural Competence Within Health Care Systems: Change at the Individual and Structural Levels 55
Linda Ziegahn, Hendry Ton
Increasing diversity has challenged health institutions to provide care that is responsive to patients with varied health beliefs and practices based in culture. This chapter defines cultural competence, and describes the efforts of the staff of a university hospital to learn about and implement different practices that would improve care for diverse patients.
6. Adult Learning, Community Education, and Public Health: Making the Connection Through Community Health Advisors 65
Susan Mayfield-Johnson
Local community health workers are able to provide training and linkages to available health services and, because they are accessible and trusted, can serve as change agents in the lives of their communities.
7. The Role of the Adult Educator in Helping Learners Access and Select Quality Health Information on the Internet 79
Melissa Wright, Adelia Grabowsky
When people turn to the Internet to learn about health conditions and issues, many are unable to understand the information they obtain. This chapter documents the gap between what is available online and many learners' reading abilities, reviews criteria for evaluating Web-based information as well as good sources of information, and examines what adult educators can do to assist learners with locating, evaluating, and using Web-based information.
8. Globalism and Health 89
Michael L. Rowland
Our health connects us with others across the globe through international travel and results in rapid transmission of disease, importation of products, migration of health professionals, global climate change, and increasing
inequities prompted by globalism. Adult educators need to become more engaged in research regarding communicating health information in accessible ways, health promotion, and health policy.

9. Health Education as an Arena for Adult Educators'Engagement in Social Justice 99
Lilian H. Hill
Patients are increasingly being asked to take more responsibility for self-care in a complex health care system, and this can be a challenging prospect for even the most educated. Adult educators need to be involved in health education, not only because of the skills and knowledge our training enables us to contribute, but because it is an issue of social justice.
Index 105