Adult Education in Libraries, Museums, Parks, and Zoos: New Directions for Adult and Continuing Education, Number 127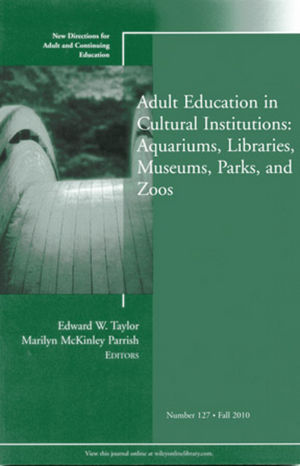 Adult Education in Libraries, Museums, Parks, and Zoos: New Directions for Adult and Continuing Education, Number 127
ISBN: 978-0-470-95208-5
Aug 2010, Jossey-Bass
112 pages
Description
On any given week millions of adults around the world can be found gathering in libraries, parks, zoos, arboretums, and museums in person or online. These cultural institutions are seen as repositories of knowledge and collections of a community's cultural or natural heritage. However, they are much more. They are structures that promote cognitive change: commons, places of community outside of home and work, where individuals and groups gather to share and discuss ideas. Cultural institutions may be sites of conflict and contestation where economic and political challenges call into action institutional purpose and mission, and debates emerge over whose story is told. They can also serve as sites of deliberative democracy that foster social change and reform, where community members can engage with challenging and important societal issues. This volume aims to forge a stronger relationship between adult educators and educators within cultural institutions in an effort to better understand adult learning and teaching within these sites of nonformal education and the role these institutions play in society.

This is the 127th volume of the Jossey-Bass higher education quarterly report series New Directions for Adult and Continuing Education. Noted for its depth of coverage, New Directions for Adult and Continuing Education is an indispensable series that explores issues of common interest to instructors, administrators, counselors, and policymakers in a broad range of adult and continuing education settings, such as colleges and universities, extension programs, businesses, libraries, and museums.
EDITORS' NOTES 1
Edward W. Taylor, Marilyn McKinley Parrish
1. Cultural Institutions and Adult Education 5
Edward W. Taylor
This chapter discusses cultural institutions (libraries, museums, zoos, parks) as sites of adult education.

2. Promoting Adult Learning Through Civil Discourse in the Public Library 15
Nancy Kranich
Libraries are ideal settings for adults to develop new understandings of civil discourse while engaging challenging community issues.
3. The Role of Zoos and Aquariums in Education for a Sustainable Future 25
Jan Packer, Roy Ballantyne
This chapter explores the impact on visitors' environmental knowledge and daily practices through zoo and aquarium learning experiences.
4. Museums: Adult Education as Cultural Politics 35
Carmel Borg, Peter Mayo
Museums offer sites for critical public pedagogy where adult educators and learners can explore the politics of knowledge and representation.
5. (Re)membering: Excavating and Performing Uncommon Narratives Found in Archives and Historical Societies 45
Amanda Kemp, Marilyn McKinley Parrish
This chapter explores the engagement of primary sources from local archives and historical societies as a means to reclaim historically marginalized narratives through performance theatre.
6. Adult Learning in Free-Choice, Environmental Settings: What Makes It Different? 57
Joe E. Heimlich, E. Elaine T. Horr
Environmental learning explored from a perspective of free choice brings understanding to learning that is integrated into everyday life.
7. Literacies, Narratives, and Adult Learning in Libraries 67
Jim Elmborg
Libraries serve as locations for adult learners to develop critical information literacy skills while constructing knowledge alongside library educators.
8. All Work and No Play Makes for a Dull Museum Visitor 77
Robin S. Grenier
This chapter explores the potential of play found within museums and the implications it has for fostering learning among adults.
9. Reflections on Adult Learning in Cultural Institutions 87
Marilyn McKinley Parrish
The author explores shared themes that emerge across the volume, which promote understanding about the relationship between cultural institutions and adult education.
Index 97