Adult Psychopathology Case Studies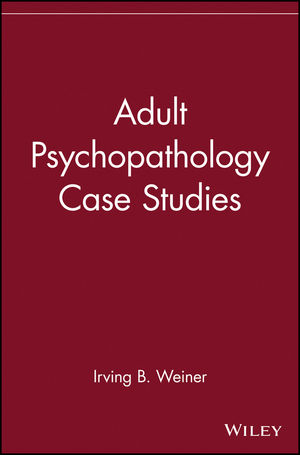 Adult Psychopathology Case Studies
ISBN: 978-0-471-27340-0 October 2003 320 Pages
Description
A unique case study book, Adult Psychopathology Case Studies presents adult client case studies that describe the ways in which people with psychological disorders are likely to think, feel, and act. Written by experienced clinicians and well-known authorities in their respective specialties, it brings together the work of an international group of contributors who address the nature, origin, development, manifestations, course, and prognosis of a diverse range of adult psychopathological conditions.

Close examination is given to the clinical, personal, contextual, theoretical, ethical, and legal dimensions of case studies, along with insightful, real-world focus on overlapping themes, such as culture, substance abuse, domestic violence, and sexual abuse. Authors illustrate rational case formulation, but stop short of exhaustive or doctrinaire analyses that would discourage alternative opinions on how and why a disturbance occurred or its likely outcome-giving students an opportunity to apply their own knowledge to each case and providing instructors with material that will spark lively classroom discussion and debate.

The contributors also bring a broad range of theoretical perspectives to the diverse array of case studies, including psychoanalytic, psychodynamic-interpersonal, cognitive, and cognitive-behavioral conceptualizations of psychopathology and psychotherapeutic methods.

Adult Psychopathology Case Studies includes thirteen full-length case studies in the following categories:
* Personality disorders
* Anxiety and somatoform disorders
* Identity disorders
* Habit disorders
* Serious or psychotic disorders


Also included are six brief case studies covering:
* Adjustment disorder
* Dependent personality disorder
* Schizotypal personality disorder
* Generalized anxiety disorder
* Polysubstance dependence
* Depressive disorder


Adult Psychopathology Case Studies offers an engaging and perceptive look into the real world of adult psychopathology and provides students with an enriching "hands-on" learning experience as they apply their knowledge and techniques to each of the unique case studies provided in this book.
Table of contents
Contributors.
Preface.
PART ONE: NORMALITY, ABNORMALITY, AND ADJUSTMENT DISORDER.
1. Defining and Classifying Psychopathology (I. Weiner).
2. Adjustment Disorder (T. Millon).
PART TWO: DISORDERS OF PERSONALITY.
3. Dependent Personality Disorder (R. Bornstein).
4. Borderline Personality Disorder (C. Swenson and M. Linehan).
5. Antisocial Personality Disorder (C. Gacono).
6. Schizotypal Personality Disorder (D. Bernstein).
7. Paranoid Personality Disorder (J. Kleiger).
PART THREE: ANXIETY AND SOMATOFORM DISORDERS.
8. Panic Disorder with Agoraphobia (R. McCabe and M. Antony).
9. Obsessive-Compulsive Disorder (D. Roth and E. Foa).
10. Posttraumatic Stress Disorder (J. Armstrong and J. High).
11. Generalized Anxiety Disorder (I. Weiner).
12. Pain Disorder (J. Lackner).
PART FOUR: IDENTITY DISORDERS.
13. Dissociative Identity Disorder (P. Lerner).
14. Gender Identity Disorder (K. Zucker).
PART FIVE: HABIT DISORDERS.
15. Polysubstance Dependence (P. Nathan).
16. Bulimia Nervosa (P. Hendricks and J. Thompson).
PART SIX: MOOD DISORDERS AND SCHIZOPHRENIA.
17. Depressive Disorder (N. Hamilton and R. Ingram).
18. Bipolar Disorder (C. Newman).
19. Schizophrenia (M. Harrow, et al.).
Author Index.
Subject Index.
Features
Discusses clinical, personal, contextual, theoretical, ethical, and legal dimensions, which are all germane to case formulation.
Provides focus on overlapping themes such as culture, substance abuse, domestic violence, and sexual abuse.
Cases vary in length, complexity, and theoretical orientation.