Advanced Accounting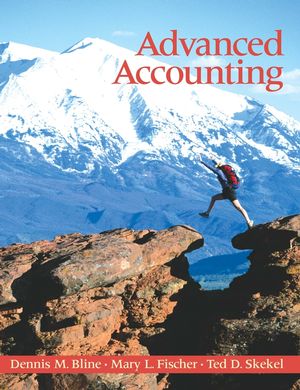 Advanced Accounting
ISBN: 978-0-471-32775-2 January 2004 660 Pages
Description
This text is intended for a senior level or graduate, one semeter course in advanced accounting. With coverage of the most commonly addressed advanced accounting topics, this text offers a current, concise treatment of advanced accounting.  The consolidations chapters follow the Entity Concept – Full Goodwill approach, consistent with the latest FASB publications.  The text emphasizes FARS accounting research and includes an instructional supplement on how to conduct FARS and other database searches. Taking a macro approach and then relating it back to an application, the text emphasizes the "why" behind accounting, in addition to the procedural methods. The authors currently teach the course at their respective institutions and have been using this material in the classroom for several years.
Chapter 1. Introduction to Business Combinations.
Chapter 2. Consolidation at the Date of Acquisition.
Chapter 3. Consolidation Subsequent to the Date of Acquisition.
Chapter 4. Intercompany Transactions.
Chapter 5. Foreign Currency Transactions.
Chapter 6. Foreign Currency Financial Statements.
Chapter 7. Partnership Formation, Operation, and Change in Ownership.
Chapter 8. Partnership Liquidation.
Chapter 9. Nongovernment not-for-Profit Organizations.
Chapter 10. State and Local Governments: Overview, Comprehensive Annual Financial Reports, and Government-Wide Statements.
Chapter 11. State and Local Governments: Accounting and Financial Reporting for Fund Groups.
Chapter 12. Government Colleges and Universities: Accounting and Reporting.
Supplement A. A Quick Guide to Accessing Databases for the Professional Accountant.
Supplement B. Special-Purpose Entities.
Glossary.
Index.
  This text has been written to reflect the new FASB standards per the exposure draft that was passed in 2003. ·      Partial Equity method employed throughout consolidation chapters (cost versus partial method compared in an appendix) ·      Four chapters covering important topic of business consolidations, one chapter on Foreign Currency Transactions, one chapter on Foreign Currency Financial Statements, two chapters on Partnerships, four on Government and Not-for-profit accounting plus supplements on Special Purpose Entities and Accounting Research ·      Intercompany Transactions efficiently covered in one chapter ·      Empasis on Accounting Research (end of chapter material icon and separate appendix at back of book) ·         Integrated use of databases, like FARS, throughout the text – written with a practical approach. ·         Appropriate chapters include questions on FARS and Internet research. ·         Mini and Comprehensive Cases are included at the end of selected chapter. ·      Instructors' Manual, PowerPoints, Solutions Manual and Test Bank all written by the authors; all solutions diligently worked by authors and proven to be accurate. ·         Effective pedagogy with glossary in the margins and a professional writing style that will benefit students as they move into the accounting profession. ·      Continuous consolidations case Pratt and Sterling in chapters 1 - 4