Advanced Analytics and AI: Impact, Implementation, and the Future of Work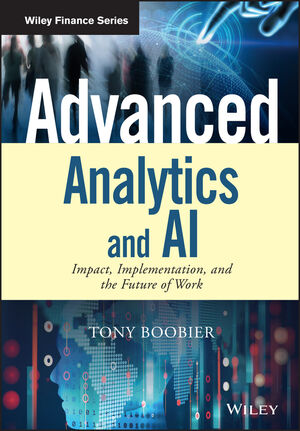 Advanced Analytics and AI: Impact, Implementation, and the Future of Work
ISBN: 978-1-119-39030-5
Jun 2018
304 pages
Description
Be prepared for the arrival of automated decision making
Once thought of as science fiction, major corporations are already beginning to use cognitive systems to assist in providing wealth advice and also in medication treatment. The use of Cognitive Analytics/Artificial Intelligence (AI) Systems is set to accelerate, with the expectation that it'll be considered 'mainstream' in the next 5 – 10 years. It'll change the way we as individuals interact with data and systems—and the way we run our businesses.
Cognitive Analysis and AI prepares business users for the era of cognitive analytics / artificial intelligence. Building on established texts and commentary, it specifically prepares you in terms of expectation, impact on personal roles, and responsibilities. It focuses on the specific impact on key industries (retail, financial services, utilities and media) and also on key professions (such as accounting, operational management, supply chain and risk management).
Shows you how users interact with the system in natural language
Explains how cognitive analysis/AI can source 'big data'
Provides a roadmap for implementation
Gets you up to speed now before you get left behind
If you're a decision maker or budget holder within the corporate context, this invaluable book helps you gain an advantage from the deployment of cognitive analytics tools.
Acknowledgments
Preamble: Wellington and Waterloo
Introduction
Prologue: What Do We Mean by Work?
Summary
Introduction
Slavery or Freedom
The Rise of Industrialisation
Gen Z and the Flat White Society
The Impact of Unemployment
Replacing the Need to Work
Conclusion
Notes
1. Introduction to Analytics
Summary
Introduction
Business Intelligence
Advanced Analytics
Prescriptive Analytics
Business Rules
Cognitive Analytics
The Accuracy of Analytical Outputs
Conclusion
Notes
2. Artificial Intelligence
Summary
Introduction
The Turing Test
The Dartmouth Event
Post-Dartmouth, the AI Winter, and Singularity
Springtime for AI?
How Does AI Work?
Can Computers Be Creative?
Conclusion
Notes
3. The Impact of AI on Leading-Edge Industries
Summary
Introduction
Financial Services
Retail Banking
Commercial Banking
Investment Banking
Wealth Management
Insurance
Automobiles
AI Implementation Timeline
Key Developments
Innovating to Zero
AI and Motor Manufacturing
Media, Entertainment, and Telecom
Retail
Conclusion
Notes
4. The Impact of AI on Second-Mover Industries
Summary
Introduction
Construction
Augmented Reality
Drones and Remote Imagery
Contractor Plant and Equipment
Employee Behaviour
Cultural Change in Construction
Utilities and Infrastructure Resilience
Construction Industry Summary
Utilities
Electrical Power
Gas
Water
Wastewater
Smart Homes, Smart Infrastructure?
Interconnectivity, Poverty, and Famine
Public Services
Education
Policing
Health Care
Agriculture
Technology Industry
Conclusion
Notes
5. The Impact of AI on Professions
Summary
Introduction
Work and Professions
The Importance of Competences
The Morevec Paradox and Why It Threatens Professionals
Management
Office of Finance
Legal Profession
Sales and Marketing
Retailers
Commercial Media
Creative Arts
Publishing
Transportation
Digital Railways
Autonomous Flight and Virtual Pilots
Air Traffic Controllers
Engineers and the Built Environment
Building Engineers
Building Planners
Medical Profession
General Practitioners
Dentists
Neurosurgeons
Data Centres
Entrepreneurs
Conclusion
Notes
6. Risk and Regulation
Summary
Introduction
What Is Risk?
Technology and System Failures
Data Security and Privacy
Employee Error and Fraud
Inadequate or Failed Procedures, Systems, and Policies
Reputational Risk
External Risk
Financial Risk
AI and the Future of Compliance
Roles, RegTech, and Forgiving the Machine
Conclusion
Notes
7. Implementation Road Maps
Summary
Introduction
New Thinking on Employee Training
Robotics and Process Automation
Implementation Frameworks
Key Implementation Questions
Leadership and Sponsorship
Creating a Team
Finding Talent
Managing Progress
Human Resources Function
Alternative Spaces: The New Workplace
Timing: How Long to Implement?
Is Big Bang Transformation Possible?
Conclusion
Notes
8. New Business Models
Summary
Introduction
Augment or Automate?
Issues of Place and Time
Contextual Insight
Wordplay and Communication
New Business Models for New Markets
Conclusion
Notes
9. Coping with the Future
Summary
Introduction
Existing Roles in AI
Future Roles in AI
AI Education
Academic Education
On-the-Job Learning: Start-ups and Innovation Labs
Personal Capabilities for Success
Can Computers Innovate?
Living with Robots
Elderly Health Care and Robots
Taking Instructions and Advice from Computers
Rules for Robots
Conclusion
Notes
10. Strategies for Personal Reinvention
Summary
Introduction
The Need for Personal Reinvention
How Easy Is It to Change?
The Importance of Events and Conferences
The Freedom of Franchises ? from Employee to Owner
Can We Cope with Doing Nothing?
Third-Age Thinking
Conclusion
Notes
Appendices
Appendix A: Implementation Flowcharts
Appendix B: Jobs Most Affected by Artificial Intelligence
Appendix C: List of Professional AI Organisations
Appendix D: List of Tables
Appendix E: List of Figures
Index