Advanced Ceramic Coatings and Interfaces III, Volume 29, Issue 4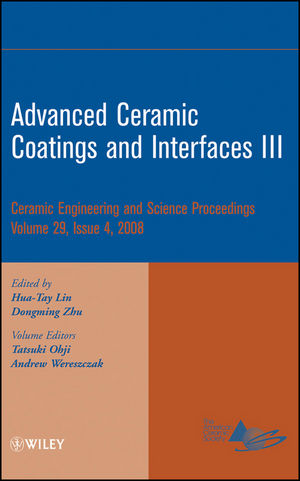 Advanced Ceramic Coatings and Interfaces III, Volume 29, Issue 4
ISBN: 978-0-470-45631-6
Feb 2009
169 pages
Description
This volume provides a one-stop resource, compiling current research on ceramic coatings and interfaces. It is a collection of papers from The American Ceramic Society s 32nd International Conference on Advanced Ceramics and Composites, January 27-February 1, 2008. Papers include developments and advances in ceramic coatings for structural, environmental, and functional applications. Articles are logically organized to provide insight into various aspects of ceramic coatings and interfaces. This is a valuable, up-to-date resource for researchers in industry, government, or academia who work in ceramics engineering.
Preface.
Introduction.
DAMPING AND EROSION COATINGS.
Coatings for Enhanced Passive Damping (Peter J. Torvik).
Ceramic Damping Coatings: Evaluating Their Effectiveness and Predicting Added Damping (S. Patsias).
Deterioration and Retention of Coated Turbomachinery Blading (Widen Tabakoff, Awatef A. Hamed, and Rohan Swar).
Large Area Filtered Arc and Hybrid Coating Deposition Technologies for Erosion and Corrosion Protection of Aircraft Components (V. Gorokhovsky, J. Wallace, C. Bowman, P.E. Gannon, J. O'Keefe, V. Champagne, and M. Pepi).
COATINGS TO RESIST WEAR AND TRIBOLOGICAL LOADINGS.
Deposition and Characterization of Diamond Protective Coatings on WC-Co Cutting Tools (Y. Tang, S.L. Yang, W.W. Yi, Q. Yang, Y.S. Li, A. Hirose, and R. Wei).
Friction and Wear Behavior of Zirconia Ceramic Materials (C. Lorenzo-Martin, O.O. Ajayi, D. Singh. and J.L. Routbort).
NANOSTRUCTU R ED COATINGS.
Cerium Oxide Thin Films via Ion Assisted Electron Beam Deposition (V. Dansoh, F. Gertz, J. Gurnp, A. Johnson, J. I. Jung, M. Klingensrnith, Y. Liu, Y.D. Liu, J.T. Oxaal, C.J. Wang, G. Wynick, D. Edwards, J.H. Fan, X.W. Wang, P. J. Bush, and A. Fuchser).
Formation of Nanocrystalline Diamond Thin Films on Ti3SiC2 by Hot Filament Chemical Vapor Deposition (S.L. Yang, Q. Yang, W.W. Yi, Y. Tang, T. Regier, R. Blyth, and Z.M. Sun).
THERMAL BARRIER COATING PROCESSING, DEVELOPMENT AND MODELING.
Process and Equipment for Advanced Thermal Barrier Coatings (Albert Feuerstein, Neil Hitchman, Thomas A. Taylor, and Don Lernen).
Corrosion Resistant Thermal Barrier Coating Materials for industrial Gas Turbine Applications (Michael D. Hill, Davin P. Phelps, and Douglas E. Wolfe).
Damage Prediction of Thermal Barrier Coating by Growth of TGO Layer (Y. Ohtake).
Young's Modulus and Thermal Conductivity of Nanoporous YSZ Coatings Fabricated by EB-PVD (Byung-Koog Jang, Yoshio Sakka, and Hideaki Matsubara).
Influence of Porosity on Thermal Conductivity and Sintering in Suspension Plasma Sprayed Thermal Barrier Coatings (H. KaOner, A. Stuke, M. Rodig, R. VaOen, and D. Stover).
Numerical Investigation of Impact and Solidification of YSZ Droplets Plasma-Sprayed onto a Substrate: Effect of Thermal Properties and Roughness (N. Ferguen, P. Fauchais, A. Vardelle, and D. Gobin).
Author Index.