Advanced Framing Methods: The Illustrated Guide to Complex Framing Techniques, Materials and Equipment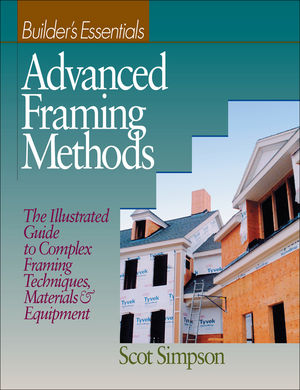 Advanced Framing Methods: The Illustrated Guide to Complex Framing Techniques, Materials and Equipment
ISBN: 978-0-876-29618-9 May 2002 246 Pages
Description
A "framer-friendly" approach to advanced framing elements, this book includes: 
Advanced framing layout
Complex walls, roofs, and stairs
Earthquake and hurricane protection
New building code requirements
Advanced framing materials, including composite woods and pre-engineered building components
Safety & equipment on larger, more complex framing jobs
With guidance for lead framers on:
Job preparation and organization
Crew management
Introduction.
Chapter 1 The Lead Framer.
Chapter 2 Preparing for the Job.
Chapter 3 Getting Started.
Chapter 4 Managing the Crew.
Chapter 5 Advanced Framing: Layout.
Chapter 6 Advanced Framing: Rafters.
Chapter 7 Advanced Framing: Stairs.
Chapter 8 Advanced Framing: Rake Walls.
Chapter 9 Wind & Earthquake Framing.
Chapter 10 Engineered Wood Products.
Chapter 11 Building Code Requirements.
Chapter 12 Safety.
Glossary.
For Reading and Reference.
Index.