Advanced Instrumentation and Computer I/O Design: Real-Time Computer Interactive Engineering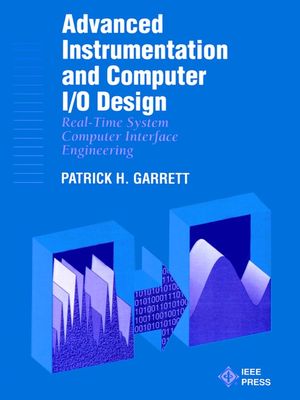 Advanced Instrumentation and Computer I/O Design: Real-Time Computer Interactive Engineering
ISBN: 978-0-780-36013-6
Jan 2000, Wiley-IEEE Press
304 pages
Description
This advanced text addresses system error analysis and performance accountability in a comprehensive and up-to-date manner. Covering a wide range of topics from instrumentation, sensors, and signal conditioning through digital conversion and signal reconstruction, the author employs model-based methods for characterizing the design and analysis of real-time computer I/O systems.

Advanced Instrumentation and Computer I/O Design provides an improved understanding of computer interfacing and includes these key features:
Accurate data from the analog input circuits through the data conversion devices and output reconstruction components
Descriptions of component errors including average filter errors, signal quality errors and the intersample error representation and improvement of sampled-data signals
The extension to advanced interfacing and distributed I/O systems such as imaging and digital control
This book will be of particular interest to engineers, technologists, and scientists involved in the design, selection, or application of real-time computer I/O and its associated instrumentation for the broad tasks of measurement and control.
Preface VII
1 Sensors, Excitation, and Linearization 1
1-0 Introduction 1
1-1 Basic Principles 2
1-2 Temperature Sensors 4
1-3 Pressure, Flow, and Level Measurement 8
1-4 Motion, Vibration, Force, and Tactile Transducers 13
1-5 Photometry and Image Sensors 17
1-6 Nuclear and Chemical Analyzers 20
1-7 Sensor Linearization 25
Problems 28
References 28
2 Operational and Instrumentation Amplifiers 30
2-0 Introduction 30
2-1 Device Temperature Characteristics 31
2-2 Differential Amplifiers 32
2-3 Operational Amplifiers 36
2-4 Instrumentation Amplifiers and Error Budgets 45
2-5 Noise in Low-Level Amplification 56
Problems 60
References 62
3 Filters for Measurement Signals 63
3-0 Introduction 63
3-1 Lowpass Instrumentation Filters 64
3-2 Active Filter Networks 70
3-3 Filter Error Analysis 77
3-4 Bandpass Instrumentation Filters 84
Problems 91
References 93
4 Analog Signal Acquisition, Conditioning, and Processing 95
4-0 Introduction 95
4-1 Input Grounding, Shielding, and Termination Practice 96
4-2 Signal Conditioning Error Analysis 99
4-3 DC, Sinusoidal, and Harmonic Signal Conditioning 102
4-4 Analog Signal Processing 110
Problems 119
References 121
5 Devices for Data Conversion 122
5-0 Introduction 122
5-1 Analog Multiplexers 123
5-2 Sample-Holds 128
5-3 Digital-to-Analog Converters 132
5-4 Analog-to-Digital Converters 140
Problems 153
References 154
6 Sampled Data, Intersample Error, and Interpolation 155
6-0 Introduction 155
6-1 Sampled Data 156
6-2 Aliasing of Signal and Noise 160
6-3 Intersample and Aperture Error 164
6-4 Signal Recovery and Interpolation 170
Problems 176
References 177
7 Conversion System Design with Computer-Assisted Analysis 179
7-0 Introduction 179
7-1 System Design Considerations 180
7-2 Low Data Rate I/O System 182
7-3 High Data Rate I/O System 194
7-4 Computer-Assisted Interface Analysis Software Description 203
Problems 215
References 215
8 Advanced Interfacing Systems for Imaging, Digital Control, and Adaptive Performance 218
8-0 Introduction 218
8-1 Wideband Widerange Data Conversion 219
8-2 Digital Image Acquisition 221
8-3 Digital Control Interfacing Considerations 224
8-4 Performance Adaptive Controlled Accuracy Interfacing 230
Problems 234
References 234
9 Digital Processor Interfacing, Intelligent I/O, and Programming 23B
9-0 Introduction 236
9-1 Microcomputer Busses and Digital I/O 237
9-2 Processor Interfacing Methods 245
9-3 Intelligent I/O System 251
9-4 Real-Time Programming Considerations 255
Problems 260
References 260
10 Distributed Interfacing Systems 261
10-0 Introduction 261
10-1 Distributed I/O Networks 262
10-2 MODEM Data Transmission 267
10-3 System Response Time and Reliability Calculations 272
10-4 Local Area Networks 277
Problems 282
References 283
Index 285