Advanced Paediatric Life Support: The Practical Approach, 5th Edition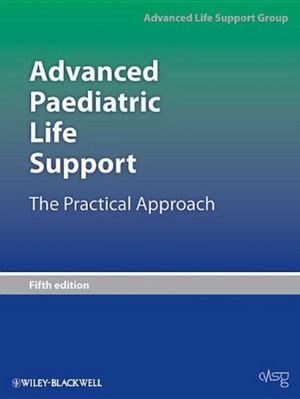 Advanced Paediatric Life Support: The Practical Approach, 5th Edition
ISBN: 978-1-118-36978-4
Feb 2012, BMJ Books
404 pages
Description
This international bestselling book on acute paediatric care is the coursebook for the Advanced Life Support Group's Advanced Paediatric Life Support (APLS). It uses their practical approach, a tried and tested method of treating children during the crucial first few hours of a life threatening condition. Advanced Paediatric Life Support is used in emergency and paediatric departments, by physicians, nurses and allied health professionals, and its clear layout and straightforward style make it a highly practical tool both for training and in the event of an emergency.

The fifth edition includes major new features bringing it right up to date, including:
The latest International Liaison Committee on Resuscitation (ILCOR) 2010 Guidelines
A discussion on the importance of human factors
A new and improved design including full colour photographs and diagrams
With this book at hand, paediatric and emergency staff can be confident in having comprehensive and authoritative guidance on the first principles of recognising life threatening conditions through to all the procedures necessary to save a child's life.
Clinical Conditions List.
Working Group.
Contributors.
Preface to the Fifth Edition.
Preface to the First Edition.
Acknowledgements.
Contact Details and Further Information.
PART I: INTRODUCTION.
Chapter 1 Introduction.
Chapter 2 Why treat children differently?
Chapter 3 Structured approach to emergency paediatrics.
PART II: LIFE SUPPORT.
Chapter 4 Basic life support.
Chapter 5 Advanced support of the airway and ventilation.
Chapter 6 The management of cardiac arrest.
PART III: THE SERIOUSLY ILL CHILD.
Chapter 7 The structured approach to the seriously ill child.
Chapter 8 The child with breathing difficulties.
Chapter 9 The child in shock.
Chapter 10 The child with an abnormal pulse rate or rhythm.
Chapter 11 The child with a decreased conscious level.
Chapter 12 The convulsing child.
PART IV: THE SERIOUSLY INJURED CHILD.
Chapter 13 The structured approach to the seriously injured child.
Chapter 14 The child with chest injury.
Chapter 15 The child with abdominal injury.
Chapter 16 The child with trauma to the head.
Chapter 17 The child with injuries to the extremities or the spine.
Chapter 18 The burned or scalded child.
Chapter 19 The child with an electrical injury or drowning
PART V: PRACTICAL APPLICATION OF APLS.
Chapter 20 Practical procedures – airway and breathing.
Chapter 21 Practical procedures – circulation.
Chapter 22 Practical procedures – trauma.
Chapter 23 Interpreting trauma X-rays.
Chapter 24 Structured approach to stabilisation and transfer.
Chapter 25 Human factors.
PART VI: APPENDICES.
Appendix A Acid.
Appendix B Fluid and electrolyte management.
Appendix C Child abuse.
Appendix D Prevention of injury in children.
Appendix E When a child dies.
Appendix F Management of pain in children.
Appendix G Triage.
Appendix H General approach to poisoning and envenomation.
Appendix I Resuscitation of the baby at birth.
Appendix J Formulary.
Index.
"It is written by eminent clinicians and endorsed by service users and specialist forums. . . Terminology if clear and concise with rationale for clinical procedures explored clearly. The inclusion of a clinical conditions list is useful and makes cross referencing easy for the reader." (Nursing Children and Young People, 1 October 2011)
"Written to be experts in the field, it provides the core foundations for the UK advanced paediatric life support course.  I recommend this resource for all staff working with children."  (Nursing Standard, 1 September 2012)