Advanced Processing of Metals and Materials (Sohn International Symposium), Volume 7, Industrial Practice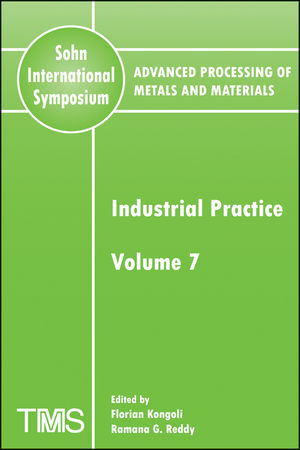 Advanced Processing of Metals and Materials (Sohn International Symposium), Volume 7, Industrial Practice
ISBN: 978-0-873-39640-0
Sep 2006
670 pages
Description
These proceedings on industrial practice from the Sohn International Symposium contain papers on metals and materials processing; iron making; nonferrous high temperature processing; steel; and aqueous and electrochemical processing.

From the 2006 TMS Fall Extraction & Processing: Sohn International Symposium, held August 27 - 31, 2006, in San Diego, California.
VOLUME 7: INDUSTRIAL PRACTICE.
Foreword.
Editors' Biographies.
Organizing Committee.
International Organizing Committee.
Session Chairpersons.
Sponsors and Co-Sponsors.
Logos of Organizational Co-Sponsors.
Logos of Corporate Co-Sponsors.
PLENARY.
Professor H.Y. Sohn - Biography (R.G. Reddy).
It Is All About Energy (P.R. Atkins).
The Precious Art of Metals Recycling (F. Vanbellen, and M. Chintinne).
Nonferrous Metal Recycling in Korea: The Present and the Future (K.-I. Rhee).
The Role of Processes Modeling in Iron and Steelmaking (P.C. Chaubal).
Liquidus Relations of Calcium Ferrite and Ferrous Calcium Silicate Slag in Continuous Copper Converting (F. Kongoli, I. McBow, A. Yazawa, Y. Takeda, K. Yamaguchi, R. Budd, and S. Llubani).
Recent Developments in Copper Hydrometallurgy (Abstract Only) (J.O. Marsden).
SPECIAL ARTICLE.
Remembrance of Academic Mentors and Early Associates (H.Y. Sohn).
NON-FERROUS HIGH-TEMPERATURE PROCESSING.
Furnace Control, Optimization and Automation in Sulfide Smelting Plants (Keynote) (Abstract Only) (F. Kongoli, I. McBow, R. Budd, and S. Llubani).
Optimisation of the Anode Sector at Norddeutsche Affinerie (Invited) (T.L. Edens, P. Willbrandt, and A. Specht).
Volatilization of Arsenic in the Teniente Converter at Codelco Norte Smelter (Invited) (A. Moyano, C. Caballero, R. Mackay, K. Itagaki, and J. Font).
Energy Saving Activities at the Onsan Smelter (Keynote) (J.-S. Chang, S.-H. Yu, and S.-H. Shin).
Recent Advances in Tin Smelting Using Top Submerged Lance Technology (Keynote) (J.A. Ore Rivera).
M-DICE, An Impurity Distribution Model for Codelco Norte Smelter (Keynote) (A. Moyano, C. Caballero, C. Pizarro, and J. Font).
Arsenic and Antimony Removal from a Complex Blister Copper (A. Moyano, C. Caballero, R. Mackay, H. Henao, K. Itagaki, and J. Font)
Mathematical and Physical Model for the Teniente Converter Fluidynamics (M. Rosales, C. León, A. Moyano, R. Mackay, A. Valencia, and R. Fuentes).
Characteristics and Roasting of Zinc Sulfide Concentrates in Fluid Bed Furnace (B.S. Boyanov and N.K. Kolev).
IRON MAKING.
Recent Progress of Practical BF Operations in Japan and Innovative Trials for the Future (Keynote) (M. Naito, and M. Ichida).
Assessment of Metallurgical Performance of Kambara Reactor (KR) through Physical Modeling (V. Seshadri, C.A. da Silva, I.A. da Silva, V.A. Lepo, D.B. Moreira, and O.J. Kirmse).
The Iron Blast Furnace and DRI Shaft Furnace—A Comparison of Some Process Developments (P. Chaubal, D. Huang, A. Farhadi, and G. Tsvik).
Development of 3-D CFD Model for Blast Furnace Hearth (P. Chaubal, D. Huang, D. Roldan, and C.Q. Zhou).
Effect of Oxygen Potential ad Fluxing Components on Phase Relations during Sintering of Iron Ore (Keynote) (F. Kongoli, I. McBow, R. Budd, and S. Llubani).
Development of Visual Evaluation and Numerical Analysis System of Blast Furnace (Invited) (S. Matsuzaki, M. Ito, M. Ichida, T. Nishimura, and M. Naito).
Dynamic Solid Flow in Iron-Making Blast Furnace of Lower Part by Deadman Shape and Raceway Depth (Keynote) (Invited) (Y. Matsui, K. Miyagawa, M. Tanaka, M. Sawayama, and S. Kitano).
Numerical Analysis on Blast Furnace Operations by Multi-Dimensional Mathematical Model Based on Multi-Fluid Theory (Invited) (J.-i. Yagi, H. Nogami, and M. Chu).
Numerical Investigation of the Self-Reduction Process of Pellets in a Rotary Kiln with Post-Combustion to Produce DRI (Abstract Only) (J. Castro, C. Takano, M.B. Mourao, J.-I. Yagi, and A.J. Silva).
STEEL.
Physical Modeling of Mixing and Mass Transfer Inside a Torpedo Car (Keynote) (V. Seshadri, C.A. da Silva, I.A. da Silva, V.A. Lepo, D.C. Fernandes, and I.A. de Souza).
A Setup Model for the Roughing Mill of Hot Rolling in Sidor, C.A. Venezuela (Abstract Only) (J. Lara, L. Lozano, and O. Prado).
Desulfurization in the Ladle Furnace Using Industrial Slags (Invited) (A. Geveci, E. Keskinkilic, and Y.A. Topkaya).
Formation Mechanism and Control of Corner Transverse Cracks of CC Nb-Contained Slabs (G.-S. Zhu, Z.-Y. Zhu, J. Liu, and X. Bai).
How to Reduce Costs in Steelmaking Using Calcium Carbide (R.J. Santiago, and L.A. Mombello).
Improving Steel Ladle Performance at Bhilai Steel Plant, India (R.K. Singh, L. Tiwari, B.D. Chattaraj, and D.R. Dinda).
Usage of Aluminum Dross for Slag Treatment in Secondary Steelmaking to Decrease Amount of Reducible Oxides in Ladle Furnace (A. Geveci, and O. Aydemir).
METALS AND MATERIALS PROCESSING.
Sichuan Aostar Smelter in China (Keynote) (Y. Wang, Y. Niu, D. Qiu, C. Chen, and Y. Li).
Cost-Effective Magnesium Oxide Recycling for Economic Viability of Magnesium Hydride Slurry Technology for Hydrogen Storage (Abstract Only) (R. De Lucas, U. Pal, G. Ye, and A. McClaine).
An Attempt at Direct Ingot Making of Titanium by the Electro-Winning from Molten Slag with DC-ESR Unit (Keynote) (M. Kawakami, T. Takenaka, M. Orisaka, T. Kawabata, A. Matsuyama, and S. Yokoyama).
Review on the Part of HVOF Thermal Spray Coating in Protection to Corrosion (H.S. Sidhu, B.S. Sidhu, and S. Prakash).
Advanced Scaling Techniques for the Modeling of Materials Processing (Keynote) (P.F. Mendez).
Computational Modeling of a CVD Reactor to Produce Diamond Films (M. Olivas-Martínez, M. Pérez-Tello, and R.E. Cabanillas-López).
Computational Fluid Dynamics Simulation of High Temperature Metallurgical Processes (Keynote) (Y. Yang, B. Zhou, J.R. Post, E. Scheepers, and M.A. Reuter).
Model-Based Electroslag Remelting Control for Simultaneous, Consistent and Responsive Melt Rate and Immersion Depth Control (Invited) (D.K. Melgaard, J.J. Beaman, and G. Shelmidine).
AQUEOUS AND ELECTROCHEMICAL PROCESSING.
Applied Metallurgical Process Testing and Plant Optimization with Design of Experimentation Software (Keynote) (C.G. Anderson).
Alternating Pulsed Electrolysis for Fe-Cr Alloy Coatings Using Trivalent Chromium Solution (S. Yagi, K. Murase, T. Hirato, and Y. Awakura).
Improved Method for the Purification of Technical Grade Molybdenum Trioxide (R.P. Singh).
Advancements in Organic Entrainment Reduction at the Phelps Dodge Tyrone SXEW Plant (M. Brueggemann).
Tankhouse Optimization by METTOP GmbH (Invited) (Abstract Only) (I. Filzwieser, A. Filzwieser, J. Pesl, A. Anzinger, and S. Wallner).
Sonochemical Synthesis of Zeolite Na-A from Metakaolinite (Abstract Only) (W. Kim, H. Shin, and S. Kim).
Effect of Rare Earth Metals on Corrosion Resistance of Mg Metal (T. Takenaka, T. Ono, Y. Narazaki, and M. Kawakami).
Study on the Technical Status of China Electrolyzed Mn Industrial Production, Electrochemical Reactions of the Cathode-Anode Process of Mn Electrolysis and on the Means of Increasing Current Efficiency during Manganese Electrolytic Process (W. Zhang, and C. Shi).
Study on the Industrial Production Experiments of Zn-MnO2 Simultaneous Electrolysis (W. Zhang, G. Mei, Z. Zhong, and Y. Zhou).
CORPORATE SECTION.
FLOGEN Technologies Inc.
Korea Institute of Geoscience and Mineral Resources.
Korea Zinc Co. Ltd.
LS-Nikko Copper.
Outokumpu Technology.
Posco.
Umicore Precious Metals Refining.
Xstrata Technology.
Author Index.
Subject Index.