Advanced Processing of Metals and Materials (Sohn International Symposium), Volume 9, Legal, Management and Environmental Issues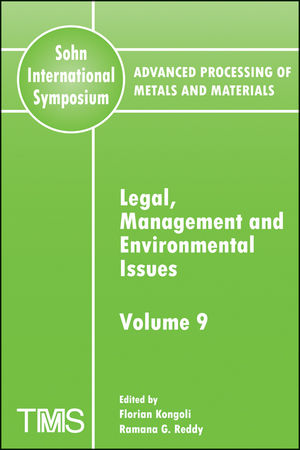 Advanced Processing of Metals and Materials (Sohn International Symposium), Volume 9, Legal, Management and Environmental Issues
ISBN: 978-0-873-39642-4
Sep 2006
586 pages
Description
The last of the nine volumes from the Sohn International Symposium covers the practical topics of legal, management and environmental issues. Specific subjects addressed include legal perspectives; business management; and management of environmental, recycling and waste treatment.

From the 2006 TMS Fall Extraction & Processing: Sohn International Symposium, held August 27 - 31, 2006, in San Diego, California.
VOLUME 9: LEGAL, MANAGEMENT AND ENVIRONMENTAL ISSUES.
Foreword.
Editors' Biographies.
Organizing Committee.
International Organizing Committee.
Session Chairpersons.
Sponsors and Co-Sponsors.
Logos of Organizational Co-Sponsors.
Logos of Corporate Co-Sponsors.
PLENARY.
Professor H.Y. Sohn - Biography (R.G. Reddy).
It Is All About Energy (P.R. Atkins).
The Precious Art of Metals Recycling (F. Vanbellen, and M. Chintinne).
Nonferrous Metal Recycling in Korea: The Present and the Future (K.-I. Rhee).
The Role of Processes Modeling in Iron and Steelmaking (P.C. Chaubal).
Liquidus Relations of Calcium Ferrite and Ferrous Calcium Silicate Slag in Continuous Copper Converting (F. Kongoli, I. McBow, A. Yazawa, Y. Takeda, K. Yamaguchi, R. Budd, and S. Llubani).
Recent Developments in Copper Hydrometallurgy (Abstract Only) (J.O. Marsden).
SPECIAL ARTICLE.
Remembrance of Academic Mentors and Early Associates (H.Y. Sohn).
LEGAL PERSPECTIVES.
Influence of New Technologies and Globalization on Company Mergers, Acquisitions, Joint Ventures, Antitrust and Competition Laws and Tribunal Decisions (Keynote) (M. Dibra).
Mining the Value from Your Intellectual Property Portfolio: The Strategic Role of Intellectual Property in Your Operations (J.A. Paul).
Patent Protection Strategies (M.W. Sajewycz).
The Arbitration Process in the United States (T. Frost).
Transborder Legal Issues Concerning Intellectual Property Procurement, Protection and Enforcement (D.M. Beckwith, and J.A. Hankins).
Patent Litigation in the United States—An Overview (J.D. Kinton, and T. Miller).
BUSINESS MANAGEMENT.
Norddeutsche Affinerie AG: Europe's Leading Copper Producer (Keynote) (Abstract Only) (P. Willbrandt).
Quantitative and Qualitative Metrics - The Keys to Sustainability (Invited) (D.A. Army, and G. Army).
The Optimax Program—The Optimal Relationship for Owner/Clients to Procure Industrial Services (N. Smith, and L. Taylor).
Development Plan for the Codelco-Chile's Smelter and Refinery Business (Keynote) (P. Morales, R. Mackay, and H. Recaval).
Short Term Forecast of Metal Prices: Commercial Application for Operation on Forwards and Optimization the Hedging (Abstract Only) (B. Arlyuk).
Systematic Approach to Rod Mill Technology Upgrade Decisions at Gerdau Ameristeel Beaumont (Keynote) (B. Yalamanchili).
An Alternative Management Approach to Completing Furnace Rebuild Projects (M. Santaluce, N. Smith, and S. McKinty).
Innovations in Hydrometallurgical Performance Management: Heap Leaching Solvent Extraction and Electrowinning Plants (Keynote) (O.A. Bascur, R. Linares, and L. Yacher).
Education and Research in the COE on Nature-Guided Materials Processing (Invited) (K.-i. Miyazawa and S. Asai).
Macromanagement of Metallurgical Industries - A Case Study (Invited) (N. Lohja, Z. Lleshi, O. Gliozheni, E.Z. O'Brien, R. Budd, and F. Kongoli).
MANAGEMENT OF ENVIRONMENTAL, RECYCLING AND WASTE TREATMENT I.
Environmental Improvements at the Onsan Smelter (Keynote) (K.S. Jeong, H.G. Kim, and S.H. Shin).
Environmental Issues in Drying Copper and Nickel Concentrates (S. Chen, H. Mansikkaviita, M. Hamamoto, T. Sunamoto, P. Setälä, M. Huang, Q. Yu, H. Kurokawa, D. Kirilov, J. Zhou, Z. Ge, and R.P. Kuhn).
Solution of Environmental Safety Issues at a Zinc Plant (V.V. Geikhman, P.A. Kozlov, L.A. Kazanbayev, and V.A. Lukyanchikov).
Environmental Problems of Metallurgical Plants in Polar Regions and Ways for Their Solution (Norilsk Region as an Example) (A.V. Tarasov, L.I. Leontyev, and Zh.I. Rozenberg).
Recycling of EAF Dust by Using Top Submerged Lance Technology (Keynote) (Y.H. Lee, N.I. Moon, B.M. Kim, and C.Y. Choi).
Technical and Environmental Considerations of the Injection of Tire into Blast Furnace Tuyeres (G. de Araújo Filho, G.F. Salierno, and P.S. Assis).
The Formation of Cr(VI)-Containing Stainless Steel Plant Dust and the Stabilisation Thereof (G. Ma, and A. Garbers-Craig).
Environmental Impact of a Metallurgical Complex in Soil Contamination—A Case Study (Invited) (A. Cullaj, B. Hoxha, I. McBow, R. Budd, and F. Kongoli).
Effective Bacterial Reduction of Hexavalent Chromium Under Alkaline Conditions (W. Zhu, L. Chai, and Y. Wang).
MANAGEMENT OF ENVIRONMENTAL, RECYCLING AND WASTE TREATMENT II.
Waste Management and Impurities Control at Atlantic Copper Smelter & Refinery (Keynote) (G. Ríos, E. Delgado, R. Ramírez, and A. Martín).
Treatment of Acid Mine Drainage Containing Iron Ions and Arsenic for Utilization of the Sludge (H. Nakazawa).
Evaluation of Environmental Burden and Economic Impact with "Landfill Mining Activity" Based on the Waste Input-Output Model (Keynote) (K. Yokoyama, T. Onda, S. Kashiwakura, and T. Nagasaka).
Power Plant Fly Ash—A Review of Beneficiation and Utilization (H. Kurama).
Arsenic Management in the Metallurgical Industry: The Chilean Experience (Keynote) (A. Valenzuela, E. Balladares, D. Cordero, and M. Sánchez).
Solid Residues of the Metallurgical Industry and Possibilities of Their Utilisation (Invited) (N. Lohja, Z. Lleshi, O. Gliozheni, P. Gega, I. McBow, R. Budd, and F. Kongoli).
On the Implementation of Municipal Solid Waste (Rubbish) Sorted Collection in China Cities (D.-w. He, W.-y. Jiang, R. Huang, L.-y. Chai, and L.-h. Huang).
Research on Combustion Temperature and Decontamination of Asphalt Smoke (R. Huang, L. Chai, B. Peng, and Y. Wang).
Study of BOD of Dairy Effluent Using Various Microbes (K.R. Kanth, and V.M. Rao).
CORPORATE SECTION.
FLOGEN Technologies Inc.
Korea Institute of Geoscience and Mineral Resources.
Korea Zinc Co. Ltd.
LS-Nikko Copper.
Outokumpu Technology.
Posco.
Umicore Precious Metals Refining.
Xstrata Technology.
Author Index.
Subject Index.