Advanced Qualitative Research for Nursing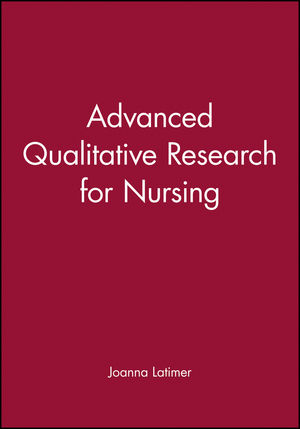 Advanced Qualitative Research for Nursing
ISBN: 978-1-405-14998-3 February 2009 Wiley-Blackwell 272 Pages
Description
This collection presents up-to-the-minute qualitative research methodologies creatively developed by and within nursing. The book is written by authors at the forefront of their fields. It is aimed at enabling people to research critical issues for nursing practice and health care.
Nurses face the imperative for practice grounded in research-based evidence. The book demonstrates how qualitative methodologies can produce rigorous and valid research. Drawing on empirical data each chapter introduces a particular contemporary approach; examines the literature in its field; discusses its relevance for nursing and health care; and explains what claims to knowledge can be made.
Table of contents
Preface.
List of Contributors.
1. Introducing Fields, Selves, Stories, Texts and Materials.
2. Where Do We Stand in Relation to the Data? Being Reflexive About Reflexivity in Health Care Evaluation.
3. Moving Nursing Practice: Integrating Theory and Method.
4. Participative Observation: Using the Subject Body to Understand Nursing Practice.
5. Self and Others: The Rigour and Ethics of Insider Ethnography.
6. Researching Story and Narrative in Nursing: An Object-Relations Approach.
7. Rational Solutions and Unreliable Narrators: Content, Structure and Voice in Narrative Research.
8. Discourse Analysis, Ideology and Professional Practice.
9. Words Are Powerful Tools: Discourse Analytic Explanations of Nursing Practice.
10. Taking Things Seriously: Studying the Material Culture of Nursing.
11. A History of Small Things.
12. Studying The Women in White.
Epilogue.
Index
What's New
* an advanced level research book specifically for post-graduate nurses
* contributions from international authors at the front-line of nursing academia
* elucidates the new, more complex methodologies
* offers a bridge between nursing and social science
* builds on our reputation of publishing high quality nursing research publications