Advanced Web Metrics with Google Analytics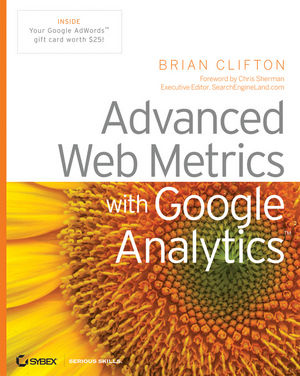 Advanced Web Metrics with Google Analytics
ISBN: 978-0-470-29090-3
Jul 2008
364 pages
Product not available for purchase
Description
Are you getting the most out of your website? Google insider and web metrics expert Brian Clifton reveals the information you need to get a true picture of your site's impact and stay competitive using Google Analytics (GA) and the latest web metrics methodologies. Which marketing campaigns work best? How do you quantify their success? What indicators should you track? Packed with techniques and insider secrets not documented elsewhere, this book has the expert guidance you need to enhance your brand and increase your site's ROI.
Introduction.
Part I: Measuring Success.
Chapter 1: Why Understanding Your Web Traffic Is Important to Your Business.
Information Web Analytics Can Provide.
Decisions Web Analytics Can Help You Make.
The ROI of Web Analytics.
How Web Analytics Helps You Understand Your Web Traffic.
Summary.
Chapter 2: Available Methodologies.
Page Tags and Logfiles.
Cookies in Web Analytics.
Getting Comfortable with Your Data and Its Accuracy.
Privacy Considerations for the Web Analytics Industry.
Summary.
Chapter 3: Where Google Analytics Fits.
Key Features and Capabilities of Google Analytics.
How Google Analytics Works.
Google Analytics and User Privacy.
What Is Urchin?
Google Analytics versus Urchin.
Summary.
Part II: Using Google Analytics Reports.
Chapter 4: Using the Google Analytics Interface.
Discoverability.
Navigating Your Way Around: Report Layout.
Selecting and Comparing Date Ranges.
Hourly Reporting.
Scheduled Export of Data.
Cross-Segmentation.
Summary.
Chapter 5: Top 10 Reports Explained.
The Dashboard Overview.
The Top 10 Reports.
Content Reports: $Index Explained.
Summary.
Part III: Implementing Google Analytics.
Chapter 6: Getting Started.
Creating Your Google Analytics Account.
Tagging Your Pages.
Collecting Data into Multiple Google Analytics Accounts.
Backup: Keeping a Local Copy of Your Data.
When and How to Use Accounts and Profiles.
Agencies and Hosting Providers: Setting Up Client Accounts.
Getting AdWords Data: Linking to Your AdWords Account.
Answers to Common Implementation Questions.
Summary.
Chapter 7: Advanced Implementation.
The Google Analytics Workhorse.
E-Commerce Tracking.
Online Campaign Tracking.
Event Tracking.
Customizing the GATC.
Summary.
Chapter 8: Best Practices Configuration Guide.
Initial Configuration.
Goals and Funnels.
Why Segmentation Is Important.
Filtering: Segmenting Visitors Using Filters.
Summary.
Chapter 9: Google Analytics Hacks.
Customizing the List of Recognized Search Engines.
Labeling Visitors.
Tracking Error Pages and Broken Links.
Tracking Pay-Per-Click Search Terms and Bid Terms.
Tracking Referral URLs from Pay-Per-Click Networks.
Site Overlay: Differentiating Links to the Same Page.
Matching Specific Transactions to Specific Keywords.
Tracking Links to Direct Downloads.
Changing the Referrer Credited for a Conversion.
Importing Campaign Variables into your CRM System.
Summary.
Part IV: Using Visitor Data to Drive Website Improvement.
Chapter 10: Focus on Key Performance Indicators.
Setting Objectives and Key Results (OKRs).
Selecting and Preparing KPIs.
Presenting Your KPIs.
KPI Examples by Job Role.
Using KPIs for Web 2.0.
Summary.
Chapter 11: Real-World Tasks.
Identifying Poorly Performing Pages.
Measuring the Success of Site Search.
Optimizing Your Search Engine Marketing.
Monetizing a Non-E-Commerce Website.
Tracking Offline Marketing.
Appendix: Recommended Further Reading.
Books on Web Analytics and Related Areas.
Web Resources.
Blog List for Web Analytics.
Index.
Chapter
Page
Details
Date
Print Run
various
various
Deprecated code: pageTracker._initData();

pageTracker._initData();
found in code throughout the book, has been deprecated since the first printing of the book. Code examples incorporating this expression will function whether it is included or omitted.
8/27/09
1st and 2nd

---

1
8
Error in Table 1.2
In Table 1.2 on page 8, the calculation given for "Non-marketing costs":
"m x T" is incorrect. It should be:
"(1 – m) x T"
8/27/09
1st and 2nd

---

5
78
Text correction
pg. 78, 2nd paragraph, 6th sentence:

"...visitors not viewing the blog area spend slightly less time on the site..."
should read:
"...visitors not viewing the blog area spend slightly less time on the page..."
8/27/09
1st and 2nd

---

7
131
Error in code listing
In the code listing on page 131, change the ninth line of code (the first line in bold type) from:

pageTracker._setCampNameKey("orig_campaign"); // default: utm_medium
to:
pageTracker._setCampNameKey("orig_campaign"); // default: utm_campaign

8/27/09
1st and 2nd

---

9
185
Error in code listing
In the example GATC on page 185, the third line from the bottom is incomplete.

document.cookie = "__utmv="+_udh+"."+_uES(labelVal)+";

should read:

document.cookie = "__utmv="+_udh+"."+_uES(labelVal)+";~CA
8/27/09
1st and 2nd

---

9
191
Error in syntax
Change point a., pg. 191 to read:

For every pageview whose Referral has the pattern
(?|&)(q|p)=([^&]*) AND
8/27/09
1st and 2nd

---

9
205
Error in code listing
The sixth line of code: "</script>" should be deleted
8/27/09
1st and 2nd

---