Advances in Biomedical and Biomimetic Materials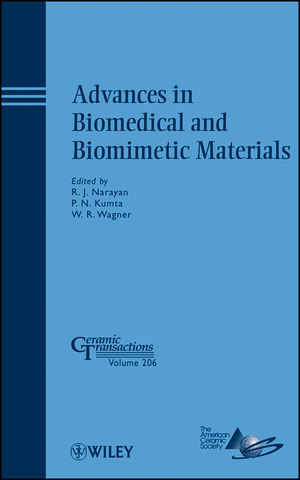 Advances in Biomedical and Biomimetic Materials
ISBN: 978-0-470-53834-0 August 2009 204 Pages
Description
A collection of articles from the Advances in Biomedical and Biomimetic Materials symposium give insight into advances in biomedical and biomimetic materials. These selected articles cover such topics as scaffolds for tissue engineering, bioceramics, biomimetic materials, nanoparticles for medical diagnosis and treatment, and novel materials for drug delivery and biosensing.
Table of contents
Preface ix
BIOCERAMICS
Biotribological Characterization of the Bilayer System: HN/ZrO2 on 316LSS 3
B. Bermudez-Reyes, I. Espitia-Cabrera, J. Zarate-Medina, M. A. L. Hernandez-Rodrrguez, J. A. Ortega-Saenz, F. J. Espinoza-Beltran, and M. E. Contreras-Garcia
Bioinspired Ceramic Microstructures Prepared by Freezing of Suspensions 19
Qiang Fu, Mohamed N. Rahaman, B. Sonny Bal, and Fatih Dogan
Mechanical Properties Modeling of Porous Calcium Phosphates Ceramics 27
Frangois Pecqueux, Franck Tancret, Nathalie Payraudeau, and Jean-Michel Bouler
Bone Cement Reinforced with Zirconium Oxide Particles 39
H. H. Rodriguez and M. C. Piiia
METALLIC IMPLANT MATERIALS
Characterization of New Nickel-Titanium Wire for Rotary Endodontic Instruments 49
William A. Brantley, Jie Liu, William A.T. Clark, Libor Kovarik, Caesar Buie, Masahiro lijima Satish B. Alapati, and William Ben Johnson
Effect of Cold Work on the Behavior of NiTi Shape Memory Alloy 59
Mohamed Elwi Mitwally and Mahmoud Farag
Microstructure and Mechanical Properties of Ti-6AI-4V for Biomedical and Related Applications Involving Rapid-Layer Powder Manufacturing 71
L. E. Murr, S. M. Gaytan, S. A. Quinones, M. I. Lopez, A. Rodela, E. Y. Martinez, D. H. Hernandez, E. Martinez, D. A. Rarnirez, F. Medina, and R. B. Wicker
Mechanical Properties of Implant Rods Made of Low-Modulus p-Type Titanium Alloy, Ti-29Nb-13Ta-4.6Zr, for Spinal Fixture 83
Kengo Narita, Mitsuo Niinomi, Masaaki Nakai, Toshikazu Akahori, Harumi Tsutsumi, Kazuya Oribe, Takashi Tamura, Shinji Kozuka, and Shizuma Sato
Functionality of Porous Titanium Improved by Biopolymer Filling 91
Mitsuo Niinomi, Masaaki Nakai, Toshikazu Akahori, Harumi Tsutsumi, Hideaki Yamanoi, Shinichi Itsuno, Naoki Haraguchi, Yoshinori Itoh, Tadashi Ogasawara, Takashi Onishi, and Taku Shindoh
SCAFFOLDS FOR TISSUE ENGINEERING
Fracture Forces in Femurs Implanted with PMMA 105
Dan Dragomir-Daescu, Hilary E. Brown, Nadia Anguiano-Wehde, Sean McEligot, Michael J. Burke, Kevin E. Bennet, James T. Bronk, and Mark E. Bolander
Development, Synthesis and Characterization of Porous Biomaterial Scaffolds for Tissue Engineering 115
Kajal K. Mallick
Engineered Nanofibers with Stem Cells for Biomimetic Tissue Engineering 129
Seeram Ramakrishna, Susan Liao, Kun Ma, and Casey K. Chan
Preclinic Test of Collagen Membranes 135
B. Leon Mancilla and C. Piiia Barba
SURFACE MODIFICATION OF BIOMATERIALS
Polysiloxane Coatings Containing Tethered Antimicrobial Moieties 143
P. Majumdar, S. J. Stafslien, J. Daniels, E. Lee, N. Patel, N. Gubbins, C. J. Thorson, and B. J. Chisholm
High-Throughput Microbial Biofilm Assay for the Rapid Discovery of Antimicrobial Coatings and Materials for Biomedical Applications 151
S. Stafslien, B. Chisholm, P. Majurndar, J. Bahr, and J. Daniels
Chemical--Hydrothermal Combined Synthesis of Bioactive Ti02 and CaTiO, Films on Ti Surfaces 159
M. Veda, M. Ikeda, and M. Ogawa
Surface Modification of Hydroxyapatite: A Review 171
Otto C. Wilson, Jr.
MATERIALS FOR DRUG DELIVERY
Nanophase Hydroxyapatite in Biodegradable Polymer Composites as Novel Drug-Carrying Implants for Treating Bone Diseases at Targeted Sites 185
Huinan Liu and Thomas J. Webster
Author Index 193