Advances in Ceramic Matrix Composites X: Proceedings of the 106th Annual Meeting of The American Ceramic Society, Indianapolis, Indiana, USA 2004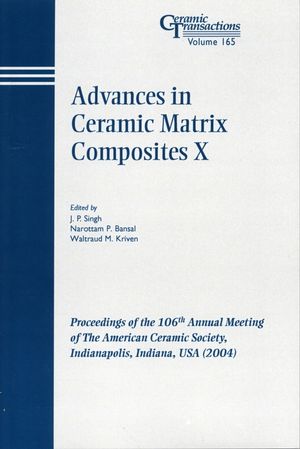 Advances in Ceramic Matrix Composites X: Proceedings of the 106th Annual Meeting of The American Ceramic Society, Indianapolis, Indiana, USA 2004
ISBN: 978-1-574-98186-5
May 2005
182 pages
Description
Ceramic matrix composites are likely candidates for high-temperature structural applications in industries such as aerospace, utilities, and transportation. This volume includes papers on advances in basic science and technology of ceramic matrix composites and how these advances can be used to address technological issues faced by industry.
Oxide, Non-Oxide, Geopolymer, Carbon-Carbon, and Glass-Ceramic Composites.

Fiber, Whisker, Particulate and Nano Composites.

Processing, Characterization and Test Methods, Including NDE.

Composite Interfaces and Fiber Architecture.

Mechanical Properties at Room and Elevated Temperatures.

Environmental Effects and Protective Coatings.

Micromechanical Modeling and Design.

Geopolymers.