Advances in Enzymology and Related Areas of Molecular Biology: Protein Evolution, Volume 75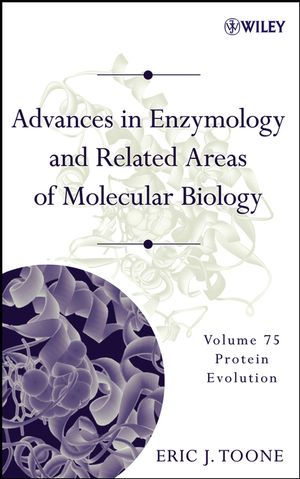 Advances in Enzymology and Related Areas of Molecular Biology: Protein Evolution, Volume 75
ISBN: 978-0-470-89132-2 April 2010 340 Pages
Description
Advances in Enzymology and Related Areas of Molecular Biology covers the advances in enzymology, explaining the behavior of enzymes and how they can be utilized to develop novel drugs, synthesize known and novel compounds, and understand evolutionary processes.
Table of contents
Contributors.
Preface.
Abstracts.
Molecular Paleoscience: Systems Biology from the Past (Steven A. Benner, Slim O. Sassi, and Eric A. Gaucher).
A Structure-Centric View of Protein Evolution, Design, and Adaptation (Eric J. Deeds and Eugene I. Shakhnovich).
Mechanisms of Protein Evolution and Their Application to Protein Engineering (Margaret E. Glasner, John A. Gerlt, and Patricia C. Babbitt).
Novel Enzymes Through Design and Evolution (Kenneth J. Woycechowsky, Katherina Vamvaca, and Donald Hilvert).
Author Index.
Subject Index.