Advances in Fisheries Science: 50 Years on From Beverton and Holt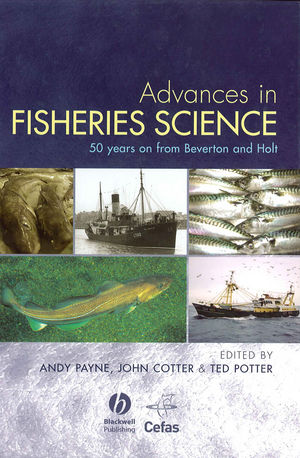 Advances in Fisheries Science: 50 Years on From Beverton and Holt
ISBN: 978-1-444-30266-0 January 2009 Wiley-Blackwell 568 Pages
Description
This timely book brings readers up to date on the wide range of advances made in fisheries science since the publication in 1957 of On the Dynamics of Exploited Fish Populations (Beverton and Holt), regarded by many fisheries scientists as one of the most important books on fisheries yet published.


Traditional fishery subjects covered include historic declines and changes in fishing fleets, fisheries management and stock assessments, data-poor situations, simulation and modelling of fished stocks, fisheries economics, assessing reproductive potential and dispersal of larvae, fisheries for sharks and rays, and use of marine technology. Additionally, related subjects of increasing importance now that ecological approaches to management are coming to the fore are presented. They include benthic ecology, ecosystem changes linked to fishing, life history theory, the effects of chemicals on fish reproduction, and use of sounds in the sea by marine life. Several chapters offer stimulating philosophical discussion of the many controversial areas still existing.

This significant book, edited by Andy Payne, John Cotter and Ted Potter and containing contributions by world-renowned fisheries scientists, including many based at Cefas (where Beverton and Holt's original work was carried out) is an essential purchase for fisheries managers and scientists, fish biologists, marine scientists and ecologists. Libraries in all universities and research establishments where fisheries and biological sciences are studied and taught are likely to need copies of this landmark publication.
Foreword by Sidney J. Holt.
One hundred and twenty years of change in fishing power of English North Sea trawlers.
The decline of the English and Welsh fishing fleet?.
After Beverton and Holt.
Contributions of the fishing industry to research through partnerships.
Understanding and managing marine fisheries with the aid of a digital map.
Managing without best predictions: the Management Strategy Evaluation.
framework.
From fish to fisheries: the changing focus of management advice.
The contribution of science to management of the North Sea cod (Gadus morhua).
and UK sea bass (Dicentrarchus labrax) fisheries: can we do better?.
Management of elasmobranch fisheries in the North Atlantic.
Accumulation of new knowledge and advances in fishery management; two.
complementary processes?.
New technologies for the advancement of fisheries science.
Assessment and management of data-poor fisheries.
The importance of reproductive dynamics in fish stock assessments.
80 years of multispecies fisheries modelling – significant advances and.
continuing challenges.
Benthic communities, ecosystems and fisheries.
Simulating the marine environment and its use in fisheries research.
Overfishing affects more than fish populations: trophic cascades and regime.
shifts in the Black Sea.
Beverton and Holt's insights into life history theory: influence, application.
and future use.
The "soundscape" of the sea, underwater navigation, and why we should be.
listening more.
Fish vitellogenin as a biological effect marker of oestrogenic endocrine.
disruption in the open sea.
In recognition of inevitable uncertainties: from fisheries management to.
managing marine resources
"This book will be valuable reading for fisheries managers, scientists and ecologists, students and other interested readers,"
Fishing News<!--end-->
"This book is a fitting tribute to two of the iconic names of fishery science - Ray Beverton and Sidney Holt."
Fishing News International


Looks in depth at progress since Beverton & Holt's famous 1957 publication

Written by experienced fisheries scientists and biologists

Editor is well respected internationally

A prestigious landmark publication