Advances in Food Diagnostics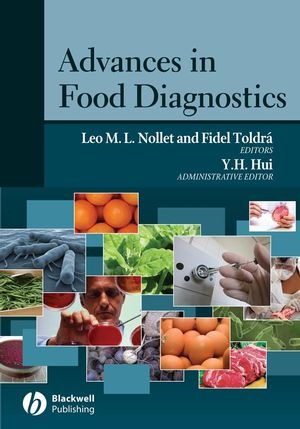 Advances in Food Diagnostics
ISBN: 978-0-813-82221-1
May 2007, Wiley-Blackwell
384 pages
Description
Food diagnostics is a relatively new and emerging area fuelled in large part by the ever-increasing demand for food safety. Advances in Food Diagnostics provides the most updated, comprehensive professional reference source available, covering sophisticated diagnostic technology for the food industry. Editors Nollet, Toldrá, and Hui and their broad team of international contributors address the most recent advances in food diagnostics through multiple approaches: reviewing novel technologies to evaluate fresh products; describing and analyzing in depth several specific modern diagnostics; providing an analysis of data processing; and discussing global marketing with an insight into future trends.

While covering conventional (typically lab-based) methods of analysis, the book focuses on leading-edge technologies that are being or about to be introduced. The book looks at areas such as food quality assurance, safety and traceability. Issues such as improved quality control, monitoring pesticide and herbicide residues in food, determining the nutritional content of food and distinguishing between GM and "conventional" foodstuffs are covered. Advances in Food Diagnostics offers the food professional what its title promises – the latest advances in food diagnostics and analysis.
Buy Both and Save 25%!
Original Price:$526.90
Purchased together:$395.17
save $131.73
Cannot be combined with any other offers.
Buy Both and Save 25%!
Original Price:$532.95
Purchased together:$399.71
save $133.24
Cannot be combined with any other offers.
Contributors vii
Preface xi
1. Assuring Safety and Quality along the Food Chain 1
Gerhard Schiefer
2. Methodologies for Improved Quality Control Assessment of Food Products 11
Manuel A. Coimbra Sílvia M. Rocha and António S. Barros
3. Application of Microwaves for On-line Quality Assessment 49
Ruth De los Reyes Marta Castro-Giráldez Pedro Fito and Elías De los Reyes
4. Ultrasounds for Quality Assurance 81
Bosen Zhao Otman A. Basir and Gauri S. Mittal
5. NMR for Food Quality and Traceability 101
Raffaele Sacchi and Livio Paolillo
6. Electronic Nose for Quality and Safety Control 119
Naresh Magan and Natasha Sahgal
7. Rapid Microbiological Methods in Food Diagnostics 131
Daniel Y. C. Fung
8. Molecular Technologies for Detecting and Characterizing Pathogens 155
Geraldine Duffy and Terese Catarame
9. DNA-Based Detection of GM Ingredients 175
Alexandra Ehlert Francisco Moreano Ulrich Busch and Karl-Heinz Engel
10. Protein-Based Detection of GM Ingredients 199
A. Rotthier M. Eeckhout N. Gryson K. Dewettinck and K. Messens
11. Immunodiagnostic Technology and Its Applications 211
Didier Levieux
12. Rapid Liquid Chromatographic Techniques for Detection of Key (Bio)Chemical Markers 229
M-Concepción Aristoy Milagro Reig and Fidel Toldrá
13. Sampling Procedures with Special Focus on Automatization 253
K. K. Kleeberg D. Dobberstein N. Hinrichsen A. Müller P. Weber and H. Steinhart
14. Data Processing 295
Riccardo Leardi
15. Data Handling 323
Philippe Girard Sofi ane Lariani and Sébastien Populaire
16. The Market for Diagnostic Devices in the Food Industry 347
Hans Hoogland and Huub Lelieveld
Index 359


Describes and analyzes in depth several specific modern diagnostics


Covers areas such as food quality assurance, safety and traceability


Focuses on leading-edge technologies that are being or about to be introduced

Reviews the application of computer technology in handling data, sampling and food diagnostics

Most updated, comprehensive professional reference source available


Over 40 renowned international contributors