Advances in Health Economics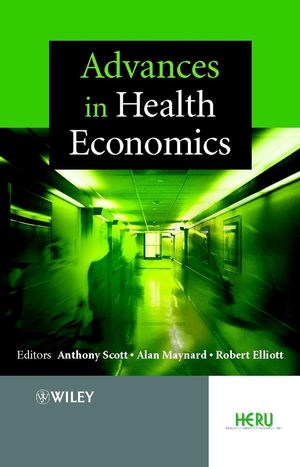 Advances in Health Economics
ISBN: 978-0-470-85791-5 December 2005 274 Pages
Description
"It would be difficult to overstate the standing of the authors. Many HERU alumni are among the most highly esteemed health economists in the world."
—Steve Morgan, University of British Columbia

This is a series of essays to mark the 25 anniversary of HERU. Existing and former HERU staff write about their special interests and work records. This book addresses many current policy issues which exist in the Scottish (and English) National Health System.
HERU is one of the leading health economic institutes in the UK
Contributors are all distinguished members of the health economics community
Covers a wide range of issues that are relevant to the application of health economics now and into the future.
List of Contributors.
About the Authors.
Preface.
Workshop Participants.
Acknowledgements.
Willingness to Pay for Health Care (C. Donaldson and P. Shackley).
Using Discrete Choice Experiments in Health Economics: Moving Forward (M. Ryan and K. Gerard).
Methods for Eliciting Time Preferences Over Future Health Events (M. van der Pol and J. Cairns).
Economic Evaluation for Decision-making (A. Gray and L. Vale).
Incentives in Health Care (A. Scott and S. Farrar).
The Nursing Labour Market (R. Elliott, et al.).
The Economics of the Hospital: Issues of Asymmetry and Uncertainty as they Affect Hospital Reimbursement (A. McGuire and D. Hughes).
Measuring Efficiency in Dental Care (D. Parkin and N. Devlin).
Ageing, Disability and Long-term Care Expenditures (P. McNamee and S. Stearns).
Economic Challenges in Primary Care (A. Maynard and A. Scott).
Equity in Health Care: The Need for a New Economics Paradigm? (G. Mooney and E. Russell).
Economics of Health and Health Improvement (A. Ludbrook and D. Cohen).
"...In this brief review it is not possible to do justice to the wealth of materials presented". (Health Economics, May 2003)