Advances in Optical Imaging for Clinical Medicine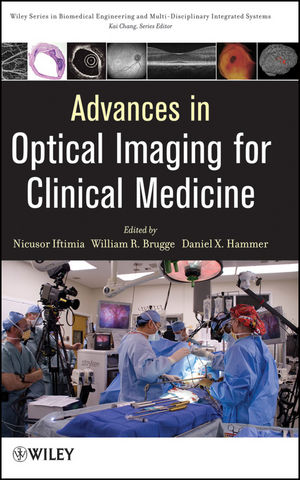 Advances in Optical Imaging for Clinical Medicine
ISBN: 978-1-118-10271-8
Apr 2011
537 pages
Description
This book provides students, teachers, researchers and clinicians with a strong and established source of information on advanced optical technologies that show real promise of being translated to clinical use.
Contributors.
Preface.
1 Introduction to Optical Imaging in Clinical Medicine (Nicusor Iftimia, Daniel X. Hammer, and William R. Brugge).
2 Traditional Imaging Modalities in Clinical Medicine (Ileana Iftimia and Herbert Mower).
3 Current Imaging Approaches and Further Imaging Needs in Clinical Medicine: A Clinician's Perspective (Gadi Wollstein and Joel S. Schuman, Cetin Karaca, Sevdenur Cizginer, and William R. Brugge, Ik-Kyung Jang and Jin-Man Cho, Peter K. Dempsey).
4 Advances in Retinal Imaging (Daniel X. Hammer).
5 Confocal Microscopy of Skin Cancers (Juliana Casagrande Tavoloni Braga, Itay Klaz, Alon Scope, Daniel Gareau, Milind Rajadhyaksha, and Ashfaq A. Marghoob).
6 High-Resolution Optical Coherence Tomography Imaging in Gastroenterology (Melissa J. Suter, Brett E. Bouma, and Guillermo J. Tearney).
7 High-Resolution Confocal Endomicroscopy for Gastrointestinal Cancer Detection (Jonathan T. C. Liu, Jonathan W. Hardy, and Christopher H. Contag).
8 High-Resolution Optical Imaging in Interventional Cardiology (Thomas J. Kiernan, Bryan P. Yan, Kyoichi Mizuno, and Ik-Kyung Jang).
9 Fluorescence Lifetime Spectroscopy in Cardio and Neuroimaging (Laura Marcu, Javier A. Jo, and Pramod Butte).
10 Advanced Optical Methods for Functional Brain Imaging: Time-Domain Functional Near-Infrared Spectroscopy (Alessandro Torricelli, Davide Contini, Lorenzo Spinelli, Matteo Caffini, Antonio Pifferi, and Rinaldo Cubeddu).
11 Advances in Optical Mammography (Xavier Intes and Fred S. Azar).
12 Photoacoustic Tomography (Huabei Jiang and Zhen Yuan).
13 Optical Imaging and Measurement of Angiogenesis (Brian S. Sorg).
14 High-Resolution Phase-Contrast Optical Coherence Tomography for Functional Biomedical Imaging (Taner Akkin and Digant P. Davé).
15 Polarization Imaging (Mircea Mujat).
16 Nanotechnology Approaches to Contrast Enhancement in Optical Imaging and Disease-Targeted Therapy (Nicusor Iftimia, Lara Milane, Amy Oldenburg, and Mansoor Amiji).
17 Molecular Probes for Optical Contrast Enhancement of Gastrointestinal Cancers (Jonathan W. Hardy, Anson W. Lowe, Christopher H. Contag, and Jonathan T. C. Liu).
Index.