Advances in Photonic Materials and Devices: Proceedings of the 106th Annual Meeting of The American Ceramic Society, Indianapolis, Indiana, USA 2004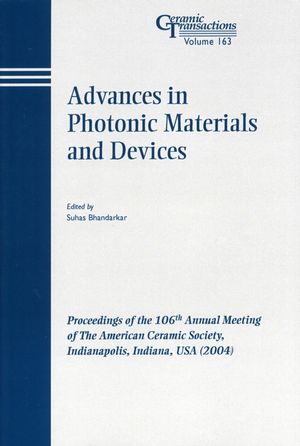 Advances in Photonic Materials and Devices: Proceedings of the 106th Annual Meeting of The American Ceramic Society, Indianapolis, Indiana, USA 2004
ISBN: 978-1-574-98184-1 May 2005 128 Pages
Description
Photonics is a critically important technology. It complements maturing micro-electronics to create new directions that impacts a wide-ranging array of other industries. From a materials standpoint, this technology uses essentially all the classes of materials and seeks to hybridize them to create new devices. These proceedings showcase the transformation of photonics from a telecom-aligned technology to a much wider sphere of applications.
Advances in Optical Waveguide Materials and Technology.

Non-Linear Optical Materials and Devices.

Novel Photonic Materials.

Photonic Crystals and Related Applications.

Bio-Applications of Photonics.

Light Emitting Materials.