Advances in Polymer Chemistry and Methods Reported in Recent US Patents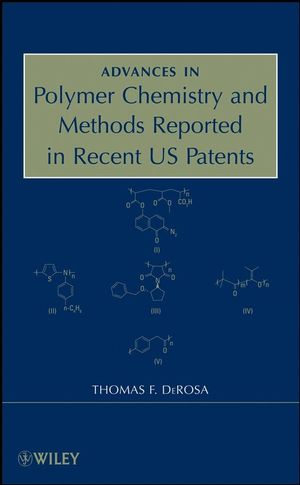 Advances in Polymer Chemistry and Methods Reported in Recent US Patents
ISBN: 978-0-470-31286-5 October 2008 760 Pages
Description
The objective of this book is to convey to academic and industrial researchers and students advances in synthetic and characterization methods in 9 selected areas of polymer chemistry reported in 2007-2008 US Patents. It reviews the impact of newer bulk anionic, cationic, and free radical polymerization methods within selected industrial applications. Bulk and surface crosslinking agents using selected bi- and tri-functional reagents, photochemical methods, or free radical agents are also reviewed. Finally, there is a separate section on cationic and cationic ring opening polymerization reactions describing di- and tri-heterocyclic monomers and their use in medical devices.
Buy Both and Save 25%!
Original Price:$512.95
Purchased together:$384.71
save $128.24
Cannot be combined with any other offers.
I. ADDITIVES.
II. ADHESIVES.
III. BIOACTIVE.
A. Bioabsorbables.
B. Contact Lenses.
IV. COATINGS.
A. Anionic.
B. Aqueous.
C. Fluorine.
D. Hydrophilic.
E. Hydrophobic.
F. Oxidatively Stable.
G. Vapor Deposition of Polymers.
H. Succinic Anhydride Derivatives.
V. COSMETICS.
VI. DENTAL.
A. Cement.
B. Dental Composites.
VII. ELECTROACTIVE.
A. Charge Transport Materials.
B. Dielectric Materials.
C. Donor-Acceptor Complexes.
D. Electroconductive.
E. Electroluminescence.
F. Semiconductors.
VIII. ENERGETIC POLYMERS.
IX. FIBERS.
X. FLUORINE.
A. Critical Polymerization.
B. High Strength.
C. Low Molecular Wright.
D. Low Surface Energy.
E. Silicon Fluids.
F. Surfactants.
XI. GELS.
A. Gelling Agent.
B. Hydrogels.
C. Sol-gel.
XII. IMAGING AGENT.
XIII. INK.
XIV. LIQUID CRYSTALS.
A. Liquid Crystal Aligner.
B. Liquid Crystal Materials.
XV. NANOPARTICLES.
A. Carbon Nanotubes.
B. Inorganic Nanotubes.
C. Nanotube Dispersant.
XVI. NEW SYNTHETIC METHODS.
A. Compounds.
B. Polymers.
XVII. OPTICAL MATERIALS.
XVIII. PHOTOACTIVE POLYMERS.
A. Photoluminsence.
B. Photorefraction.
XIX. POLYMERIZATION METHODS.
A. Anionic.
B. Catalytic Agents.
C. Cationic .
D. Chain Transfer Agent.
E. Emulsifing Agents.
F. Free Radical Polymerization.
G. Macroinitators.
H. Macromolecular Depolymerization Catalysts.
I. Metallocene Catalysts.
J. Ring Opening Metathesis Catalyst.
K. Ziegler-Natta.
XX. REGULATORS.
A. Chain Transfer Agents.
B. Chain Transfer Processes.
C. Photolytic Regulating Agents.
XXI. PHOTORESISTS.
A. Fluorine Containing.
B. Norbornene.
C. Adamantane.
D. Diamantane.
XXII. SEPARATIONS.
A. Gases.
B. Solutions.
XXIII. THERMOSETS.
Contributors.
Index.