Advances in Veterinary Dermatology, Volume 7: Proceedings of the Seventh World Congress of Veterinary Dermatology, Vancouver, Canada, July 24 - 28, 2012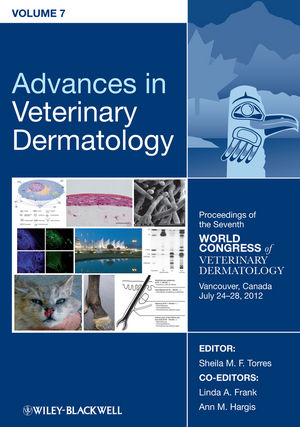 Advances in Veterinary Dermatology, Volume 7: Proceedings of the Seventh World Congress of Veterinary Dermatology, Vancouver, Canada, July 24 - 28, 2012
ISBN: 978-1-118-64487-4
Jun 2013, Wiley-Blackwell
350 pages
Description
Representing the state of the art of veterinary dermatology around the globe, Advances in Veterinary Dermatology, Volume 7, presents selected scientific papers from the Seventh World Congress of Veterinary Dermatology.  The Congress, held in Vancouver, Canada in July 2012, was organized with the support of the World Association for Veterinary Dermatology (WAVD) and its affiliated societies.   A record number of delegates attended from over 50 countries to take advantage of the exceptional scientific program.  Cutting edge information was presented as review papers and original studies in the areas of:
Allergy
Immunology   
Skin Biology   
Therapy
Infectious Diseases
Oncology
These peer-reviewed and edited papers were published in the journal Veterinary Dermatology in volume 24, issue 1, and are included in this hardbound book volume of the conference proceedings.  Also included are 13 Workshop Reports which summarise sessions where experts presented topics in various areas providing a wonderful opportunity for colleagues to ask questions and exchange ideas in an informal atmosphere.
A vital resource for all practising veterinarians and researchers interested in the field of veterinary dermatology.
Sponsors viii
Officers and Organizing Committees ix
Members of the Administrative Committee of the WAVD x
Preface xi
PART 1 ALLERGY
1.1 Epidemiology of human atopic dermatitis – seven areas of notable progress and seven areas of notable ignorance 3
Hywel C. Williams
1.2 The genomics revolution: will canine atopic dermatitis be predictable and preventable? 10
Tim Nuttall
1.3 Serum anti-Staphylococcus pseudintermedius IgE and IgG antibodies in dogs with atopic dermatitis and nonatopic dogs 19
Jennifer Bexley, Timothy J. Nuttall, Bruce Hammerberg, J. Ross Fitzgerald and Richard E. Halliwell
1.4 Characterization of canine filaggrin: gene structure and protein expression in dog skin 25
Satoko Kanda, Takashi Sasaki, Aiko Shiohama, Koji Nishifuji, Masayuki Amagai, Toshiroh Iwasaki and Jun Kudoh
PART 2 IMMUNOLOGY
2.1 Innate immune defense system of the skin 35
Maryam Afshar and Richard L. Gallo
2.2 Evaluation of canine antimicrobial peptides in infected and noninfected chronic atopic skin 42
Domenico Santoro, David Bunick, Thomas K. Graves and Mariangela Segre
2.3 Interleukin-31: its role in canine pruritus and naturally occurring canine atopic dermatitis 51
Andrea J. Gonzales, William R. Humphrey, James E. Messamore, Timothy J. Fleck, Gregory J. Fici, John A. Shelly, Janet F. Teel, Gary F. Bammert, Steven A. Dunham, Troy E. Fuller and Robert B. McCall
2.4 Expression of thymic stromal lymphopoietin in canine atopic dermatitis 57
Jolanta Klukowska-Ro¨ tzler, Ludovic Chervet, Eliane J. Mu¨ ller, Petra Roosje, Eliane Marti and Jozef Janda
PART 3 SKIN BIOLOGY
3.1 The stratum corneum: the rampart of the mammalian body 65
Koji Nishifuji and Ji Seon Yoon
3.2 Fixing the skin barrier: past, present and future – man and dog compared 78
Rosanna Marsella
3.3 Autosomal recessive ichthyosis in golden retriever dogs: distribution and frequency of the PNPLA1 mutant allele in different populations* 82
Eric Guaguere, Anne Thomas, Anais Grall, Emmanuelle Bourrat, Laetitia Lagoutte, Frederique Degorce-Rubiales, Christophe Hitte, Emmanuel Bensignor, Jacques Fontaine, Didier Pin, Guillaume Queney and Catherine Andre
3.4 Epidermal structure created by canine hair follicle keratinocytes enriched with bulge cells in a three-dimensional skin equivalent model in vitro: implications for regenerative therapy of canine epidermis 85
Tetsuro Kobayashi, Kaoru Enomoto, Yu Hsuan Wang, Ji Seon Yoon, Ryoko Okamura, Kaori Ide, Manabu Ohyama, Toshio Nishiyama, Toshiroh Iwasaki and Koji Nishifuji
*This study was not published in the special issue of the Veterinary Dermatology journal (VDE 2013; 24:1).
3.5 Skin lipid profiling in normal and seborrhoeic shih tzu dogs 92
Ji-Seon Yoon, Koji Nishifuji, Sinpei Ishioroshi, Kaori Ide and Toshiroh Iwasaki
PART 4 THERAPY
4.1 Stem cell therapy in veterinary dermatology 101
Robert J. Harman
4.2 A systematic review of randomized controlled trials for prevention or treatment of atopic dermatitis in dogs: 2008–2011 update 108
Thierry Olivry and Petra Bizikova
4.3 The effect of ketoconazole on whole blood and skin ciclosporin concentrations in dogs 129
Laura L. Gray, Andrew Hillier, Lynette K. Cole and Pa¨ivi J. Rajala-Schultz
4.4 In vitro antiseptic susceptibilities for Staphylococcus pseudintermedius isolated from canine superficial pyoderma in Japan 137
Nobuo Murayama, Masahiko Nagata, Yuri Terada, Mio Okuaki, Noriyuki Takemura, Hidemasa Nakaminami and Norihisa Noguchi
4.5 Photodynamic therapy for pythiosis 141
Layla Pires, Sandra de M. G. Bosco, Nelson F. da Silva Junior and Cristina Kurachi
PART 5 INFECTIOUS DISEASES
5.1 The canine and feline skin microbiome in health and disease 151
J. Scott Weese
5.2 Ulcerated and nonulcerated nontuberculous cutaneous mycobacterial granulomas in cats and dogs 160
Richard Malik, Bronwyn Smits, George Reppas, Caroline Laprie, Carolyn O'Brien and Janet Fyfe
5.3 Prevalence of and risk factors for isolation of meticillin-resistant Staphylococcus spp. from dogs with pyoderma in northern California, USA 168
Nicole G. Eckholm, Catherine A. Outerbridge, Stephen D. White and Jane E. Sykes
5.4 Usefulness of cefovecin disk-diffusion test for predicting mecA gene-containing strains of Staphylococcus pseudintermedius and clinical efficacy of cefovecin in dogs with superficial pyoderma 176
Keita Iyori, Yoichi Toyoda, Kaori Ide, Toshiroh Iwasaki and Koji Nishifuji
5.5 Small Demodex populations colonize most parts of the skin of healthy dogs 182
Iva´n Ravera, Laura Altet, Olga Francino, Armand Sa´nchez, Wendy Rolda´n, Sergio Villanueva, Mar Bardag©¥´ and Ll
PART 6 ONCOLOGY
6.1 Advances in the management of skin cancer 189
Pamela D. Martin and David J. Argyle
6.2 Kinase dysfunction and kinase inhibitors 197
Cheryl A. London
6.3 The contribution of stem cells to epidermal and hair follicle tumours in the dog 204
Chiara Brachelente, Ilaria Porcellato, Monica Sforna, Elvio Lepri, Luca Mechelli and Laura Bongiovanni
6.4 Epithelial-to-mesenchymal transition: immunohistochemical investigation of related molecules in canine cutaneous epithelial tumours 211
Laura Bongiovanni, Alessandra D'Andrea, Mariarita Romanucci, Daniela Malatesta, Melissa Candolini, Leonardo D. Salda, Luca Mechelli, Monica Sforna and Chiara Brachelente
6.5 Canine inflamed nonepitheliotropic cutaneous T-cell lymphoma: a diagnostic conundrum 220
Peter F. Moore, Verena K. Affolter and Stefan M. Keller
PART 7 EQUINE DERMATOLOGY
7.1 Comparison of hair follicle histology between horses with pituitary pars intermedia dysfunction and excessive hair growth and normal aged horses 231
Marie Innera¢ª , Annette D. Petersen, Danielle R. Desjardins, Barbara A. Steficek, Edmund J. Rosser Jr and Harold C. Schott II
7.2 Equine sarcoidosis: clinical signs, diagnosis, treatment and outcome of 22 cases 237
Marianne M. Sloet van Oldruitenborgh-Oosterbaan and Guy C. M. Grinwis
PART 8 WORKSHOP REPORTS
Co-editors: Dr Karen L. Campbell, University of Illinois, Illinois, USA Dr Kinga Gortel, Lake Country Veterinary Specialist Hospital, Lake Country, BC, Canada
8.1 Nonpruritic hair loss 247
R. Cerundolo and J. R. Rest
8.2 Dietary management of skin disease: elimination diets and dietary approach to canine allergic disease 251
D. N. Carlotti and R. G. Harvey
8.3 Fun with lasers 257
M. Boord and C. S. Nett-Mettler
8.4 Allergen-specific immunotherapy 264
A. Hillier and J. S. Pendergraft
8.5 Pododermatitis: canine interdigital follicular cysts and feline plasma cell pododermatitis 273
R. Muse and B. E. Wildermuth
8.6 Hot topics in zoonosis 277
J. S. Weese and C. C. Pye
8.7 Responsible use of antimicrobials 285
D. H. Lloyd and J. D. Littlewood
8.8 Refractory atopic dermatitis therapy 291
W. S. Rosenkrantz and C. L. Mendelsohn
8.9 Challenges in otitis 298
A. Burrows, S. Hobi and R. Albert
8.10 Allergy testing revisited 305
R. E. W. Halliwell and S. Gilbert
8.11 Epidermal barrier function 313
K. Nishifuji and P. Bizikova
8.12 The changing faces of parasite control 319
C. Taylor and K. Glos
8.13 Topical antimicrobial therapy 323
K. Bergvall and K. Varjonen
Index 331