Advances in Veterinary Dermatology, Volume 8: Proceedings of the Eighth World Congress of Veterinary Dermatology, Bordeaux, France, May 31-June 4, 2016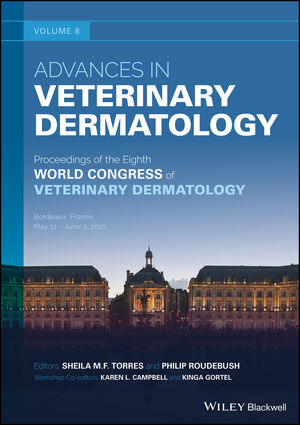 Advances in Veterinary Dermatology, Volume 8: Proceedings of the Eighth World Congress of Veterinary Dermatology, Bordeaux, France, May 31-June 4, 2016
ISBN: 978-1-119-27836-8 June 2017 Wiley-Blackwell 256 Pages
Description
Representing the most recent developments in veterinary dermatology around the globe,
Advances in Veterinary Dermatology
, Volume 8, presents selected scientific papers from the Eighth World Congress of Veterinary Dermatology. The Congress, held in Bordeaux, France in June 2016, hosted an exceptional scientific program, with delegates attending from over 70 countries.
Cutting edge information was presented as review papers and original studies in the areas of:
Genetics and genomics
Allergy
New trends in therapy
Skin biology
Infectious diseases
New diagnostic approaches
These peer-reviewed and edited papers were published in the journal
Veterinary Dermatology
in volume 28 issue 1, and are included in this volume of the conference proceedings. Also included are 11 workshop reports which summarise sessions where experts presented topics in various areas providing a wonderful opportunity for colleagues to ask questions and exchange ideas in an informal atmosphere.
Advances in Veterinary Dermatology
, Volume 8 is a vital resource for all practising veterinarians and researchers interested in the field of veterinary dermatology.
Table of contents
Sponsors vi
Organizing Committees vii
Editorials viii
8th World Congress of Veterinary Dermatology viii
Philip Roudebush and Sheila M.F. Torres
9th World Congress of Veterinary Dermatology viii
Mandy Burrows
The 2016 Hugo Schindelka Medal and Lecture awarded to Professor David H. Lloyd ix
Kenneth W. Kwochka
PART 1 GENETICS AND GENOMICS OF THE SKIN AND SKIN DISEASES 1
1.1 Genetic testing in veterinary dermatology 3
Tosso Leeb, Eliane J. Muller, Petra Roosje and Monika Welle
1.2 Epidermolysis bullosa simplex in sibling Eurasier dogs is caused by a PLEC non-sense variant 9
Elizabeth A. Mauldin, Ping Wang, Thierry Olivry, Paula S. Henthorn and Margret L. Casal
PART 2 THE SKIN AS AN IMMUNE ORGAN – ALLERGY 15
2.1 A review of the roles of keratinocyte-derived cytokines and chemokines in the pathogenesis of atopic dermatitis in humans and dogs 17
Ryota Asahina and Sadatoshi Maeda
2.2 The future of immunotherapy for canine atopic dermatitis: a review 26
Douglas J. DeBoer
2.3 Co-sensitization and cross-reactivity between related and unrelated food allergens in dogs – a serological study 32
Jennifer Bexley, Timothy J. Nuttall, Bruce Hammerberg and Richard E. Halliwell
2.4 Triggers, risk factors and clinico-pathological features of urticaria in dogs – a prospective observational study of 24 cases 39
Ana Rostaher, Natalie Hofer-Inteeworn, Claudia Kummerle-Fraune, Nina Maria Fischer and Claude Favrot
PART 3 NEW TRENDS IN THERAPY 47
3.1 The selective glucocorticoid receptor agonist mapracorat displays a favourable safety–efficacy ratio for the topical treatment of inflammatory skin diseases in dogs 49
Wolfgang Baumer, Kristine Rossbach and Bernard H. Schmidt
3.2 Therapeutic anti-IgE monoclonal antibody single chain variable fragment (scFv) safety and immunomodulatory effects after one time injection in four dogs 55
Bruce Hammerberg and Sitka Eguiluz-Hernandez
3.3 Treatment of itch in dogs: a mechanistic approach* 63
Thierry Olivry and Wolfgang Baeumer
*This study was not published in the special issue of the Veterinary Dermatology journal (VDE 2017; 28:1).
PART 4 THE LIVING SKIN – SKIN BIOLOGY AND THE CUTANEOUS ECOSYSTEM 71
4.1 The cutaneous ecosystem: the roles of the skin microbiome in health and its association with inflammatory skin conditions in humans and animals 73
Aline Rodrigues Hoffmann
4.2 Characterization of the cutaneous mycobiota in healthy and allergic cats using next generation sequencing 84
Courtney Meason-Smith, Alison Diesel, Adam P. Patterson, Caitlin E. Older, Timothy J. Johnson, Joanne M. Mansell, Jan S. Suchodolski and Aline Rodrigues Hoffmann
PART 5 INFECTIOUS DISEASES 95
5.1 Bacterial resistance to antimicrobial agents and its impact on veterinary and human medicine 97
Stefan Schwarz, Anette Loeffler and Kristina Kadlec
5.2 Bartonellosis, One Health and all creatures great and small 111
Edward B. Breitschwerdt
5.3 Clinical, microscopic and microbial characterization of exfoliative superficial pyoderma-associated epidermal collarettes in dogs 122
Frane Banovic, Keith Linder and Thierry Olivry
5.4 Molecular and epidemiological characterization of canine Pseudomonas otitis using a prospective case-control study design 133
Daniel O. Morris, Meghan F. Davis, Brian S. Palmeiro, Kathleen O'Shea and Shelley C. Rankin
5.5 Staphylococcus aureus penetrate the interkeratinocyte spaces created by skin-infiltrating neutrophils in a mouse model of impetigo 141
Ichiro Imanishi, Shinpei Hattori, Junzo Hisatsune, Kaori Ide, Motoyuki Sugai and Koji Nishifuji
PART 6 NEW DIAGNOSTIC APPROACHES 149
6.1 Dermatopathology – the link between ancillary techniques and clinical lesions 151
Verena K. Affolter
6.2 Diagnostic microbiology in veterinary dermatology: present and future 163
Luca Guardabassi, Peter Damborg, Ivonne Stamm, Peter A. Kopp, Els M. Broens and Pierre-Louis Toutain, the ESCMID Study Group for Veterinary Microbiology
6.3 Comparison of two in vitro antifungal sensitivity tests and monitoring during therapy of Sporothrix schenckii sensu stricto in Malaysian cats 173
Hock Siew Han, Rui Kano, Charles Chen and Chiara Noli
6.4 The usefulness of dermoscopy in canine pattern alopecia: a descriptive study 178
Giordana Zanna, Paola Roccabianca, Eric Zini, Sara Legnani, Fabia Scarampella, Silvana Arrighi and Antonella Tosti
PART 7 WORKSHOP REPORTS 185
Co-editors: Dr Karen L. Campbell, University of Illinois, Urbana, USA and University of Missouri Veterinary Health Center, Wentzville, USA, Dr Kinga Gortel, Lake Country Veterinary Specialist Hospital, Lake Country, BC, Canada
7.1 Vaccines for canine leishmaniasis 187
C. Noli and A. Fondati
7.2 Pros and cons of oclacitinib therapy 192
W.S. Rosenkrantz and A.S. Bourgeois
7.3 Resisting the resistance. Is there progress in maintaining antimicrobial efficacy? 199
D.H. Lloyd and E.K. Varjonen
7.4 Update on the diagnosis and treatment of canine demodicosis 206
R. Mueller and M. Shipstone
7.5 Otitis controversies 210
G. Griffin and J. Aniya
7.6 Immune modulating drugs in cats: new perspectives and old favourites 217
A.K. Burrows and M.K. Siak
7.7 Topical therapy for atopic dermatitis. A practical option? Are expectations met? 220
R. Marsella and C. Friberg
7.8 Ectoparasitic agents 224
P. Bourdeau and A.G. Cannon
7.9 Why biopsy bald patients? 229
M. Linek and E. Kuznetsova
7.10 Performing and interpreting allergy tests: their value and pitfalls 235
R. Halliwell and M. Kovalik
7.11 Flavour of the month: foods as diagnosis and/or treatment 241
P. Roudebush and C.P. Souza