Advances in the Canine Cranial Cruciate Ligament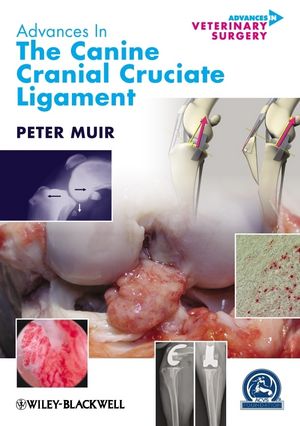 Advances in the Canine Cranial Cruciate Ligament
ISBN: 978-0-813-81852-8
Sep 2010, Wiley-Blackwell
320 pages
Product not available for purchase
Description
Advances in the Canine Cranial Cruciate Ligament, the first book in the Advances in Veterinary Surgery series, presents a state-of-the-art summary of current knowledge on cruciate rupture, one of the most important orthopaedic conditions in dogs. Written by leading specialists and edited by a highly respected veterinary orthopaedic surgeon and researcher, the book takes a cross-disciplinary, evidence-based approach. It provides the information necessary to accurately diagnose, treat, and manage cruciate rupture cases and is a valuable reference for clinicians seeking the most current information on this important condition.
About the Editor xi
Contributors xiii
Foreword xvii
Kenneth A. Johnson
Foreword xix
Mark D. Markel, American College of Veterinary Surgeons Foundation
Preface xxi
Peter Muir
Acknowledgment xxiii
1 Structure and Function 3
Introduction 3
Peter Muir
1 Morphology and Function of the Cruciate Ligaments 5
Hilde de Rooster, Tanya de Bruin, and Henri van Bree
2 Biomechanics of the Cruciate Ligaments 13
Susannah J. Sample, Ray Vanderby, Jr., and Peter Muir
3 Cruciate Ligament Remodeling and Repair 21
Connie S. Chamberlain and Ray Vanderby, Jr.
4 Meniscal Structure and Function 29
Antonio Pozzi and James L. Cook
5 Biomechanics of the Normal and Cranial Cruciate Ligament-Defi cient Stifl e 37
Antonio Pozzi and Stanley E. Kim
2 Etiopathogenesis of Cruciate Ligament Rupture 43
Introduction 43
Peter Muir
6 Histology of Cranial Cruciate Ligament Rupture 45
Kei Hayashi and Peter Muir
7 Genetics of Cranial Cruciate Ligament Rupture 53
Vicki Wilke
8 Cruciate Ligament Matrix Metabolism and Development of Laxity 59
Eithne Comerford
9 Stifle Morphology 65
Eithne Comerford
10 Role of Nitric Oxide Production and Matrix Protease Activity in Cruciate Ligament Degeneration 71
David E. Spreng
11 Role of Antibodies to Type I and II Collagen 77
Hilde de Rooster, Tanya de Bruin, and Eric Cox
12 Synovitis or Stifle Instability, Which Comes First? 81
Jason A. Bleedorn and Peter Muir
13 Role of Synovial Immune Responses in Stifle Synovitis 87
Peter Muir
3 Clinical Features 93
Introduction 93
Peter Muir
14 Epidemiology of Cranial Cruciate Ligament Rupture 95
James L. Cook
15 History and Clinical Signs of Cruciate Ligament Rupture 101
Peter Muir
16 Partial versus Complete Rupture of the Cranial Cruciate Ligament 105
Peter Muir
17 Caudal Cruciate Ligament Rupture 109
Peter Muir
18 Stress Radiography of the Stifle 113
Henri van Bree, Hilde de Rooster, and Ingrid Gielen
19 Stifle Ultrasonography 117
Cristi R. Cook
20 Computed Tomography of the Stifle 123
Ingrid Gielen, Jimmy Saunders, Bernadette Van Ryssen, and Henri van Bree
21 Magnetic Resonance Imaging of the Stifle 135
Peter V. Scrivani
4 Surgical Treatment 143
Introduction 143
Peter Muir
22 Arthroscopy versus Arthrotomy for Surgical Treatment 145
Brian S. Beale and Don A. Hulse
23 Joint Lavage 159
Peter Muir
24 Extracapsular Stabilization 163
James L. Cook
25 Tibial Plateau Leveling Osteotomy 169
Milan Milovancev and Susan L. Schaefer
26 Tibial Tuberosity Advancement 177
Randy J. Boudrieau
27 Intra-articular Stabilization 189
Paul A. Manley
28 Biomechanics of the Cranial Cruciate Ligament-Deficient Stifle Treated by Tibial Osteotomies 195
Antonio Pozzi and Stanley E. Kim
29 Arthroscopic Follow-Up after Surgical Stabilization of the Stifle 201
Brian S. Beale and Don A. Hulse
30 Cranial Cruciate Ligament Debridement 213
David E. Spreng
31 Surgical Treatment of Concurrent Meniscal Injury 217
James L. Cook and Antonio Pozzi
32 Meniscal Release 223
Antonio Pozzi and James L. Cook
33 Progression of Arthritis after Stifle Stabilization 229
John F. Innes
34 Residual Lameness after Stifl e Stabilization Surgery 233
Michael G. Conzemius and Richard B. Evans
5 Medical Management of Cruciate Rupture 239
Introduction 239
Peter Muir
35 Medical Therapy for Stifl e Arthritis 241
Gayle H. Jaeger and Steven C. Budsberg
36 Rehabilitation for Dogs with Cranial Cruciate Ligament Rupture 249
Courtney J. Arnoldy
6 Future Directions 255
Introduction 255
Peter Muir
37 Client-Specifi c Outcome Measures 257
John F. Innes
38 Total Knee Replacement in the Dog 263
Matthew J. Allen, William D. Liska, and Katy L. Townsend
39 Regenerative Medicine and Cranial Cruciate Ligament Repair 271
Martha M. Murray and Patrick Vavken
40 Disease-Modifying Medical Therapy 277
Sara A. Colopy
Index 283
""Written by leading specialists and edited by Dr. Muir, a highly respected veterinary orthopedist surgeon and researcher, this is a valuable reference for anybody seeking the most current information about cranial cruciate ligament, including clinicians, residents, interns, or veterinary students. The user-friendly format with numerous and excellent illustrations make this book a very attractive, thorough resource about a major orthopedic disorder. This very helpful book provides an excellent, detailed, and up-to-date review of the current knowledge about cruciate rupture."" (Doody's, January 2011)
""Advances in the Canine Cruciate Ligament is the only book of its kind to focus solely on the canine cruciate ligament, and it delves into everything from the microanatomy of the ligament to the myriad treatment modalities available to practitioners .  .  . I believe this book would make a wonderful addition to the library at any university, specialty hospital, or general practice with a high orthopedic case load."" (American Journal of Veterinary Research, 4 April 2011)
Presents a state-of-the-art, evidence-based summary of current knowledge on the most important cause of lameness in dogs

First book in the Advances in Veterinary Surgery series published in association with the ACVS Foundation
Led by a highly r

espected surgeon and researche

r, with chapters written by leading experts in the field

Surveys and condenses the peer-reviewed literature into a readable reference

Offers a thorough grounding in this important structure for improved diagnosis and management of cruciate rupture

Provides a foundation for development of future research in this field