Advancing Campus Efficiencies: A Companion for Campus Leaders in the Digital Era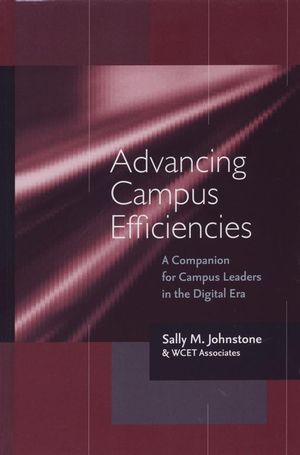 Advancing Campus Efficiencies: A Companion for Campus Leaders in the Digital Era
ISBN: 978-1-933-37113-9 October 2006 Jossey-Bass 236 Pages
Description
Technology is continually changing the world. In higher education in particular, new technologies can be applied to great advantage by campus communities seeking to offer better services for students in more efficient ways. Written for deans, vice presidents, and presidents of all higher education institutions, Advancing Campus Efficiencies provides straightforward advice that is intended to help colleges and universities respond to calls for greater accountability and their students' rising expectations for access to advanced technologies.

The book envisions a dramatically different way of delivering courses; disaggregating and reassigning teaching functions; and increasing differentiation, collaboration, and innovation—all enabled by the appropriate use of information technologies. Drawing on the Western Cooperative for Educational Telecommunication's (WCET) more than 15 years of work on the effective use of technology to increase quality and efficiency in higher education, the book offers valuable insight on
Whether for-profit institutions enjoy a competitive advantage over public and independent institutions

The most critical issues facing higher education today, and possible solutions

Strategies for managing the cost of integrating information technologies into teaching and Learning

How to lead campus transformation using communication technologies

Connecting students and faculty through distance learning and telecommunication systems

The role of openness in the future of higher education
Offering new ideas on how to deploy emerging information and communication technologies, Advancing Campus Efficiencies will be a companion—both comfort and guide—for educators undertaking the work of inspired leadership that will be required to achieve the new design of higher education.
About the Authors.
Preface.
Acknowledgements.
Foreword.
1 The Journey Begins (Sally M. Johnstone).
Do For-Profit Institutions Have Competitive Advantage? (Michael B. Goldstein).
The Top Critical Issues for Higher a Education Today (David Longanecker).
Leadership in a Technology-Rich Environment (Judith A. Ramaley).
2 Cost Efficiencies: Tools for Meeting Today's Challenges (Katrina A. Meyer and Russell Poulin).
Technology Costing Methodology Lessons Learned (Marianne Boeke and Dennis Jones).
Insights Into Costs and Quality: A Study at Washington State University (Tom Henderson and Gary Brown).
3 Student Services, Rethought for ALL Students (Patricia (Pat) Shea).
One-Stop Service Center (Darlene Burnett).
E-Services at the Program Level (Michael Tagawa).
Online Student Success Center and Online Student Companion (Anita Crawley).
Building a Statewide Student Advising System (Andrea Latham and Connie Graunke).
Accelerating Your E-Service Initiatives Through Partnerships With Service Providers (Russ Adkins).
4 How Can We Help the Faculty? (Sally M. Johnstone).
Virginia Tech's Math Emporium (Anne H. Moore).
Open Learning Initiatives at Carnegie Mellon University (Candace Thille and Joel Smith).
5 Accountability and Assuring Quality (Sally M. Johnstone).
New Institutional Expectations Related to the Integration of Technology (Steven Crow).
Making the Difficult Choice to Integrate New Technology (George Connick).
Accountability for Technology Investments to Policymakers (Patricia Cuocco and Steve Daigle).
6 Joining Others: Lessons for Consortial Relationships (Sally M. Johnstone).
The Indiana Higher Education Telecommunications System (Susan B. Scott).
Connecticut Distance Learning Consortium (Ed Klonoski).
The Great Plains IDEA Story (Virginia Moxley and Sue Maes).
Reaching Outside Your Campus to Bring Solutions Inside: The Collaborative Proposition of MERLOT for Higher Education (Gerard L. Hanley).
7 Putting It All Together (Sally M. Johnstone).
The Role of Openness in the Future of Higher Education (David Wiley).
Effects of Mobile Devices on Education (Ellen Wagner).
2020: Envisioning the Future Academic Ecosystem (John Witherspoon).
Index.