Advancing the Integrity of Professional Practice: New Directions for Student Services, Number 135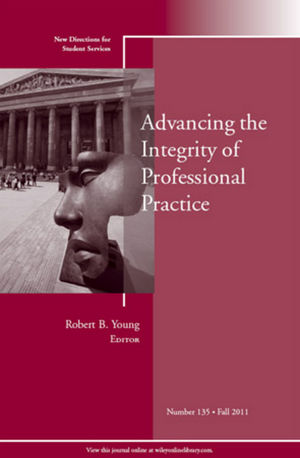 Advancing the Integrity of Professional Practice: New Directions for Student Services, Number 135
ISBN: 978-1-118-19479-9
Sep 2011, Jossey-Bass
88 pages
Description
Defining integrity as "the combination of attributes and actions that makes people and organizations coherent, consistent, and potentially ethical," the editor and contributing authors illustrate how student affairs administrators can understand and implement integrity in their institutions.

Early chapters explore the organizational integrity of student affairs. Transactional and transformational leadership perspectives are discussed in the second section.

Other contributing authors tie education to integrity. In their chapter, Dennis Roberts and Trudy Banta engage in a dialogue about the way student development theory should guide practice, and how its assessment is essential to maintain the integrity of our practice. Sue Saunders and Jennifer Lease Butts consider how we should teach integrity to graduate students and new professionals.

Final chapters explore challenges to integrity ranging from those in the normal work routines, such as resident hall directors confronting late night parties or interoffice dynamics, to those faced in extraordinary circumstances such as the ones faced in the wake of Hurricane Katrina.

Readers of this volume will learn how integrity affects the trustworthiness of their organizations and operations. They will have the opportunity to read about the highest goals and the best practices of leadership, and gain ideas about some practical strategies that can help them deal with challenges to organizational and individual integrity.

This is the 135th volume of the Jossey-Bass quarterly report series New Directions for Student Services, An indispensable resource for vice presidents of student affairs, deans of students, student counselors, and other student services professionals, New Directions for Student Services offers guidelines and programs for aiding students in their total development: emotional, social, physical, and intellectual.
Editor's Notes 1
Robert B. Young
1. The Virtues of Organizational Integrity 5
Robert B. Young
Divisions of student affairs must be structurally sound and orient their efforts to promote ethical change to the characteristics of different types of colleges and universities.
2. Integrity in Student Affairs Organizations 15
Leonard Baird
Student affairs needs to create an environment in which students, staff, and administrators are accountable for their actions and policies, in order to deal with changing demands from stakeholders.
3. Promoting Integrity through Standards of Practice 27
Susan R. Komives and Jan Arminio
The Council for the Advancement of Standards can help administrators understand, assess, and maintain the integrity of student affairs functions for accreditation and internal improvement.
4. Integrity in Transactional Leadership 35
Thomas Miller
Student affairs administrators need to conduct their transactions with students in clear, consistent, honest, and open ways to maintain integrity.
5. Transformational Leadership, Integrity, and Power 45
Laura M. Harrison
Transformational leadership is a valuable ideal, but student affairs administrators need to know how to negotiate complex political realities if they want to build institutional integrity.
6. Integrity in Student Development 53
Dennis C. Roberts and Trudy W. Banta
The authors engage in a dialogue about theory and practice, and promote assessment as a means to improve the integrity of student development.
7. Teaching Integrity 67
Sue Saunders and Jennifer Lease Butts
Integrity can be an important element in professional preparation programs and in continuing professional education.
8. Give In or Get Out? Responding to Professional Challenges 79
Robert B. Young
The author presents themes from interviews with several student affairs administrators about challenges to their integrity.
9. Gone With the Wind? Integrity and Hurricane Katrina 89
Frances Lucas and Brit Katz
The past president and vice president of student affairs describe how they tried to maintain the integrity of Millsaps College in the aftermath of Hurricane Katrina.
Index 97