Advancing the Regional Role of Two-Year Colleges: New Directions for Community Colleges, Number 157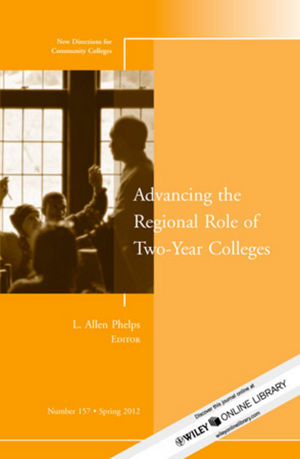 Advancing the Regional Role of Two-Year Colleges: New Directions for Community Colleges, Number 157
ISBN: 978-1-118-26600-7
Apr 2012, Jossey-Bass
112 pages
Description
In the midst of a challenging economic recovery, the nation's policy makers and education leaders are seeking new and potentially more effective strategies to align personal and public educational investments with job creation, increased levels of employment, small business development, and entrepreneurial activity. Reaching the 2020 national college completion goal will require powerful and fully implemented innovations in two-year colleges, particularly in states and regions where economic difficulties are more deeply entrenched.
Grounded in the Midwest context, this special issue examines several promising policies and innovations that re-envision the role of two-year colleges in developing regional rather than local solutions to the emerging economic and educational challenges.
This is the 157th volume of this Jossey-Bass quarterly report series. Essential to the professional libraries of presidents, vice presidents, deans, and other leaders in today's open-door institutions, New Directions for Community Colleges provides expert guidance in meeting the challenges of their distinctive and expanding educational mission.
EDITOR'S NOTES 1
L. Allen Phelps
1. Regionalizing Postsecondary Education for the Twenty-First Century: Promising Innovations and Capacity Challenges 5
L. Allen Phelps
Focusing on community colleges, this opening chapter describes the context and demand for regional approaches to postsecondary education policy development and implementation. Several themes and strategies for regional, two-year college innovation are introduced.
2. Reanimating the Vital Center: Challenges and Opportunities in the Regional Talent Development Pipeline 17
John Austin
This chapter chronicles the Midwest as the birthplace of modern public higher-education institutions, including community colleges, which were designed to advance the twentieth-century agrarian-industrial-manufacturing economy. In the twenty-first century knowledgedriven economy, these learning, research, and public-service institutions must contribute directly and strategically to the region's economic prosperity.
3. Building Regional Economic Growth and Innovation Capacity 29
H. Jeffrey Rafn
This chapter provides a case study on how thirteen institutions of higher education, including ten two-year college campuses, created a successful alliance to jointly address key regional education and economic challenges.
4. Learning and the New Workplace: Impacts of Technology Change on Postsecondary Career and Technical Education 43
Janet L. Washbon
In the new economy, rapid deployment of technological innovation changes the mix of skills and knowledge used in the workplace. This chapter presents examples of new and emerging practices in Wisconsin's technical colleges that situate learning in new settings to meet the needs of employers, as well as learners and their communities.
5. Leveraging Workforce Development and Postsecondary Education for Low-Skilled, Low-Income Workers: Lessons from the Shifting Gears Initiative 53
Debra Bragg, Laura Dresser, Whitney Smith
The Joyce Foundation's Shifting Gears initiative aims to increase the number of workers in six Midwestern states earning credentials valued by employers in their local labor markets. This chapter takes an upclose look at the policies adopted by Illinois and Wisconsin to support career pathways and bridge programs aimed at improving the employment opportunities for low-skill, low-income adults and enhancing the competitiveness of the Midwestern workforce.
6. Illinois Innovation Talent Project: Implications for Two-Year Institutions 67
Jason A. Tyszko, Robert G. Sheets
This chapter examines how Midwestern companies are reorganizing work and learning to expand the capacity for innovation. The implications for developing innovation talent in high schools and two-year colleges are explored.
7. Learning to Innovate in Twenty-First-Century Community Colleges: Searching for the General Education Niche in Two-Year Colleges 83
Todd C. Lundberg
Following a review of recent trends in general education and curricular innovations, this chapter profiles the role of general education in a forward-looking two-year Midwestern technical college program.
8. Community College–Research University Collaboration: Emerging Student Research and Transfer Partnerships 97
L. Allen Phelps, Amy Prevost
This chapter examines the recent innovations in Midwestern community college–research university partnerships designed to advance undergraduate student research experiences, faculty development initiatives, and transfer programs.
9. A Framework and Strategies for Advancing Change and Innovation in Two-Year Colleges 111
Christopher J. Matheny, Clifton Conrad
The authors present a framework to guide innovation and change-agent leadership in two-year colleges. The framework suggests that choosing innovation and change strategies must be based on both the impetus and focus of the change effort, including regional alliance opportunities.
INDEX 125